Post by Erik Rupp on Oct 31, 2009 12:26:51 GMT -5
Slade
- Slayed (1972)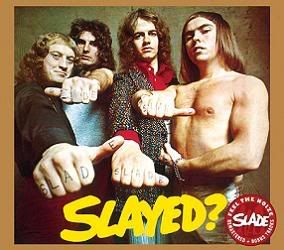 Sometimes Rock fans in the U.K, "Get it," when Rock fans on this side of the Atlantic don't.
Slade is one of those cases.
In the U.K. they were huge, while in the U.S. they were barely a blip on the radar. That's a shame because Slade was a really good band, and this album, Slayed, is a great example of what made them so darned good.
Released in December of 1972, Slayed immediately shot up the British charts all the way to #1, while in the U.S. it barely made it to #69. Produced by the band's manager, former Animal Chas Chandler, Slayed is a rock solid album that was a harder edged example of the early 70's British Glam Rock scene.
Opening with the hard rocking, "How D'You Ride," Slayed gets off to a marching start. Drummer Don Powell literally gives the song a marching beat as Dave Hill, Noddy Holder, and Jim Lea play some simple, but effective riffs. The chorus is a big sing along affair that is instantly catchy. It's a very strong opening track that sets the tone for the rest of the album.
"The Whole World's Goin' Crazee," starts off really well, and then the vocals come in. It's not that the vocals aren't good, because they are (as is the song as a whole), but the mix is completely botched. Where Chandler got it right on the first track, this one has the vocals so much farther up front in the mix that the music is hard to hear. That's unfortunate as this is a really good straightforward Hard Rock song with that Glam Rock poppy melodic sense.
The mood changes fairly drastically with the next couple of songs, "Look At Last Night," and, "I Won't Let It Happen." Don Powell really did seem to like those marching beats as they show up quite often on the album, including those two. The tempo is slower for both, and they are both moodier than the two more straightforward album openers, but they also have very strong melodies and hooks, and may have a little more substance as well.
Their cover of Janis Joplin's, "Move Over," is both faithful to the original and reworked to sound like a Slade song. While that may sound like a contradiction, it really isn't. They managed to capture the spirit and vibe of the original song while updating it just enough to match what Slade was doing in 1972. This is one of the album's highlights as the band plays with a real sense of fire and passsion. This may actually be one of the band's finest moments as a musical unit as it really shows off their musical abilities.
The marching beat comes back for the classic, "Gudbuy T'Jane," which was one of the band's biggest hits. This is a song not all that far removed from what T-Rex was doing at the same time. Very much a part of the British Glam movement of the early 70's, "Jane," was an instant classic. Lea plays a nice, fairly busy bass line, and the chorus hook is completely infectious.
The next track, "Gudbuy Gudbuy," is darker, slower, moodier, and still very effective. It almost sounds like Black Sabbath if they had tried to write an early 70's Glam song. The vocals are very strong (both Noddy Holder's performance and the vocal melodies he wrote).
And yet another big hit can be found in, "Mama Weer All Crazee Now," which, of course, was covered 12 years later by Quiet Riot. The beat is a little boppier here than on the Quiet Riot version as Powell plays a variation of that marching beat here. This song has a bouncy quality that the Quiet Riot didn't have, and makes them complementary versions of the same song. "Mama," is just a great track any way you slice it, and it is one of the highlights on an already great album.
"I Don' Mind," is a slow Blues grinder that rather than grinding the album to a halt actually gives it a good sense of pacing as it leads into the fast cover song combination, "Let The Good Times Roll/Feel So Fine." As the original album closer this works extremely well and showed a tendency that Slade had in combining two cover songs into one track. They found a way to work the two separate songs together very effectively, and this party song is a great way to close a great album.
But on the CD reissue from a few years ago they continue on with several bonus tracks.
The quality of the bonus tracks varies, as does the audio quality. Some of them sound like they came straight from the original tapes, while others clearly came from the 7" vinyl singles (complete with a few pops and fuzzy sound from worn out grooves). Sadly, it seems that many of the tapes for those sigles are missing, so the record company did the best they could to preserve those songs on CD from the best available sources.
The songs themselves are either single releases that didn't make the album or B-sides. The first one, "My Life Is Natural," is a really strong song that is partially acoustic and partially electric. The acoustic verses are very, very strong, and the electric choruses kick all kinds of ass and include some really nice Sweet-esque harmony vocals.
"Candidate," is good with it's harmony vocals, "Wonderin' Y," is reminiscent of mid to later era Beatles, and, "Man Who Speaks Evil," is a bad ass, nasty attitude song with some good riffing and vocal melodies.
Slayed ends up being one of the band's landmark albums because of the strength of both the songwriting and the band's performances. It's fun, raucous, and holds up very well over 35 years later. How they didn't catch on in a bigger way in the U.S. (as they were almost criminally overlooked) will always remain a mystery, but those in the U.K. definitely knew a good thing when they heard it.
And Slayed was definitely a good thing.
4.5/5