Post by Erik Rupp on Aug 15, 2009 21:02:50 GMT -5
Bruce Kulick
- Audiodog (2001)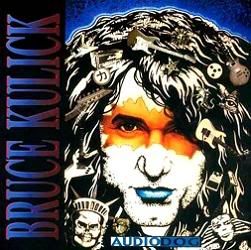 Bruce Kulick. A name known by KISS fans, some Grand Funk Railroad fans, but few others.
Those in the know will tell you that he is an accomplished guitarist and a good songwriter. 11 years in KISS and 9 years (and counting) in Grand Funk Railroad attest to the respect he has earned from his bandmates. Beyond playing lead guitar for those two bands he has also played for Meat Loaf, been in a Hard Rock band, Blackjack, with Michael Bolotin (Bolton), played on Billy Squier's debut solo album, and formed a band with former Motley Crue singer John Corabi (Union).
And yet even with that impressive resume behind him he still is largely unknown by the public at large - even among many Rock guitar fans.
Despite that lack of name recognition he decided to write and record a solo album in 2000. Working with co-conspirator (co-writer and co-producer on the album) Curt Cuomo, Bruce played all of the guitar and bass parts himself, with Brent Fitz of Union handling the drumming on all but two of the songs on the album (Kenny Aronoff played on the two that Fitz didn't). Bruce also decided to take the plunge into the world of lead vocals for the album, Audiodog, as well. Having only one lead vocal credit in his entire career (the song, "I Walk Alone," from KISS' Carnival of Souls album) many thought that was a risky move and felt that the album would suffer as a result.
So did it?
Maybe a little in spots, but overall Bruce's vocal work was effective enough to get the job done. In fact, in spots his voice fits several songs absolutely perfectly.
As far as the songs go, each one is noteworthy in one way or another.
"Pair Of Dice," is a Joe Satriani-esque instrumental with a strong groove and some really catchy lead guitar melodies (taking the place of vocals). Bruce's playing shines throughout this track, and it is one of the album's highlights
Bruce's lead vocal debut on the album comes in the form of, "Strange To Me," a Hard Rock song with just a hint of the 90's Seattle scene. Actually, it sounds a bit like the hardest edged 70's Power Pop fused with some of Seattle's early to mid 90's finest bands. Bruce's vocals on this one sound just a little tentative, but stronger than on the KISS song he sang. This is a song that would have been right at home on one of the Union albums.
His strongest vocal track may just be the best (and heaviest) song on Audiodog - "Change Is Coming." "Change," sounds like something that Bruce might have written for KISS' Carnival Of Souls album. Dark, but not oppressively so, "Change Is Coming," hits all the right notes, and hits them hard. Brent Fitz does his best Eric Singer impression here, and the performance (Bruce, Bruce, Bruce, and Brent) sounds like a tight band that had played together for years. It isn't sterile, like one might expect from one musician playing and singing everything himself (with the exception of the drums). This is a killer track, and one that Bruce should be especially proud of.
Following up that monster of a song Bruce sends what could be a veiled message to his former employers, Gene Simmons and Paul Stanley with the song, "Need Me." Lyrically he even mentions one of the song titles from Carnival Of Souls as he sings about how, "They'll tell you lies and say that nothing's wrong," and how, "I'll take that trip and smile just like a rat." The song
seems
to reference the period just leading up to the KISS original line-up reunion in 1996 and the period where he was still technically, "In," the band while they were out on the Reunion Tour. (He was, "In," the band as long as Gene Simmons and Paul Stanley thought that there was still a chance that the Reunion might not work out - that didn't last long.) It also seems that he may be referencing playing bass (and possibly guitar) on KISS' Psycho Circus album - the album advertised as the return of the original KISS line up on album for the first time in 17 years. Lyrically the song really does seem to be a stinging rebuke to his former employers, but whether it is or not
musically
it is a thundering behemoth with tons of nasty attitude.
So how does he follow up that juggernaut of a song? With something much more delicate and introspective.
Moody, at times mellow, at times bluesy, and also at times just a little aggressive, "I Don't Mind," takes the volume down, and resets the album somewhat. You could call this a Power Ballad, but it's a little darker than most Power Ballads, and it also (again) has hints of Seattle throughout. It's not a bad song, but not up to the standards of the album's first four songs.
If, "Need Me," was a monster of a song, "Monster Island," is more of a streamlined, shiny mechanical beast of an instrumental. That's not to say that the song lacks feeling, because it doesn't (there's plenty of feeling in his leads for sure), but this song goes back to the 80's and early 90's Satriani approach, and with good results. Bruce's playing on the instrumental tracks on Audiodog is nothing short of exceptional. The interplay between Bruce (both with his guitar playing and his solid, sometimes outstanding bass playing) and Brent Fitz is again on display on, "Monster Island," showing off the talents of both men.
Then Bruce takes another left turn onto, "Please Don't Wait," road. It's another moody song with a lot of dynamic changes, and another song that combines 70's Power Pop with just a bit of 90's Grunge. It's a solid, but unspectacular song that again gives the album time to breathe.
And to set up what is perhaps Bruce's most impressive lead guitar instrumental on the album in, "Liar." Again Bruce brings a song with wide ranging dynamics, but this time it's a Bluesier version of Kulick that we get. The lead playing on, "Liar," is truly impressive as Bruce shows off the tastefulness of his playing and brings that intangible thing known as, "Feel," to the song. The song itself is actually very well written and would hold up quite nicely next to any guitar legend's instrumental tracks.
While Bruce didn't replace Ace Frehley in KISS (he replaced Mark St. John, who replaced Vinnie Vincent, who was the one who replace the Space Ace), he was always compared to the former KISS six string slinger. So what does he do after having been out of KISS for five years at that point? He writes and records a song that would fit right at home on one of Ace Frehley's solo albums from the 1980's. "I Can't Take," really is quite Frehley-esque, right down to the solo that seems like something Ace would have played himself with just a slightly increased musical vocabulary. This is a solid track. It's nothing great, but it's fun and features Curt Cuomo on piano.
Then the album kind of winds down a bit with yet another moody track, "Dogs Of Morrison." This one lies somewhere between the Stone Temple Pilots and Ace Frehley's 1978 solo album, and is again not a great track but it is a solid album cut.
Bruce closes the album out with another instrumental, "Skydome." It sounds like an album closer. It's got an edge and a solid beat, but it's the musical equivalent of a nice sunset. It's not as heavy as, "Pair Of Dice," or, "Monster Island," but it's heavier than, "Liar," and does have some nice bluesy moments mixed in with the wispier, almost spacier licks (and one riff that could have been part of a KISS album circa 1985).
The production on Audiodog is clean and crisp with some great guitar and bass tones, and serviceable drum sounds. The performances are all fantastic as Bruce and Brent (and Kenny) earned all the superlatives offered here.
Audiodog is arguably the best Post-KISS solo album from any former member of the group (and it's also better than Gene Simmons' A**hole or Paul Stanley's Live To Win albums). This is definitely a job well done.
4.5/5