Post by Erik Rupp on Nov 14, 2009 13:19:36 GMT -5
Aerosmith
- Pump (1989)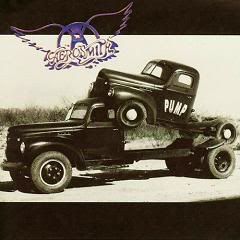 Success is important, but it isn't everything.
Aerosmith certainly had a huge resurgence of popularity with their Permanent Vacation album in 1987. Their three previous studio albums (Night In The Ruts, Rock In A Hard Place, and Done With Mirrors) all underperformed sales-wise, so Permanent Vacation went a long way towards saving their career.
But at what cost?
In the 1970's, and even into the mid 1980's, Aerosmith was a band that played raw, rugged, hard edged Rock and Roll built around some of the best riffs of the era. That changed with Permanent Vacation. Gone were the huge Joe Perry written riffs, and in their place were more supporting role type guitar parts - supporting the vocal melodies and hooks. Hooks aided by new co-writers Desmond Child, Jim Vallance, and Holly Knight, and influenced by (then) new producer, Bruce Fairbairn. It was slick, leaned more towards Pop than any of their previous albums, and started to sound like an
older
band. A band that had lost their edge.
Well, on Pump they failed to get that edge back. Hell, it's hard to say whether or not they even tried!
Pump is more lightweight than Vacation when it comes to the mix - Joe Perry's rhythm guitar parts are often buried ("The Other Side" being a great example). And the music leaned more towards Adult Contemporary on several songs than the Pop leanings of the previous album. Make no mistake, it's still a Rock album, but compared to Rocks or Toys in the Attic it is a watered down, AC/MOR version of the band.
It starts off with the odd, "Young Lust," which sounds almost like they used a drum machine instead of Joey Kramer. The rapid fire (double bass?) drumming doesn't fit Aerosmith at all. The slide guitar work for the rhythm parts is nice, but there isn't a big central riff in this rowdy song. It's all about Tyler's vocal melodies, which is more of a Pop staple than a Rock thing. The song is OK, and is a token, "Rocker," for the album to appease long time fans.
"F.I.N.E," is well, fine, but nothing special. Still no big riff, and the vocal melodies are standard issue Aerosmith with a bit of the 80's Pop Metal sound. It's another song centered around Steven Tyler - which isn't inherently bad, it's just not what Aerosmith was about in the 70's, and it comes across like a band where Joe Perry had been relegated to sideman status rather than co-driving force.
The lead single, "Love in an Elevator," is a great track. It's not as edgy or heavy as classic Aerosmith (thanks to a safe, watered down mix), but at least this one features some nice big riffs in the verse and bridge. This is closer to what Aerosmith should have been doing. Combining big riffs with big vocal melodies.
Big drums and an almost mechanical guitar part make, "Monkey On My Back," an odd song. On one hand there is a riff in there somewhere at the end of the chorus, but on the other it's the only big riff in the song, and the rest of the guitar parts tend to get lost among all the noise (the drums sound WAY too big for the song, and the assorted other sounds thrown in only serve to obscure what Perry and Whitford are playing - Hamilton's bass, however is right up front). This is a song that with Jack Douglas producing may have ended up as one of Aerosmith's better songs, but here it's a bit of a mess.
"Janie's Got A Gun." It was a huge hit for the band, but it has little in common with the Aerosmith of Rocks or Toys in the Attic. The overproduction doesn't help. Assorted sounds along with piano and synth horns just serve to jumble the song and distract from the core of the song. Of course, the core of this song is an Adult Contemporary Pop song masquerading as a Rock track, so I don't know if distracting from that is a bad thing or not. It's well crafted, but (to me) annoying.
Take me to, "The Other Side." Please - because on this side Aerosmith keeps falling further into the AC/Pop trap as the album goes along. Does Joe Perry even play rhythm guitar on this song after the intro? Because with all the horns, keyboards, and harmony vocals I can't hear him. It sounds like Brad Whitford is in there somewhere, but I can't hear anything that sounds like Joe Perry on rhythm guitar (his usual big, fat guitar tone is missing, as is his rhythm style). Then again, it may be there but just buried under all the other assorted crap that Bruce Fairbairn threw in. In all honesty, this song could have been good had they kept it stripped down. What I can hear of the rhythm guitar part sounds pretty cool, but it's so damned hard to hear that I can't tell for sure. This ends up being another track that Jack Douglas could have gotten much better results with. It's a shame that we'll never hear that kind of treatment of the song.
Aerosmith then gets all boppy with, "My Girl." Is this really a Joe Perry/Steven Tyler composition? Really? It sounds like Aerosmith trying to add some of that 50's Rock style to their own, but not achieving the results they deisired. Actually, it ends up sounding like Sha Na Na trying to write an Aerosmith song. Not good. It's not horrible, but very disappointing. Was this really the best they could come up with to fill out the album, or did Fairbairn push them in this direction?
"Don't Get Mad, Get Even." O.K. This one is decent, but still isn't anything special. At it's core it's a Blues Rock track, but the slow(ish) tempo doesn't help. The oversized backing vocal harmonies are too up front in the mix for this kind of rootsy Blues based song. Give this one a, "C+."
"Voodoo Medicine Man," is more like what Aerosmith
should
have been doing at this point. "Voodoo," has a cool groove, a good riff, and some of Tyler's best vocal melodies on the album. This is a killer track that truly sounds like 70's Aerosmith - just updated and translated for the late 80's. If, "Don't Get Mad," gets a, "C+," this one gets an, "A." Interestingly enough, Perry doesn't figure into the writing of this one, instead the music side of things was provided by bass player Tom Hamilton.
And then the album crashes and burns.
"What It Takes," is an example of everything wrong with the band in the 80's and 90's. Sappy, cliched, syrupy, safe, and geared towards an older audience, "What It Takes," has nothing whatsoever in common with Aerosmith prior to 1987. For what it is it's a decent track, but even then it's nothing all that special. This one really is Adult Contemporary - full on. But it was a big hit, and success is everything, right?
As noted in some of the individual track notes, Pump is an overproduced mess. Bruce Fairbairn threw in everything but the kitchen sink, and in the process obscured the band. The only recognizable aspect of Aerosmith on Pump is Steven Tyler's voice. The mix is bad, the drum sounds are ridiculously big, there are way too many other assorted instruments and sounds on many of the songs to be able to clearly hear the guitars, and the songwriting and song selection is questionable at best.
But it sold millions of copies.
In the end, Pump sounds like a band that sold their souls in order to regain what they once had - success.
2.5/5