Post by Erik Rupp on Aug 16, 2009 1:42:50 GMT -5
Y&T
- Mean Streak (1983)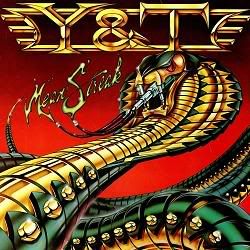 The third in a Classic Melodic Metal triology (Earthshaker, Black Tiger, and Mean Streak), Mean Streak is probably Y&T's best album. Earthshaker was raw, but filled with great songs that had great riffs and catchy hooks, Black Tiger polished up that style, and then Mean Streak perfected it.
The title track immediately gives the listener a preview of what he or she is in for throughout the album; it is a heavy song (in an early-80's way) with a
lot
of melody and hooks. "Straight Through The Heart" is a great mid-tempo song with a fairly good sense of groove and a somwhat choppy riff (not a bad thing at all). "Lonely Side Of Town" is more melodic, with a slightly more "pop" feel than the previous two songs, but the band cranks it back up on "Midnight In Tokyo," one of their signature tunes. "Midnight.." is somewhat reminiscent of "Forever" off of Black Tiger, only with more dynamics (mellow first half of the verse, heavier second half of the verse and bridge, and a heavy chorus with a GREAT vocal hook). "Breaking Away" is a more polshed version of their Earthshaker style; great riffs and hooks without being at all "wimpy."
Y&T again ups the ante with "Hang 'Em High," a one of the faster and heavier songs on the album, but still melodic with good hooks. They then slow it back down to mid-tempo with "Take You To The Limit," which is another solid track. Y&T shows more polish on "Sentimental Fool," before closing with the raw, AC/DC-esque "Down And Diry."
There is not one song on this album that even comes near sounding like "filler," as they are all so well written that even the more melodic (or, "Poppier") songs come off well. One key factor in the album's artistic (if not commercial) success is the (basically) perfect production by Chris Tsangerides. The drums are big, but not too boomy, the guitar tone is crunchy and fat, but still distinct, and the bass is mixed in just right (not too much, but enough that it holds up the bottom end
very
well). The "pop" songs end up sounding more "Rock" thanks to Tsangerides' production.
Y&T never again matched this album, but they did have some good ones after this including Contagious, Ten, Musically Incorrect, and Endangered Species. While Y&T hasn't ever gotten the widespread popularity that they deserved (based on the quality of several of their albums), they did carve out a nice cult following in the 80's, the core of which still follows the band over 25 years later. And with good reason.
(Originally written on June 4, 2000. Edited/Reworked on August 15, 2009.)
4.5/5