Post by Erik Rupp on Jan 31, 2010 20:54:40 GMT -5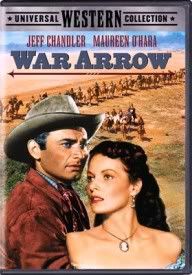 Jeff Chandler was almost a big time movie star. He had rugged good looks and a strangely appealing head of prematurely gray hair - and an acting style that was perfect for westerns or hard boiled crime dramas & action movies. He was climbing his way up the ladder achieving leading man status in minor "A" movies, and then he died at age 42 in 1961 (due to medical malpractice with a botched back surgery).
Along the way, however, he
did
star in several movies, one of which was War Arrow, co-starring Maureen O'Hara.
War Arrow is not a classic Western in the sense that it is one of the greats of the genre, but it is a classic in that it is a good representation of Westerns in the early to mid 1950's. It is a good movie, just not a great one - but it doesn't need to be great to be entertaining. And entertaining it is.
Chandler plays Major Howell Brady, who has been given carte blanche by the brass back in Washington to do whatever he feels he needs to do (up to a point) to put down a Kiowa uprising that is costing the lives of dozens of civilians. Brady's idea is radical. Take the uprooted Seminole indians in the area and recruit them to help fight the Kiowas. This plan does not go over well with Fort Clark's commanding officer, Colonel Jackson Meade, played with the usual commanding manner by John McIntire. Meade believes the now peaceful Seminoles are incapable of fighting, and are of no use to the cavalry in putting down the much more aggresive Kiowas. This conflict plays out throughout the movie, leading to the concluding battle at the fort.
Along the way we are introduced to the widow of a former officer at the fort, Elaine Corwin, played by the always beautiful and fiesty Maureen O'Hara. O'Hara was an actress who could hold her own with
any
leading man, and she does so here with Chandler.
The movie is well paced, well written (even if not exactly full of surprises, although one major surprise actually works about halfway through the film), and well directed by George Sherman, who was an extremely prolific director from the 1930's into the early 1970's.
War Arrow is entertaining. That's what the filmmakers set out to accomplish, and that is exactly what they achieved. Clearly, the aim of the studio was to put this film out as quickly and economically as possible while still making a good movie. They hit on all marks there. The movie may not have had a big budget, but it doesn't look
cheap
. The action scenes are exciting, and the location photography gives the movie a broad canvas to work with.
If you like Westerns, you'll probably like War Arrow - especially if you understand the context in which the movie was made.
Universal put this movie out on DVD with no restoration, but a full restoration wasn't needed to make the film watchable. Sure, it could have looked better, but that kind of expense couldn't be justified based on the movie's status as a minor film in the genre. The picture quality is solid, if unspectacular. The colors are still fairly strong (although just slightly faded, with some minor color flicker in a few scenes, which is common to older, unrestored color films of that era), and the contrast is good. The picture is also fairly sharp and clear overall, with some slight fluctuations here and there. Again, solid, but unspectacular.
The DVD also features the original theatrical trailer.
Highly recommended for big fans of Westerns, recommended for fans of classic movies, and worth viewing for those who are just curious about either the movie or the stars.
Movie - 3.75/5DVD - 3/5