Post by Erik Rupp on Feb 13, 2010 12:06:03 GMT -5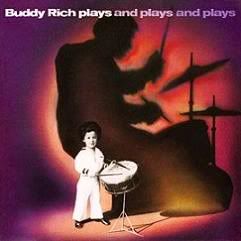 From the mid 1960's through the mid 1980's no one had a hotter, tighter, more powerful Big Band Jazz outfit than Buddy Rich.
While the band had a lot of turnover during that span (no one from the late 60's version of the band was still with Buddy by the mid 1970's), Buddy never seemed to have a hard time finding new, young talent. His 1972 album, Stick It, was an unqualified success, musically, and his 1974 album, The Roar of '74, was an absolute monster, combining elements of Swing, Rock, and Funk with amazing ease and cohesiveness.
But many Jazz fans and historians view Buddy's 1977/78 band as his very best, and Plays and Plays and Plays was the first studio album with that group.
And where The Roar of '74 was an aggressive, energetic, and quite
loud
album (in a good way), Plays and Plays and Plays shows the ability to ease off the gas pedal at times and focus on more straightforward Jazz and Swing elements (with a couple of exceptions).
Buddy's main foil on Plays is saxophone legend (the late) Steve Marcus. Marcus would remain in the band until Buddy's death in 1987. While there were other very talented sax players in Buddy's band before and during Marcus' tenure, it is more often than not Steve Marcus that both fans and critics talk about when discussing the great players that Rich was able to recruit to his band. It would be wrong, however, to fail to note that on Plays is another outstanding sax player, Bob Mintzer, who has some fantastic solos of his own, along with four songs that he wrote for the album himself (three of which he arranged).
As for the songs on the album, there is a great diversity without straying too far from a Jazz or Swing foundation.
Album opener, "Ya Gotta Try," sets the tone, starting with a nice piano solo from Barry Kreiner leading to the band exploding in full force. This is a great upbeat Swing song with some nice updating for the 70's. The solos from Mintzer and Marcus are top notch. They couldn't have picked a better song to kick off the album, although the song's scant 3:35 running time almost seems like a cheat as something this good should last at least a minute and a half longer.
Things slow down a bit for the next track, Mintzer's, "Tales of Rhoda Rat," a song that is clearly rooted in the mid 70's. That's not a bad thing, it just shows an identifiable sound that is tied to that era. Where, "Try," was a fairly straightforward Swing song, "Rhoda," is a little funkier, giving Buddy a chance to show his Rock and Funk chops. For a guy who repeatedly said that he didn't much care for Rock he sure could play it well. If, "Ya Gotta Try," was around a minute too short, "Tales of Rhoda Rat," may be just a minute or so too long, with a softer piano interlude that kind of, sort of works, leading into Mintzer's nice flute solo before coming back to the main melody. It's a good song, but a tighter arrangement might have made this one a better song.
A reworking of Thelonius Monk's, "Round About Midnight," is quite effective, and shows Buddy's ability to lay off the gas pedal and play some really nice, soft drum work. "Midnight," has a nice sense of dynamics and features some really nice soloing from Steve Marcus. It's hard to go wrong with a classic like this one, and Rich and Company deliver a fine, fine performance.
Don Menza's, "Time Out," is a great song, and it sounds great here (although the fade in on the piano intro seems a little odd). This time the solos are provided by Bob Mintzer on sax (who gives another fantastic performance), and Ross Konikoff and Dean Pratt (both on trumpet, and both quite good). "Time Out," gives the album a needed boost as this high energy, uptempo track keeps the album flowing. It's another highlight on the album.
Following the uptempo Swing of, "Time Out," is Bob Mintzer's, "No Jive," which itself is fairly uptempo, even if not as much as the previous track. "No Jive," again features a little funk in the beat, and it has some good dynamics as well. Mintzer takes the solos himself on this one, and again does a great job of it.
To balance things out the running order of the album then leads into a very nice version of Billy Strayhorn's, "Lush Life." The goal on Plays seems to be balance and flow. If the last two songs were uptempo with some loud spots, then the this song should be slower and softer to give that balance. Mission accomplished. Buddy's brush work on the song is, as usual, excellent (his brush work is often overlooked when discussing his skills, but it shouldn't be). The band shows a clear ability to play with finesse and emotion, something that critics of Buddy's big bands of the 70's often forget.
Picking things up a bit with the mid tempo swing of, "Party Time," (another Mintzer composition and arrangement), the album's sense of dynamics gets yet another boost. This time Mintzer sticks pretty much with straightforward Swing. This is a very good song, and it sounds even better in context of the album as a whole. Mintzer's sax solo is, again, excellent.
And then things get
very
1970's. Mintzer had already shown on, "Tales of Rhoda Rat," and, "No Jive," that he had an affinity for Funk beats, but his next composition, "Kong," takes things to a whole different level. This is a Funk/Disco/Jazz hybrid, with an arrangement by Blues Brother "Blue" Lou Marini. With soulful Funk/ R&B vocals, and a different line up (Steve Khan on guitar and Will Lee on bass), "Kong," is extremely dated now, but still effective. It sticks out on the album, but it's a lot of fun so maybe that's a good thing. It may not be for the purist, but it never hurts to have a catchy, funky, fun song like, "Kong," on an album like this.
They chose to close out the album with, "Mickey Mouse," a jazzy, mellow piano version of the old closing theme to the Mickey Mouse Club show. It's an odd way to end a Buddy Rich album as Buddy himself does not appear on it, nor do any of the members of his band save piano player Barry Keiner. Still, it is kind of nice, and a real tip of the hat to Disney (Buddy often played at Disneyland at the Carnation Bandstand).
The interesting thing about Buddy Rich Plays and Plays and Plays is that, like most Buddy Rich studio albums, it is a band album and doesn't overly focus on the drums. These aren't Buddy Rich solo albums, they are band albums where the band is led by Buddy Rich. Buddy has his drum breaks here and there, but there aren't extended drum solos for him to show off. It's all about focusing on the song rather than just the player.
The audio production on the album is clean and dynamic. It may not have the presence of The Roar of '74, but it does have a cleaner sound that shows off the individual instruments just a little better.
While fans of the more aggressive side of Buddy's band might prefer an album like the aforementioned Roar of '74, Jazz fans as a whole might prefer and album like this. One with more dynamics, and less Rock and Funk.
Either way, Plays and Plays and Plays is a darned good album.
4/5