Post by Erik Rupp on Feb 21, 2010 12:20:08 GMT -5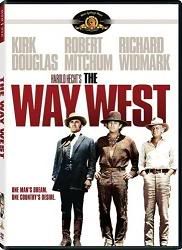 When making a Western with a cast that includes Kirk Douglas, Richard Widmark,
and
Robert Mitchum, how could a filmmaker go wrong? He (or she) couldn't. But director Andrew McLaglen and screenwriters Ben Maddow & Mitchell Lindemann almost did.
Almost
, but not quite.
With more soap opera elements in the script than were necessary, and direction that was (at times) workmanlike at best, The Way West barely got to it's desired destination (in this case, Oregon).
The surprising thing is how The Way West takes so many plot points from The Big Trail. It's about the first wagon train to Oregon, and big scenes include a tough river crossing, Indian attacks, and lowering both wagons
and
livestock over the edge of a cliff by ropes! All of those story points or details were straight out of The Big Trail.
But while there are many similarities between this movie and that landmark 1930 film, there are some significant differences as well. The Way West plays much more like a late 60's Western (which it is), with bits of TV Soap Opera drama thrown in. While that gives it a certain amount of charm it also holds the movie back from being as good as it could have been.
The characters in this movie don't quite have the resonance of those in the best films of the genre (The Searchers, Warlock, Winchester '73, The Man Who Shot Liberty Valance, etc), as the script is a little closer to TV Westerns in style than it should be. Don't misunderstand, this is still a film script, but clearly the 15+ years of Western TV shows had a bit of an influence on the screenwriters.
Andrew V. McLaglen (Victor McLaglen's son) does a good, if unspectacular, job moving the story along, and gets some strong performances from Douglas, Widmark, and Mitchum (although nowhere near their best). As the director on The Way West, McLaglen's visual style is good, but not quite up to the level of some of the better Western directors of the 40's and 50's (John Ford, Anthony Mann, Raoul Walsh, etc). There
is
plenty of beautiful scenery to be seen here, though, and the scope of the film is pretty big.
While it doesn't quite meet it's full potential, The Way West is still a fairly strong movie, and with a cast like this it's certainly worth watching for Western fans. It's entertaining, and that's the bottom line.
The DVD is a solid release from MGM. The picture is good and the sound is clear. While the film shows it's age and clearly wasn't restored, it is very watchable. The color is still fairly strong and the picture is sharp (most of the time). There are no noticeable issues with the audio track, and the DVD is fairly pleasing overall.
3.5/5