Post by Erik Rupp on Feb 21, 2010 14:17:30 GMT -5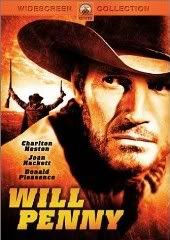 For me, watching Will Penny was a very frustrating experience. The performances of Charlton Heston, Lee Majors, Anthony Zerbe, and Ben Johnson were all quite good - especially Charlton Heston's. On top of that, the script is excellent in most areas, and the direction & photography are often inspired. Will Penny is a mature, adult Western - this isn't a, "Shoot 'em up," this is a serious character piece with some excellent characters written and performed with depth and complexity. Will Penny is largely about what happened to aging cowboys who were really too old to settle down and start families and domestic lives. The melancholy mood of the film is exectuted to near perfection. Until the story takes a significant turn.
Where Will Penny goes wrong is the one part of the script that doesn't work - the villains.
With most movies the qulity of the movie largely hinges on the villain. A well written and well performed villain can elevate a mediocre movie, but a poortly written and/or performed villain can sink an otherwise good movie.
The villains in Will Penny are so unbelievable and so unrealistic that they almost seem like they came out of a Western spoof, rather than the serious, realistic Western which Will Penny aspires to be (and achieves in most other aspects of the story). It's hard to figure just where the heck Donald Pleasance's character is supposed to have come from as his accent is all over the place. It's also hard to figure out just how this family of nut-jobs hadn't been killed long before they could encounter Will Penny. They would have either been killed or jailed for their pattern of committing crimes based on their warped religious beliefs. These characters are both written and performed as such over the top crazies that they don't come across as real people at all. This is in stark contrast to the rest of the characters in the movie which were written with great realism and depth. As noted before, it almost seems like the villains came out of a spoof of a Western movie and inserted into Will Penny. They are that out of place, which is unfortunate.
And that's the shame of the whole thing - if the villians of the movie had been just a little more realistic Will Penny could have easily been one of the best Westerns of the 60's and 70's. As it is Will Penny is still a good movie (great in spots), but because of the way that the villians were scripted (and acted) the movie is brought down a notch or two from what it could have, and should have been.
The DVD itself can bring no complaints. The picture quality is very, very good for a film this age, and the audio is more than acceptable for a film from 1968. Paramount did a nice job with the transfer on this one.
Which makes it even more of a shame. Will Penny was almost one of the best Westerns of the 60's and 70's. Almost. If not for that serious flaw in the script (and, perhaps, the miscasting of Donald Pleasance).
3.5/5