Post by Erik Rupp on Mar 14, 2010 22:45:35 GMT -5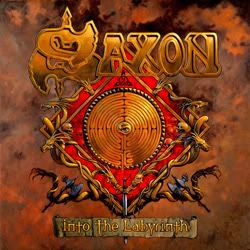 The first time I listened to Into the Labyrinth my thought was, "More of the same, only not quite as good," but upon further review there's more to it than that. A lot more.
Yeah, it
is
more of the same, but this is a pretty darned good album when taken on it's own merits.
Saxon is one of the best Heavy metal bands of the last 30 years, but they've spent a lot of that time flying under the radar (in the U.S.). With classic albums like Wheels of Steel and Strong Arm of The Law, Saxon exploded on the Hard Rock and Heavy Metal scene in the early 80's. Their initial style was a Metalized blues boogie that was closer in style to AC/DC than Iron Maiden, but as the years went by (and new members joined the band), Saxon streamlined their sound. Into The Labyrinth is a great example of that streamlined sound.
While the album opens with a bit of pomposity in, "Battalions of Steel," complete with an over-reliance on keyboards (here set to sound like a church pipe organ and choral backing singers), but it's a good bit of pomposity. It's still heavy, has good energy, and the usual abundance of melody that Saxon is known for.
The grooving, punchy, mid tempo, "Live to Rock," may have even been a cliche in 1990, but despite that, and despite the familiarity of the song it's still a really good song. And a catchy one at that.
"Demon Sweeney Todd," is a bad-ass song. It's fast, heavy, and has attitude to spare. It's also got some great riffs and some outstanding, strong vocal melodies. Biff Byford's voice may not be all it once was, but he's still got, "It." His voice was always a unique, acquired taste, not unlike Ozzy Osbourne's voice, and on this one he gets a chance to shine.
Prior to, "Valley of the Kings," there is the soft, acoustic, "The Letter," which is a very strong, brief interlude that leads into, "Valley." "Valley of the Kings," is a really good song with an upbeat verse and a slow, dynamic chorus. The dynamics of the song are excellent and the hook in the chorus is completely infectious. This is a classy song that really showcases just how special Saxon is.
From there the band moves into a dark, but almost bluesy (and somewhat funky) groove in, "Slow Lane Blues." This is the perfect song to follow up, "Valley," as the band shows the ability to let off the gas on the tempo without sacrificing power. The flow of the entire album is really good, and the transition from songs like, "Valley," to, "Blues," is a great example. (Also noteworthy is the really nice, tasty solo section in, "Blues," first from Doug Scarratt and then long time Saxon guitarist Paul Quinn. It's some really nice stuff.
The tempo picks up a little from there, but just a little with the mid-tempo, "Crime of Passion." Drummer Nigel Glockler (who has been in and out of Saxon for a quarter century) shows that he isn't just a one trick pony as his playing can be funky with a strong beat as it is here. The down-tuned riffage of, "Crime," is really nice and showcases that Saxon took some of the 90's dark material from the Grunge era to heart and never gave up on it. It's been in their playbook for 18 years or so, and they go to the downtuned guitar riffs at least a couple of times an album just about every time out. And on, "Crime," it is used to great effect as this is yet another strong, classy song musically. Vocally, it matches up well with anything on the album with strong melodies and a good hook.
"Premonition in D Minor," is a brief solo guitar intro to, "Voice," which is a moody, melodic, and dynamic song. The song is dark, like some twisted, depressed power ballad. It may not be a highlight of Into the Labyrinth, but it is a strong album cut all the same.
Then the downtuned, driving slow to mid-tempo riff for, "Protect Yourselves," starts. Damn, but that thing sounds good! This is clearly something influenced and inspired by Black Sabbath, but done with a Saxon twist. While the vocal melody and chorus hook may not be the strongest on the album the sheer coolness of the music makes this one yet another album highlight. By this point in the album it's clear - Saxon has
yet again
come up with a winner! (That's, what? NINE studio albums in a row without a clunker? How many bands can say that?)
"Hellcat," is one of those double-bass drumming type songs that Saxon is just really good at. It's heavy, but still shows the class that they are known for. Yeah, the chorus comes with an extra slice of cheese, but so what? This is HEAVY METAL we're talking about. A little cheese here and there just makes the whole thing a little tastier. And this is a good song.
As is, "Come Rock of Ages (the Circle is Complete)," which opens with a bit of a Megadeth-y opening riff, which leads into a Youthanasia era Megadeth type of song. In other words, a pumping bass line with some fairly sparse guitar parts in the verse and a strong vocal melody. This would be a great way to end the album as it really showcases how strong this band still is even at their advanced ages.
But they don't end the album there. To close out the album they go all acoustic with a slide guitar version of, "Coming Home," (which they subtitled the, "Bottleneck Version). "Coming Home," originally appeared on their outstanding Killing Ground album (that version a heavy, driving song). This version featuring only Biff's vocals over the slide guitar with a tambourine in the background for percussion is surprisingly effective. It's understandable why the band chose to end the album this way. This is (more) good stuff.
Into the Labyrinth is hardly original, and it's definitely dated, but it's also really darned good. It's arguably better than the last two Saxon albums. It is certainly as good as (if not better than) most of their albums that they've released over the last 20 years.
And that's saying a lot.
Saxon remains one of the best in the Heavy Metal business. It's just a shame that more people don't know it.
4.5/5