Post by Erik Rupp on Mar 16, 2010 20:26:59 GMT -5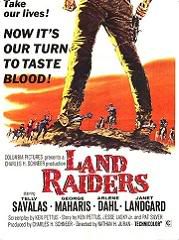 Some movies are forgotten because they weren't promoted well or got lost among several other quality releases that came out around the same time.
Some movies are forgotten because they just aren't that good and don't stand out.
For some it's a little of both.
Where does Land Raiders fit in? That's a darned good question.
It's a fascinating movie from a historic standpoint. It was directed by Nathan Juran, who spent as much time directing episodes of such TV series as Voyage to the Bottom of the Sea, The Time Tunnel, and Land of the Giants (are we detecting an Irwin Allen Productions thread here?) as he did directing feature films. Juran did very little in his career to distinguish himself as a director (although he did have two noteworthy films to his credit - both featuring special effects by the legendary Ray Harryhausen - 20 Million Miles to Earth and The 7th Voyage of Sinbad.)
He did make some solid westerns in the 50's, including Law and Order (starring Ronald Reagan), and Good Day for a Hanging (starring Fred MacMurray). Neither will be confused as a true, "Classic," of the genre, but they are both fairly well made, entertaining movies. The most noteworthy things about the direction of those movies is that there was nothing noteworthy about the direction of those movies. Juran was born to direct TV shows. His feature films more often than not looked like big budget TV episodes. He had no real distinctive visual style.
And then there was Land Raiders in 1969.
Spaghetti Westerns were all the rage in the late 60's, and several U.S. made Westerns took on some of the visual elements associated with Spaghetti Westerns. Some U.S. made Westerns were co-productions with Spanish or Italian studios and were filmed in Spain or Italy.
Such is the case with Land Raiders. Filmed mostly in Spain, and featuring a score that could have come straight out of a Spaghetti Western, Land Raiders was clearly influenced by the work of Sergio Leone and Sergio Corbucci. The score was even written by Bruno Nicolai, who wrote the scores to dozens of European films, including several Spaghetti Westerns.
Juran does his best to take on some of the styling of the Italian greats Leone and Corbucci, but the movie still looks like a TV show at times. Some of his shots are composed in a very theatrical, cinematic way, while others are look blocked out like a cookie cutter TV episode. Also noticeable is the
heavy
use of stock footage in the film. That wouldn't be so bad if the stock footage had been in better condition (lots of dirt and damage speckling the picture), and if the filmstock came close to matching what Juran used for the film (the stock footage was much grainier with larger film grain, and it was also noticeably darker - something that could have been fixed in editing).
But in the end a movie is about the story. A film is only as good as it's script. (Yeah, I know - no kidding!)
The script for Land Raiders is actually pretty good. It's not great, and it is sabotaged by the pedestrian direction, obvious use of stock footage, and "C" level actors (with the exceptions of Telly Savalas and Arlene Dahl), but the basic story and dialogue are actually pretty good. Which is why Land Raiders is still a decent film overall. (It's also a little more adult in theme, and it has some strong violence.)
One other noteworthy thing about the script is the way in which it portrays the Apache. They are the victims in this movie. Brutal, aggressive, vindictive victims, but victims just the same. "Indians," had been portrayed sympathetically as far back as the 1940's, but here there's something different. They are portrayed as a danger and a threat, but it is clear that the white men (including some Mexicans) have provoked the Apache, making the situation worse. It's an effective and well thought out angle to the story that holds up well 40 years later.
The one thing that Juran and editor Archie Lusky got right was the pacing of the film. It never gets bogged down, but there is also plenty of room given to the characters to show some motivation. The script could have used a little punching up here and there to flesh out some of the characters, but it's still pretty decent, and Juran & Lusky made the most of what they had when they edited the film together.
So why was Land Raiders largely forgotten after it's release? Well, it just wasn't as good as many of the other Westerns that came out around that time, and it was dumped into theaters by Columbia with no fanfare whatsoever. But several details of the film make it historically interesting now (who directed it, the style, the actors, etc), and it is still a fairly entertaining movie that holds the viewer's attention from beginning to end.
The DVD quality is a real hit or miss affair. The opening titles look very soft, and the stock footage looks pretty bad, but the rest of the movie looks good. It's bright, fairly clean, and pretty darned sharp. The sound is as good as could possibly be expected from a 1969 Western filmed in Spain by an American film company.
Land Raiders is worth checking out for those who love Westerns and are curious to see what happened when a pedestrian American director went to Spain to try and emulate the Italian giants of the genre.
2.75/5