Post by Erik Rupp on Apr 4, 2010 1:40:54 GMT -5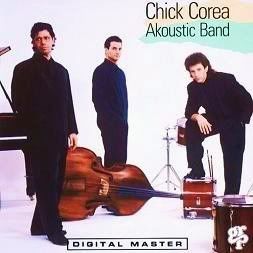 After already having been a professional musician for almost 30 years Chick Corea started a new band - the Akoustic Band - that brought him back to traditional Jazz after years of playing Jazz Fusion and Latin flavored Jazz (among other styles).
He teamed up with a couple young, very talented musicans for the project in John Patitucci on bass and Dave Weckl on drums. The combination of their styles and abilities proved to be stunning. The performances on the first Akoustic Band album are simply phenomenal. They don't sound like a new group at all, they sound like three musicians with a decade of gigging together under their belts. And the songs? The songs on the album are just as good as the musical performances.
Of course, it's hard to go wrong with songs written by legends such as John Coltrane, Duke Ellington, and George and Ira Gershwin. Interestingly enough, the first six songs on the album are songs written by others, while the last four songs on the album were written by Chick Corea himself. Despite that dividing line the album remains cohesive and strong.
They begin the album with John Coltrane's, "Bessie's Blues," and they are off to a fine, fine start there. Corea's playing is particularly inspired, as are the performances by Patitucci and Weckl. Weckl, in particular, gives one of the best performances of his career on the album, and, "Bessie's Blues," is one of his best performances on the album. The band has great chemistry, and nowhere is that more evident than on this track. The arrangement of the song is dynamic and energetic.
To follow up an upbeat song like that Corea takes things down a bit with the more mellow, lounge styled, "My One and Only Love," which features a very, very nice arrangement that gets particularly jazzy with a nice swing about halfway through. Corea shows a nice touch on the piano, and Weckl gives a terrifically appropriate brush performance on the drums.
Continuing with that lounge or small Jazz club feel they do a rather nice job with Cole Porter's, "So In Love." Again, the arrangement is spot on. Starting with that laid back style before bringing up both the tempo and the swing.
As is often the case with the trio format (piano, bass, & drums), the songs start soft and build to something greater. "Duke Ellington's, "Sophisticated Lady," is a good example of the Akoustic Band doing a great job of building a song and creating a nice sense of dynamics. It starts soft, builds to a nice swing, and ends soft. Again, Corea's playing is simply beautiful.
"Autumn Leaves," is another good song, and one that fits the album like a glove. The performances on this one are filled with finesse and style. Weckl brings the swing, but lays off the power as his stick strokes are softer and more subtle than on some of the other tracks where there is a solid swing.
Weckl breaks out the brushes again for, "Someday My Prince Will Come," a song that shows off the softer side of Jazz in a rather positive light. Despite the brush drumming there is still a fairly strong swing to the song, and there is an energy and vibrancy to the song that something this laid back doesn't really have any right to have. Yet again, the performances by Corea and Patitucci are outstanding, and Weckl maintains his high standard that he set from song number one.
From there Corea begins using his own compositions, starting with, "Morning Sprite," a song with a slight Latin Jazz feel. That isn't particularly surprising as Corea has been well known for songs with a Latin flavor for decades. This song has a ton of energy and is a great upbeat track (with some more nice dynamics). If there were any concerns about Corea's own material matching up to the work of legendary musicians and composers the results of, "Morning Sprite," show that there need not have been any. This is one of the three or four best songs on the album.
Corea's next composition, "T.B.C," is in the same vein as Vince Gauraldi's Charlie Brown theme. It isn't at all derivative of that work, it's just in a similar style - albeit a little mellower in spots and more dynamic overall. It's another very, very enjoyable track on a great album.
"Circles," finds Weckl breaking out the brushes while Corea plays with a slightly Classical style. It's not truly Classical, but it does show a clear influence. It's a beautiful song, and continues the album's perfect sense of flow.
Corea closes out the album with, "Spain," a song that shows both Latin Jazz and Classical influences. It's got swing, it's got the Latin flavor, and it's got some Classical flourishes and sense of dynamics. This one's got it all, and Corea (basing it partly on the work of composer Joaquin Rodrigo) puts it all together with a sense of cohesiveness that makes this a great way to end the album.
The audio production on the album may be even better than the music on it, and that's saying a lot. The recording is amazingly clean, and the piano is miked just right for a rich, full sound. The drums are, likewise, miked perfectly so that they sound full and dynamic without being overpowering. John Patitucci's acoustic/stand up bass also sounds almost too good to be true. The levels that Bernie Kirsh mixes the individual instruments at are just right so that no one instrument truly dominates the album. It is an amazingly crisp and clean sounding album, but never so crisp or clean that it loses it's warmth.
There's a good reason why the Chick Corea Akoustic Band album won the Best Jazz Instrumental Performance, Group Grammy award. It's just a great album from start to finish.
4.5/5