Post by Erik Rupp on Apr 5, 2010 2:35:28 GMT -5
How many, "Failed," TV series were followed up with a feature film from a major studio?
The one example I can think of is the Science Fiction Western series Firefly, which was followed several years after it's cancellation by the theatrical film, Serenity. Serenity follows up the events of the one and only season of Firefly (a half season, actually, as it was cancelled midway through) several months after the last episode. Most of the major threads that were left dangling at the end of Firefly are picked up on here in Serenity.
Yes, it helps quite a bit if the viewer is familiar with the series (and a lot of people apparently are as the DVD sales for Firefly went through the roof, and that was the primary reason why the movie happened in the first place), but even if you haven't watched a single episode of the film there is enough explanation and set up early on in the film that it is easy enough to follow on it's own.
Almost all of the elements that made the series so good are present in Serenity. The crew of the freighter, Serenity, is either skirting the law or flat out breaking it out on the frontier planets. The Western elements of the series that gave it a look and feel all it's own are present here. Serenity's future world(s) is a different place than most viewers are used to seeing on the screen when watching Science Fiction movies. These frontier worlds really do look like Western towns, only these towns have spacecraft landing nearby and various bits of future technology present (futuristic cities aren't built in a day, and on outlying planets it takes time to get equipment shipped there).
Writer/Director Joss Whedon's script is darned near perfect for the occasion. He's got plenty of action, some legitimate suspense, and his usual razor sharp wit in the script, and his direction is spot-on for what makes this story work extremely well.
The cast from the series is all back, led by Nathan Fillion (who would be a big star if there were any justice in Hollywood), Gina Torres, Adam Baldwin, and Summer Glau, along with the other series regulars Jewel Staite, Alan Tudyk, Morena Baccarin, Ron Glass, and Sean Maher. The cast is a fine ensemble, and they are joined by the equally talented Chiwitel Ejiofor (2012) as the nameless government, "Operative," who will stop at absolutely nothing to find this crew and capture (then presumably kill) the fugitives River and Simon Tam (Glau and Maher, respectively).
The main plot of the story is pretty simple. The bad guys are really the good guys, and they're running from the law. In this case the, "Law," is the central government in the form of their operative who has unlimited authority and license to do anything he deems necessary to successfully accomplish his mission. Simple. But like Akira Kurosawa, Whedon fleshes that simple plot out with some very interesting details along the way, creating conflict and suspense, and making for some great action scenes as well. Now Whedon's no Kurosawa, but his script follows Kurosawa's basic screenwriting formula: come up with a simple basic plot, and flesh it out with interesting characters and interesting details. Sounds fairly easy, right? Sometimes it is, sometimes it isn't...
With Serenity Whedon hits all the right notes, has the movie paced nearly flawlessly, and gives these characters some fantastic dialogue. It's hard, really to find anything that doesn't work at least reasonably well in the movie, and most of it works very, very well throughout. This is an exciting, entertaining, thrill ride of a movie that has a few scares, a few laughs, some occasional deep thoughts, and a lot of action. The special effects are also really well done and looked great on the big screen (and look just as impressive on Blu Ray).
Why this movie wasn't a big hit is something that fans of the series have debated since it's release almost five years ago. It's got a lot going for it, but maybe it's just a little too different for the average moviegoer. That's a shame because Serenity was one of the 3 or 4 best Science Fiction movies of the last decade.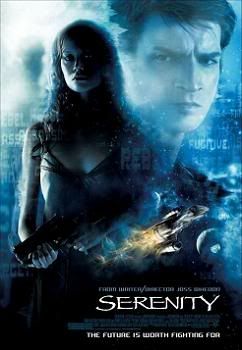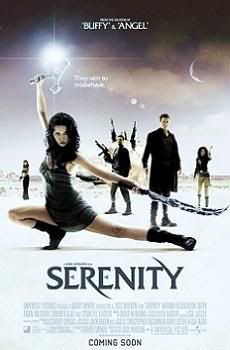 Universal's Blu Ray release of Serenity is as good as the movie. The picture is pristine, but not so much as to lose that gritty Western feel that the series had. It's crisp, mostly clean (hey, there is an awful lot of dirt in those scenes - and not the kind that makes for speckles on a movie print), and really vibrant depending on the scene. Each world looks a little different and has different lighting and different tones. This is a great example of why Blu Ray is noticeably superior to DVD. The sound quality is also a step up from the DVD as well.
With the inclusion of several special bonus features this Blu Ray is a must have for any Science Fiction fan. Just buy the Firefly TV series first. While it isn't necessary to watch the series first it just makes the whole thing better.
Good stuff.
Movie -
4.5/5
Blu Ray -
4.75/5