Post by Erik Rupp on Apr 18, 2010 11:32:33 GMT -5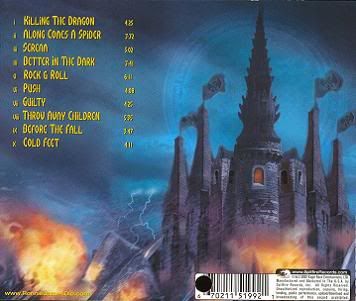 With Ronnie James Dio currently battling stomach cancer I thought it might be a good time to revisit one of his better, but lesser known albums. Killing the Dragon definitely fits on both counts.
When it comes to his solo career, Ronnie James Dio's biggest problem is that he started off with two of the best straightforward Heavy Metal albums of all time. Holy Diver and The Last In Line are considered to be absolute classics of the genre. Where could he go from there? It's difficult at best, and impossible at worst, to continue to make all time classic albums year after year.
So with the inevitable decline (which still saw the release of some
very
good albums) Dio slowly faded from an Arena God to another trooper carrying the banner for Heavy Metal and playing large clubs and small theaters. All the while Dio fans hoped for (and many expected) another
great
Dio album.
Killing The Dragon is that album. With solid (and very memorable) melodies and great riffs, Killing The Dragon sounds like a combination of Sacred Heart and Dream Evil with bits of The Last In Line and Lock Up The Wolves thrown in. New guitar player Doug Aldrich is a very good occasionally flashy fret burner, and he adds a lot to the album. Jimmy Bain is solid, as usual, and he contributed as a songwriter to nine of the ten songs on the album. Bain has always been underrated and unappreciated as a songwriter, but Killing The Dragon is proof that he was a bigger part of the early Dio (the band) success than most fans knew. Simon Wright is solid as well on drums, giving the album a very strong foundation.
Some of the songs here are among the best Dio has ever done, and even the weakest songs on the album are better than much of what Dio has done in the previous decade (which hasn't been bad, it just wasn't as good as what he did on Holy Diver or The Last in Line).
The title track sounds very much like mid 80's DIO, with a
slight
medieval flavor (both musically and lyrically). "Killing the Dragon," would feel right at home on Sacred Heart. In fact, so would, "Along Comes a Spider," (an uptempo song with some great riffs and vocal melodies), "Scream," (a midtempo song with a big, fat riff and a tremendous vocal from Ronnie), and the lead single and video, "Push," (which, while being a track with a snarling vocal from Ronnie and some really cool guitar riffs, also features melodies with a strong Pop sensibility, making it very accessible). Had they been on Sacred Heart, they would have been three of the album's highlights. They're that good.
"Better in the Dark," would sound perfect on Dream Evil, with it's staccato, slightly Blackmore-esque, guitar riff. It's another great track with great melodies and vocals from Ronnie.
On the other hand, why Dio himself seemed so enamored with the song, "Rock and Roll," I'll never know. It's OK, but it's just a bit on the plodding side, and has an extra order of cheese. It leans a little too close to Spinal Tap territory for comfort, really. Again, it's not a
bad
song, it's just not as good as the songs around it. Fortunately, this very average song is the weakest on the album, and most of the rest of the songs are much better.
"Throw Away Children," is one of them. It, like, "Rock and Roll," is a slower song, but where, "Rock and Roll," tends to plod a little, "Throw Away Children," has a better feel, and it shows more finesse and style.
"Guilty," may not be a great song, but it is a good one. It comes just before, "Throw Away Children," in the tracklisting, and it is a solid midtempo track with some fantastic melodies. When DIO picks up the tempo again on, "Before the Fall," he does so with a bit of a Deep Purple feel, and goes as far as to have a Hammond organ solo from Scott Warren rather than a guitar solo. It's a decision that works amazingly well, even if Warren's solo is a little too low in the mix.
The album closes out with a bit of a 70's feel on, "Cold Feet," which sounds like Dio trying to update the kind of thing he did with Elf. The verse is very Elf like, although significantly heavier and featuring a stronger beat (Wright is rock solid and pounds the hell out of his drums). "Cold Feet," isn't one of the better songs on the album, but it is different and shows DIO bringing in some new elements without significantly changing their sound.
At the time that Ronnie recorded Killing the Dragon (the album), he was pushing 60. 60 going on 30 from the sound of his voice. It's amazing to hear how well his voice has held up over the years. Even though in the years since Killing the Dragon Ronnie's voice has taken a decline it's been a very small, very slow decline and his voice is still strong today. There have been singers in their 30's and early 40's that have seen much more noticeable declines in their voices, but Ronnie's voice just keeps on going.
While some of the songs on Killing The Dragon may lean more towards Melodic Metal or Hard Rock, there isn't really anything "wimpy" on the album. This is unquestionably a Heavy Metal album in the 1980's sense of the term (heavy riffs with fairly melodic vocals). Killing the Dragon is an album that fits in extremely well with the first four DIO studio albums, and considering how good those albums are that says an awful lot.
4.25/5
Originally posted on Apr 18, 2010, 9:32am.