Post by Erik Rupp on Apr 21, 2010 23:39:24 GMT -5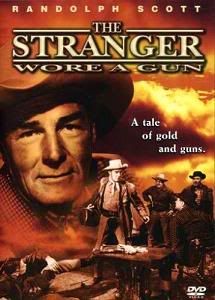 Randolph Scott, Claire Trevor, Lee Marvin, Ernest Borgnine, George Macready - A Western with a cast like that? How could you go wrong?
Well, it's pretty easy, actually. The truth is, though, this isn't a bad movie at all. Oh, it sure could have been, and it isn't all
that
far removed from being a bad movie, but there's just enough action and just enough of a plot in the script to make it interesting, and with that cast it comes across better than it should.
The biggest problems with The Stranger Wore a Gun lie with the technical aspects of the movie, and for that director Andre De Toth has to take a lot of the blame.
The Stranger Wore a Gun was made at the height of the original 3D craze and was filmed for a 3D release. As such, director De Toth fills the screen early on with objects headed right for the audience. None of it looks natural, and
all
of it is painfully obviously staged for the 3D effect. De Toth didn't even bother to try to present the 3D elements in way that would have come across as anything but pandering to the studio executives who wanted the audience to see things flying out at them in their seats. The worst of his 3D offenses was an interesting effect that didn't really work quite right. De Toth used rear projection with people and objects crossing in front of it for depth. Stock footage of western buildings burning, or stagecoaches being chased by bandits is heavily used. It also was fairly obvious when rear projection was being used because the image in the rear projection is almost always a little out of focus, unlike the footage shot for the film itself. In any movie, rear projection is always a little obvious, but in The Stranger Wore a Gun it's almost like having big red letters flashing across the screen - "REAR PROJECTION NOW IN USE!"
The most odd 3D effect in this movie is stationary objects placed in front of the rear projection screen to add depth - and when the rear projected scene showed a camera pan the objects in the foreground would be moved in the opposite direction (as would have appeared to do if in the original shot). The only problem with this is the fact that the objects started moving a half second before the actual image panned behind them - making it seem like rocks and bushes were moving all by themselves! It was incredibly sloppy work, and De Toth should have been embarrassed by such poor execution of what was otherwise a very interesting and clever idea.
Especially since the script was fairly good. Now, we're not talking about The Searchers or Winchester '73 or Shane here, but we are talking about a solid story with some fairly strong characters and some dialogue that is fairly good and even occasionally quite witty. There was the basis for a good, solid, entertaining 1950's Hollywood asseblyline Western. And with the performances given by the strong main cast that's generally what we get. When it wasn't being sabotaged by the poor technical execution of some of the action scenes, anyway.
The Stranger Wore a Gun actually touches on some interesting issues, such as at what point in wartime do soldiers cease to be soldiers and instead become thugs or criminals? At what point do you hold a man responsible for the actions of those around him? And how does a man who makes a mistake in judgment find redemption? None of that is examined
in depth
, but all of it
is
touched on and brought up more than once. This isn't just a, "B" Western. This is an, "A," Western, with a somewhat tight budget and a short shooting schedule. It's an assemblyline movie, but like most Hollywood assemblyline movies it has a lot to offer.
De Toth does actually do a good job with the character moments in the movie, and there are some well composed shots that look pretty good. It's enough that the positive aspects of the movie outweigh the negatives and leaves the viewer with an entertaining, occasionally exciting film. The Stranger Wore a Gun moves along at a really good pace and it is never boring. Lee Marvin and Ernest Borgnine clearly show star quality (and are several notches above the B list, B movie type actors that fill out much of the supporting cast). And Claire Trevor gives a rather good performance that shows exactly why she won an academy award just a few years earlier. There's a lot to like about The Stranger Wore a gun, and the movie's bad reputation may partially be based on the missed (but very real) potential for a movie of the level of the Budd Boetticher/Randolph Scott Westerns of the 50's.
But the movie itself, as fascinating as it is on a lot of levels, is only half the story here. The DVD from Sony is fascinating, too, but for all the wrong reasons.
First off, the aspect ratio is both correct and incorrect. From all that I can gather it was shown in a 4X3 ratio on the big screen when shown in 3D, but also shown in 16X9 when shown in 2D. The DVD is, of course, 2D, so what aspect ratio did the people at Sony choose? 4X3 (or 1.33:1, if you prefer). It's clear from the massive amount of headroom in almost all of the shots that it was composed with widescreen in mind, but Sony went with the open matte for the DVD. Just zoom in (straight zoom, no stretching) to fill a widescreen TV and the shot compositions look almost perfect.
Second, I have never seen a movie from the 50's released by a major studio on DVD that has this much speckling on the print. Print damage, dirt, debris - this this is a mess. Sure, there are moments that often last 5 or 6 minutes at a time with almost no speckling in the image, but that's always followed by several minutes of what almost looks like snow falling in the foreground. Would really have cost that much just to clean the dirt, dust, and debris off the print before transferring it to DVD?
Third - and this may be a flaw of the original print going back to it's original release, but some of the background in the film tend to pulsate as they flicker in and out of focus. Wood paneling with vertical lines is the worst offender. It looks like it's pulsing side to side by a half inch or so in the background. There are a couple of shots of rocks that pulsate just a little, but not like some of the indoor backgrounds. Whether or not this was a product of a 3D movie converted to 2D, or was due to the equipment used in filming, I have no idea - but it is another distracting and annoying technical flaw in the image that takes the viewer out of the story, even if only briefly.
Now, to be fair, the picture is fairly sharp and the color has held up fairly well on the print, so it's not a total disaster, but the print damage and other image defects are occasionally distracting.
The Stranger Wore a Gun is often referred to as a, "B" Western. It's not. It's more of a, "Programmer," or an assemblyline film. Some of the greatest movies of all time came out of the assemblyline, so that's not a bad thing. And it isn't that this movie is cheap in it's production values (because it isn't all
that
cheap), it's more that it was poorly executed technically.
In the end, this is a decent Western from that era despite the poor handling of the 3D elements of the production.
Movie -
2.75/5
DVD -
2/5