Post by Erik Rupp on May 8, 2010 11:25:17 GMT -5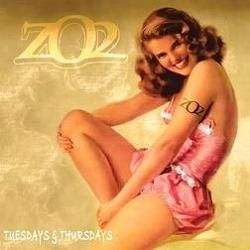 ZO2 first hit the national radar in the U.S. in 2004 thanks to their opening slot on KISS' Rock The Nation tour. It was a huge break for a band that had just independently released their first album. They were, for all intents and purposes, a regional band based out of New York.
They made the most out of that opening slot as they surprised many in the crowd with their high level of professionalism and musicianship. Their songs translated very well live, and the band played them well. Many people who saw that tour walked away very impressed with the Brooklyn born band.
And the album that provided all of the songs played live on that tour was Tuesdays & Thursdays.
Produced by Bob Held, Tuesdays & Thursdays belies a band just starting out. It is an album that has a great sense of cohesiveness and musical maturity while still having the ability to rock your socks off. Tuesdays & Thursdays
sounds
great (Held and engineer Gary Tole did a great job with the audio production on this one), and gives no audible hint that this is anything but a BIG TIME album. Held also shows that he is a legitimate record producer as he has co-songwriting credits on eight of the album's twelve songs and clearly guided the band through the writing and recording process.
Musically, ZO2 covers a lot of Hard Rock ground on Tuesdays & Thursdays without having the album sound like a disparate group of songs and influences - as noted before, it is a very cohesive album where all the songs work together to make a greater whole.
Opening with the mammoth, "Takin' Me Down," the album gets off to a thunderous (and somewhat funky) start. The verse riff is huge, if simple, and the chorus is somewhat Zeppelin-esque with a little 70's Hendrix inspired funky blues thrown in for good measure (think Robin Trower). It's all played with both power and finesse. It's big, it's catchy, and it's a great song.
And as good as, "Takin' Me Down," is, "Temptation," is even better. Again, this one is somewhat funky, but has a big riff and even bigger melodies. The backing vocals in the chorus are pure 70's (nice harmonies, big melody), and they complement the lead vocal absolutely perfectly. This is the kind of song that in a different era could have been huge on the radio. Both of the first two tracks have an almost Black Sabbath level of power in the riffs, but the song structures are more sophisticated combining several different influences into the songs.
"Living Now," is something different from the first two songs. It's something of a shuffle, but it almost has a KISS, "Detroit Rock City," quality to the verse riff. "Living," isn't quite as good as the first two tracks, but it is a very good one.
Just to make sure that it's clear that this isn't a band out of the 70's they bring some 90's Alt-Rock and Grunge influences into the mix on, "Dirty Water." Just a little, though. There are also some very modern (for 2004) elements to the song as well (think Nickelback), giving the song more of a timeless feel than a song from one specific era or another. This is a modern version of the Power Ballad, and it is very well done.
And then ZO2
really
brings the funk. "Radio," is arguably one of the best songs out of the last decade. The verse is extremely funky, complete with a nice slap bass part worthy of Flea, leading into a pre-chorus that builds a level of power on top of the funk before leading into a great Classic Rock kind of chorus with a hook so strong, so powerful, so catchy that it will stay in your brain long after you're dead and gone. Seriously, it's a great chorus, and a great song. If success in the music industry were based solely on talent and songwriting ability this song would have been a Rock radio staple for the last 6 years.
As, "Fly On Your Wings," would have been. Not willing to let the songwriting quality slip ZO2 filled the album with gems, including this one. Loaded with harmony vocals and catchy melodies (not to mention good solid riffs), "Fly," is another amazing song on a stunning debut album. This one is a little more straightforward, dropping the funk for a really strong sense of Rock groove.
Brothers Paulie and David Z (guitar and bass, respectively) work extremely well together, and drummer Joey Cassata lays down beats on the entire album that are rock solid while having a sense of funk and/or groove that lets the songs breathe. This is a band that sounds like the individual members were born to play together.
Even a lesser song on the album like, "Breakdown," would still be above average for most other bands playing music in the same vein, and that is in part thanks to the band's fantastic chemistry. It's also partly due to good songwriting, but the band plays the song with such conviction that even though it isn't quite up to the level of the songwriting on the rest of the album it still holds it's own just fine, thank you.
The funky slap bass returns on, "Liar," a slowish mid tempo song with more of that Red Hot Chili Peppers groove. It's a great change-up from the previous two songs. What's really interesting about, "Liar," is how the RHCP style verse leads into a Stone Temple Pilot type of chorus with complete cohesiveness. The chorus is very strong, and the song works very well. (The middle section of the song takes the tempo up and they continue that riff into the solo - a nice dynamic touch.)
"Paper Breakup," is one of those songs where you can almost hear the influences, but can't quite peg down exactly what they are. It's got Classic Rock, early 80's stuff (Bryan Adams, Rick Springfield, Pat Benatar), and odds and sods from the 90's and 2000's, and it throws all of those elements into a blender to come up with what is a darned good song with a great chorus.
If the band has a
minor
misstep on the album, it may be the song, "Wait." Slowish, vocal melody dominated, and simple, this is a merely average song on a great album. The chorus is catchy, and there isn't anything
wrong
with the song as a whole, but there's just something missing (that the rest of the album has in spades).
Fortunately, whatever that something is the band found it when writing and recording, "Head Up," a song with a groove so strong that your leg or your head will start involuntarily bobbing to the beat. The chorus riff and hook are simple, but amazingly strong. The vocal melodies on the entire song are all world class, but the chorus is fantastic. How, exactly, did this band and this album fail to become the biggest band in America?
"Sweet Lover," closes the album, and does so in a very straightforward manner. It's almost punky, but it's almost Classic Rock at the same time. This is another song where the influences clearly range from the early 70's to the mid 2000's, giving it a timeless feel that won't be as dated as many of their contemporaries' sounds.
And maybe that's the best way to describe the entire album - timeless. The influences range from Jimi Hendrix and Led Zeppelin to KISS and Aerosmith to the Red Hot Chili Peppers and the Stone Temple Pilots. The guys in ZO2 clearly have an appreciation for a lot of different hard rock styles (as well as Power Pop and Funk styles), which gives them a great well rounded style of their own.
Tuesdays & Thursdays truly is an album of monumental proportions. It's just a shame that more people don't know about it.
4.5/5