Post by Erik Rupp on May 26, 2010 17:34:27 GMT -5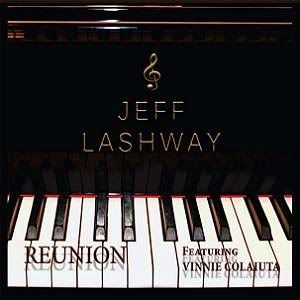 Simply put, Reunion by Jeff Lashway is a
great
Jazz CD.
Lashway built his reputation in Maynard Ferguson's band, and the time spent playing in that legend's band shows up on Reunion. Not so much in the musical stylings, but in the musical maturity and confidence that comes across in Lashway's playing (and in the songs selected & charts/arrangements played on the album). Reunion
sounds
like a Jazz album made by a veteran - someone who has been playing this kind of music for years and years. This is an album that exemplifies what makes Jazz so great when it is written and played well.
There doesn't seem to be a single misstep on the album, from the opening notes of, "Get to the Gate," to the final moments of, "Airegin." Even the audio production is spot on. The recording has both presence and warmth, and it is an amazingly clean and clear recording (the mix lets all the instruments breathe without stepping on each other). Lashway really came up with a winner here.
There is a nice mix of styles on Reunion, a mix where the songs all complement each other nicely. Whether it's more upbeat songs like the aforementioned, "Get to the Gate," or, "Gingerbread Boy," or the softer, quieter side of Lashway shown on songs like, "The Quintessance," or the two songs featuring vocals from Jimmy Hall ("Down Here on the Ground," and, "For Nola"), there is a cohesiveness that makes this sound like a unified album rather than a loose collection of songs thrown together to fill out a full tracklisting.
The performances on the album are all simply stunning. Lashway's piano is played with style and flair, but also with a delicate touch when needed. Vinnie Colaiuta's drumming is, as usual, excellent. Here he plays with a sense of swing on some songs, and a sense of finesse and delicacy on others. His performance really propels the album. Tenor sax player Jeff Rupert likewise gives some top notch performances as well, as do trumpet player Jim Rotundi, trombone player John Allred, and bass player Todd Coolman. Jimmy Hall's vocals are very good, and fit their songs very well.
Reunion is a great album both for Jazz afficionados and newbies alike. This overlooked gem is a, "Must own," CD for anyone who has any interest in Jazz at all.
4.5/5