Post by Erik Rupp on May 28, 2010 14:58:53 GMT -5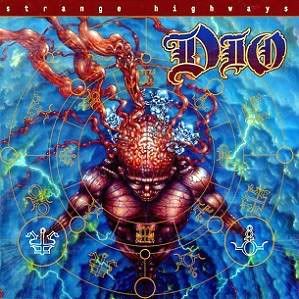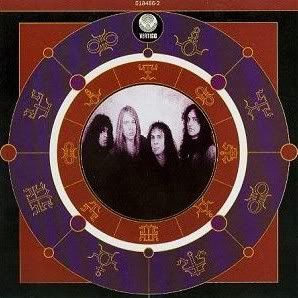 After his reunion with Black Sabbath blew up Ronnie James Dio put together a new version of DIO and proceeded to work on a new album.
Initially it was the Holy Diver/Last In Line line-up minus Vivian Campbell, but Jimmy Bain quickly dropped out and was replaced by former Dokken bass player Jeff Pilson, leaving drummer Vinnie Appice the only other Holy Diver in the group other than it's namesake. Rounding out the group was new six string demon Tracy G (aka Tracy Grijalva). Tracy brought a new sensibility to the band - an almost Industrial approach to the guitar giving DIO an updated, more modern sound for 1993/1994.
Grijalva played with great passion and flair - only that flair wasn't the traditional Heavy Metal shredding (although he was fairly good at that), his flair was in getting screaming/squealing sounds out of his guitar. It wasn't all that dissimilar to some of the things that Randy Rhoads did live with Ozzy Osbourne, only taken a couple steps further and played darker. Grijalva's style was ideal for updating the DIO sound to the Grungy early to mid 1990's.
Ronnie took full advantage of Grijalva's darker, more industrial and ominous playing style.
From the opening guitar screeches of, "Jesus, Mary, and the Holy Ghost," it was clear that this was a new DIO band. The classic Ronnie James Dio vocals were there, but musically this was fresh, it wasn't just a rehashing of DIO's most successful albums. There were tempo changes, mood changes, and a heavy use of dynamics that resulted in slightly more sophisticated arrangements, particularly with this song. It's an uptempo song, except when it's not. There are uptempo parts and slow, stomping parts, and even a mellow-ish part. This is a great song, one of DIO's best, and it's a great way to start the album.
"Firehead," is dark, but not overly so. It's a mean, angry sounding song, but it still has very strong melodies - even if they come from a snarling, gruff Ronnie James Dio. This is what Black Sabbath might have sounded like if Heaven and Hell had been their first album and they stayed together with Dio all the way to 1993. There is a heavy Tony Iommi influence on the song, even if he wasn't present. It's another great track, and shows that even at 51 Ronnie could adapt to modern times and update the DIO sound. It's not Grunge, and it's not Alternative, and it's not Industrial, but it is new and fresh for 1993 all the same.
The first misstep on the album isn't a bad song at all. In fact, it's quite good, but it's so dark, so doomy, so gloomy, and so slow that it isn't as accessible as most of the other tracks on the album. The title track, "Strange Highways," is another track that might have come from Black Sabbath in 1993 had they all been 25 year olds in 1980 when they released Heaven and Hell. Ronnie seems to have locked into a vibe that was just as fitting for Black Sabbath as what they did around the same time on Cross Puposes. This is a really good song, but it probably would have fit the Sabs better than DIO.
Things get back to more of a DIO style on the next song, "Hollywood Black." "Hollywood," is another of those mid tempo songs that kind of stomps and lumbers forward like the Frankenstein Monster - if he had a sense of rhythm. Ronnie again comes up with some fantastic melodies and a chorus that is just monstrous in it's catchiness (in a heavy sense). The riffs on the album up to this point have been very good to great, and on, "Hollywood Black," DIO doesn't disappoint on that level at all. This is a very strong track both musically
and
vocally. Ronnie was very proud of this album after it was released, and he always believed that it would be looked back on as the hidden gem in the DIO catalog in the decades to come. This song is one of the reasons why he was right to feel that way.
Things get a little more Industrial on, "Evilution," as Tracy G. really gets into his groove (one which few players have come close to before or since). This is a song that has mood changes from the verse to the chorus, the verse being a little more Industrial and the chorus being a little more straightforward. This is another track that shows just how
heavy
melody can be. While not one of the best songs on the album, it is still a good one.
"Give me the choice between pleasure and pain - I choose Pain," bellows Ronnie at the beginning of, "Pain," before the band tears into another mid tempo stomper. Tracy G's riffs are almost mechanical in his near Industrial style, but they are also catchy at the same time. It was this ability to play in a style that walked the line between Industrial and Heavy Metal that got the attention of Ronnie, and this song clearly shows that the two of them worked well together as a songwriting team.
Classic DIO melodies return on, "One Foot in the Grave," but the new elements remain. This is one of the very best songs on the album, and the chemistry that this line-up had is very evident on this track. It's another mid tempo song, but this one has a better sense of groove and seems to have more energy than most of the others in this tempo range on the album. Grijalva's solos on this one are a little more traditional than some of the others, and it is very well constructed and is something of a mini-song all it's own. Every element works just right on, "One Foot," and this is a song that holds up against anything that DIO has ever recorded.
The acoustic/electric combination of the intro and verse to, "Give Her the Gun," is eerie, but beautiful. Ronnie's vocal on the verse is reminiscent of his intro vocals to, "Invisible," as his ability to sing with that combination of pre Rock and Roll melody and Heavy Metal gruffness is amazing to listen to. The chugging backing music for the solo is a nice crescendo for the song, before they bring it back down post solo. This dark, atmospheric song is another solid track on a great album. And you can list this one as another of the very Sabbath-esque songs on the album.
But when it's time to rock this like-up shows that they can do it as well as any other that has played under the DIO banner. "Blood From a Stone," is a great example. Great riffs, great melodies, and a fantastic chorus hook - this one's got it all, and it sounds more like DIO than Sabbath (take that for what you will).
The first (and only) really
fast
song on the album comes next to last. "Here's To You," is a good song made better by an amazing amount of energy and performances that have great conviction. It isn't one of the best songs on the album, but it is one of the most
effective
thanks to the tempo and energy level. Strange Highways probably would have been better off with one more fast song like this one.
"Bring Down the Rain," is probably the most DIO like song on the whole album, and considering that this
is
a DIO album that may sound strange, but since so many of the other songs have those new elements this one is the only song on the album that really sounds like something that could have been on Dream Evil or any of the other 80's DIO albums. It also sounds like one of the few songs on the album that has a heavy Jeff Pilson hand in the songwriting as there are some slight Dokken-isms in the song as well. That's not a bad thing - in fact, it gives the song a greater platform to showcase Ronnie's vocals. "Rain," is another great song, and another reason why Strange Highways has held up so well for so long.
This album sounds fresh - it sounds timeless. Thanks to Tracy G's non-traditional style the album crosses a lot of eras and styles and makes it hard to peg when it was actually written and recorded. Mike Fraser's production and engineering are also another reason why the album has held up so well - it doesn't sound overly big and boomy like many 80's albums did, but it doesn't sound super dry or dark like so many Grunge albums did. The production is right down the middle, giving it a timeless sound to match the musical style.
While Strange Highways failed to make a big impression on the U.S. market at the time of it's release it has managed to hold up just as well as (if not better than) the rest of DIO's catalog.
Ronnie just may have been right, after all, when it came to this album. Maybe as attention is focused back on Ronnie James Dio the singer and musician (since his death) Strange Highways will find it's audience. It should - it's one of the better albums in the DIO catalog.
4.25/5