Post by Erik Rupp on May 31, 2010 20:45:19 GMT -5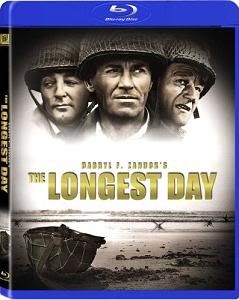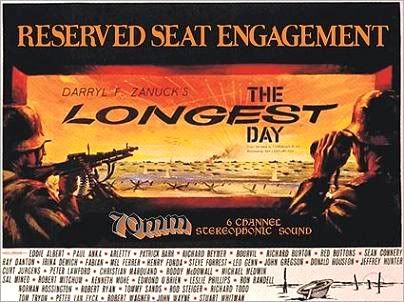 This wasn't just a movie. It was an event.
Think about it - the sheer star power in this film may be the greatest gathering of big screen stars ever. We will likely never see this kind of cast again. Sure, there were attempts at duplicating it over the follwing 15 or so years, but no movie ever matched the talent level of The Longest Day.
Beyond the star power, it was still less than 20 years since the events covered in the movie. It was still fairly fresh in the minds of people all over the world, especially those in Europe and the United States.
Darryl F. Zanuck went all out in the making of The Longest Day. Three directors, 48 international stars (including John Wayne, Henry Fonda, Robert Mitchum, Richard Burton, Eddie Albert, Sean Connery, Jeffrey Hunter, Peter Lawford, Roddy McDowall, Edmond O'Brien, Robert Ryan, Robert Wagner, and many more), extensive location shooting, and a first rate script were all thrown together to come up with an epic, definitive, three hour retelling of the events on D-Day.
The only flaw in the movie comes from one of it's strengths - it's cast. With all that talent and all those characters few of them get fleshed out. We hardly get to know many of them. But even so, what little screen time is given to a lot of them is used very well. Personalities are developed, and that's pretty remarkable. None of the characters are developed well enough to carry a film individually, but as a group they all complement each other. Combine that with the real life dramatic events of that day and you've got one hell of a story, and one hell of a film.
This is a, "Must see," movie for anyone with even a mild interest in history or war films (and especially for someone who has interest in both). This is considered to be the most factually accurate retelling of D-Day on film to date (given the overall details of the bigger picture). Saving Private Ryan may have been more graphically accurate (in it's showing of the true horror of that beach landing), but it showed only a small part of the overall invasion operation. The Longest Day shows almost all of the major events, and does a great job of showing what happened on both sides.
There is no question that this is a great film.
The Blu Ray?
Well, it's fantastic, and it isn't. The picture quality is stunningly clean and clear. There are virtually no speckles, no dust, no dirt, no print damage - the print is pristine. The contrast and grayscale is perfect. Everything is just right. There is a clarity and a cleanness to the picture that is rarely seen on a black and white movie of this age.
And there's a reason for that. It's because Fox had their people do a too-thorough job of digitally cleaning up the print. The heavy use of DNR (digital noise reduction) took away the natural film grain. It also took away the pores on the faces of many characters. If a face is dirty or the guy has stubble then it looks fine. But for scenes where someone has a clean face then there is an almost plastic look to their skin. That's the sign of excessive DNR. It's a shame that Fox went overboard on the DNR, because had they used just a little less this would have been a perfect Blu Ray release.
Even with the excessive DNR the picture does look remarkably good.
Much
better than the standard def DVD release. At an optimum distance from the screen (not too close, not too far), the Blu Ray of The Longest Day looks amazing. Too close and you can see the plastic sheen of the DNR'ed faces. Too far away and the fine details that
are
there get lost by the distance. Instead of being a 5/5 in picture quality this one becomes a 4/5 (by Blu Ray standards - it would still be a 6/5 by DVD standards). That's a shame, because it's unlikely that we'll see a new DVD release on this one any time soon. If we do, you can bet it will have less use of DNR than this edition, and it will likely be a 5/5.
Even with the DNR issue, I can still recommend this Blu Ray to fans of the movie. The picture and sound quality are far better than the previous DVD releases, and the film is definitely worth the upgrade. For people who have never seen The Longest Day, the Blu Ray is without question the way to go.
A, "Must have," Blu Ray, to be sure.
Movie -
4.5/5
Blu Ray -
4/5