Post by Erik Rupp on Jun 2, 2010 23:28:18 GMT -5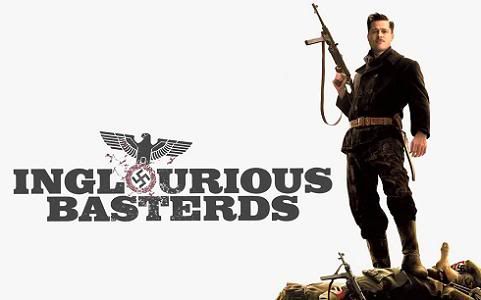 Inglourious Basterds is a very, very good movie. Great in spots. And it's not entirely what you'd expect given the promotion of the movie.
This is just as much of a character driven drama as it is an action filled World War II movie. Hell, it's more of a character driven drama than it is an action filled World War II movie. And almost all of it works very well.
There are two distinct stories (distinct but parallel, until they converge towards the end), and the abrupt changes between them are a little confusing at first. As a viewer the natural reaction would be, "What does this have to do with the story about the Inglourious Basterds?" But as the movie goes on it becomes fairly clear that these stories will, indeed, collide. And when they do, it's fairly explosive.
Until then, though, we've got two different plots moving forward. One a great, great World War II action movie, the other a fascinating - and very well written, character drama set in World War II. Quentin Tarantino actually surprises with his script for the character drama portion. It is mature, sophisticated, and quite intelligent. His script for the Basterds' portion is cleverly written, with some intelligent scenes to be found along the way, giving the movie a slightly different feel between the two storylines. But the storylines seem to complement each other more and more as the movie unfolds.
The one thing that does mar the movie is that the character drama does have some slow points, as does the Basterds portion of the program, in the second half (as the stories begin to converge). I found myself wanting more of the Basterds being, well,
bastards
. This was the dirtiest of dozens (or a half dozen, I think). These guys were out to scare the bejeezus out of the Nazis by beating the hell out of them, and they were succeeding. Sadly, there were only a couple really good Basterds in action scenes. The movie could have used more of them.
Then again, what was in the movie was darned good anyway, so it's just a matter of wanting to see
more
of the Basterds doing what got them their name.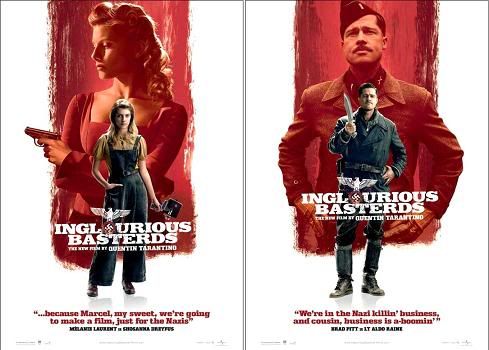 Beyond the script and the direction (Tarantino did a fantastic job there as well), the cast is outstanding as well. Brad Pitt is just great as lead Basterd, Lieutenant Aldo Raine. This guy means business. He's cool, calm, and ready to kill some Nazis. Pitt's performance is really different from anything he's ever done before, and it may be the most entertaining performance of his career. Fantastic.
But the real show stealer may be Christoph Waltz as Colonel Hans Landa, the Jew Hunter who is cold, calm, and very, very smart. He takes a great part and runs with it. It is an Oscar worthy performance in many respects. He just radiates both intelligence and a ruthless nature. Without raising his voice or seeming to be angry our out of control he easily intimidates those around him. It is a performance that is completely riveting.
The rest of the cast ranges from the merely good to outstanding. Tarantino helped to put together a first rate cast.
The ending leaves many questions regarding just how this movie could possibly fit in with real world history, but despite that flaw the ending is still mesmerizing. (And it's only a flaw in that it does make the viewer think, "What the hell? That never happened. What is Tarantino trying to say here?")
Inglourious Basterds is a surprisingly good movie that borders on true greatness. Hell, it is great most of the way through, and the weakest parts of the movie are still very good! It is brutal in spots, and a little graphic, but not as much as Tarantino's reputation would lead you to believe it to be. It is well worth watching - and buying.
The Blu Ray of Ingourious Basterds is just as good as the movie. Maybe better. The picture quality is stunning. Crisp, detailed, clean - it is a great movie to demo your HDTV with. Not quite at the Avatar level of Blu Ray picture quality, but maybe just a half notch below it (if that much). The sound quality is darned near as good as the picture quality, so this release is a winner all the way around.
Highly recommended.
4.5/5