Post by Erik Rupp on Jun 5, 2010 10:14:49 GMT -5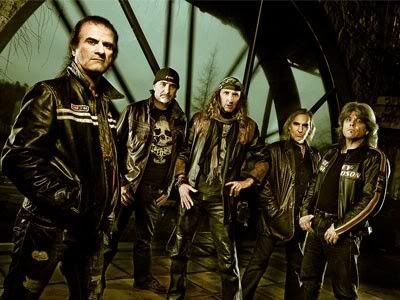 A young band this is not.
Nor are they particularly original.
But in the end, Krokus has several
very
good albums, with a couple of them even flirting with greatness within their genre (One Vice at a Time and Headhunter).
Their latest album, Hoodoo, is right up there with the best of Krokus' catalog. Despite several missteps (and line-up changes) over the years, Krokus has maintained a fairly high level of musical quality throughout
most
of their career.
Hoodoo marks a return to the style that the band employed on their breakthrough album in the U.S. - the liberal borrowing of AC/DC's style that won Krokus both a lot of fans
and
a lot of detractors. While One Vice at a time was completely unoriginal in style it was also very, very well written and extremely well performed by the band.
Fast forward 28 years and Krokus is making yet another comeback, this time using the entire One Vice line-up (Marc Storace on Vocals, Fernando Von Arb on lead guitar, Mark Kohler on rythm guitar, Chris Von Rohr on bass, and the appropriately named Freddy Steady on drums). The results are largely what you'd expect. Being more than a quarter century older, Krokus lets off the gas on a couple of occasions with a couple songs that have a more laid back feel (almost like the early to mid 70's Rolling Stones material), but for the most part this is Once Vice at a Time Part II.
The one area that is a slight disappointment on Hoodoo is the audio production, in particular the guitar tones. They are a little cleaner than they should be, and they are also just a tad muddy. It seems that they were going for an early 70's kind of sound, but just barely missed the bullseye. The production isn't bad, but the guitars don't sound as crisp or as powerful as they should. It's nothing that really hurts the album much, but for those who key in on things like that it is a small disappointment.
The most important aspect of any album is the songwriting and the musical performances, and on that count Krokus have come up with another winner. While Hoodoo isn't quite up to the level of One Vice or Headhunter, it is close and it is also a very enjoyable album to listen to.
The album opens with a track that sounds like a long lost song from the Once Vice sessions. "Drive It In," would fit just like a glove on One Vice. It would also fit in pretty well on Headhunter as well. It's a
little
closer to One Vice than Headhunter in style, but this rousing uptempo rocker would work well on either of those albums.
The lead single and video, "Hoodoo Woman," has that early to mid 70's Rolling Stones vibe, but played a little heavier. It doesn't sound like an AC/DC clone band as Krokus has often been accused of being, instead it combines several styles (including Eliminator era ZZ Top to a degree). This gives it a sound that, while being familiar, can't be pinned down to one previous group or song. This is a great song and it is a new career highlight for Krokus.
"Born to be Wild." Does anything more need to be said? Well, yes, actually. Krokus takes one of the most famous songs of the Rock era and completely reworks it to sound like a Krokus original. Well, if you hadn't heard the original, anyway. The rearrangement of the song works very well, and turns yet another cover of the Steppenwolf classic into something fresh. This arrangement is darned near as good as the original while sounding significantly different. You could call this a reinterpretation of the song in a way. It's good. Very good.
"Rock and Roll Handshake." OK, that's a ridiculous, silly title for a song, but given Krokus' past song titles it kind of makes sense. More importantly, is the
song
any good? Yes, it is. Very good. It's got that more laid back, grooving, 80's AC/DC kind of feel. And despite it's silly title, this is actually one of the better songs on Hoodoo. Go figure.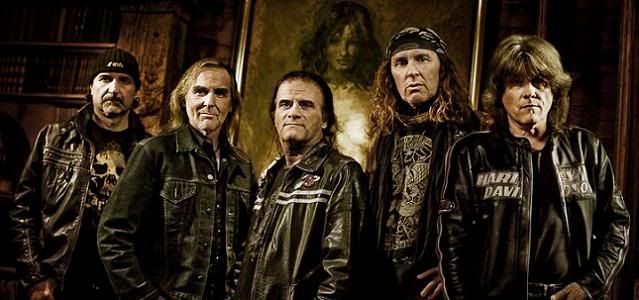 As, "Screaming in the Night," was the song that turned Krokus into a Platinum selling band in the U.S, it isn't surprising then that they have included a song on Hoodoo that follows it up stylistically. "Riding Into the Sun," is very similar to their 1983 classic, but it has more of an even keel - grooving along with that slower mid tempo beat throughout. It's a good song, very good, really, but not quite as good (or as dynamic) as, "Screaming."
You could be forgiven for a moment when, "Too Hot," starts if you thought they had a second cover song on Hoodoo as this one starts off just like KISS', "Lick It Up." The verse on this one is very similar to the song that revived KISS' career in 1983, but the chorus is very different. Krokus always had a good sense of melody, and nowhere is that more evident on Hoodoo than on, "Too Hot." It's a mid tempo rocker with a good sense of groove, but it's the chorus melody that elevates this one from the ordinary. (That's why borrowing from UFO's classic song title can be forgiven...)
The main riff for, "In My Blood," is clearly derivative, but I can't put my finger on the specific song it could originally be heard on (if I find it I'll update the review), but this is the kind of thing that gave Krokus a bad reputation - especially on their Heart Attack album (on that one almost every song sounded like it had been borrowed from someone else). So is it possible to evaluate, "In My Blood," on it's own merits? Yeah, it is. This is a good song, and the riff is so basic that it's understandable how it has been recycled several times over the years. This isn't one of the stronger songs on Hoodoo, but in the context of the album as a whole it works fairly well.
Wait a minute? Did the record company mess up and include a Georgia Satellites song on Hoodoo? Nope, but the opening guitar bits on, "Dirty Street," sound a lot like the opening of, "Keep Your Hands to Yourself." "Dirty Street," is that kind of song, only played through an early 80's AC/DC filter. This mid tempo song is good, and a solid album cut.
"Keep Me Rolling," has another of those, "Haven't I heard that somewhere before," kind of riffs, but this uptempo track gets by on good vocal melodies and a ton of energy. On the other hand, "Shot of Love," doesn't so much have a riff that sounds eerily familiar as it has an arrangement and a drum beat that recalls an earlier classic from AC/DC. (In this case, "Highway to Hell.") The arrangement makes the riffs sound more like the ones from that earlier song than they would otherwise. Yes, it appears to be true - Krokus are either not capable of, or perhaps just not interested in, being truly original. And yet they get by anyway because they are so adept at writing catchy songs that are just too damned fun to listen to to worry about the stylistic borrowing.
Krokus closes out their latest album in energetic, uptempo fashion with, "Firestar." This is another song that has a combination of a catchy riff and catchy vocal melodies that makes the familiarity of the music forgiveable. It's the perfect way to finish out the album.
In the end, almost no one buys a Krokus album to hear something new and different. Krokus are the musical equivalent of comfort food. A hamburger and fries. It's good almost every time, and Hoodoo is one tasty bit of hard edged Rock and Roll.
4/5