Post by Erik Rupp on Jun 5, 2010 16:48:36 GMT -5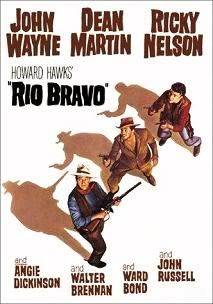 Movie legends don't get any bigger than John Wayne. When it comes to classic movie directors few are as legendary as Howard Hawks.
The two of them worked together several times, including the classic Red River, and the unofficial remakes of Rio Bravo, El Dorado and Rio Lobo.
But it was Rio Bravo that was arguably the best film that the two of them made together. The script was finely crafted by Jules Furthman and Leigh Brackett, balancing action, tension, and fleshed out characters that seemed more like real people than the carboard cut-outs that often populate movies. These characters were well developed, and showed some real depth. John Wayne, in particular, made the most of his character of John T. Chance, playing him with nuances that few give The Duke credit for having had the acting ability to pull off as well as he did here. Wayne plays him as a world weary middle aged man who still manages to have a sense of humor and the ability to truly care about others. It is a performance filled with subtlety. Blink and you might miss a facial expression that is worth a full page of dialog.
Dean Martin also gives a darned good performance, and his character, "Dude," has a full arc going from a bumbling drunk to a broken down drunk to a redeemed lawman. Martin pulls it off with style and emotion and makes the perfect foil for John Wayne's John T. Chance. Add to the mix a young, fiesty Angie Dickinson (who gives a really good performance), Ricky Nelson (who is a little more than adequate), Walter Brennan (as the comic relief, doing a great job of it), and Ward Bond being, well, Ward Bond (almost never a leading man, but always a great part of the supporting cast). It's a great cast, rounding out a great movie.
The story itself is something of a reworking of High Noon, only instead of one man standing alone against the enemy because no one would come to his aid, John T. Chance has help - and the offers of even more help which he turns down. Chance has arrested Joe Burdette for murder, only Joe's brother, Nathan, is a powerful and wealthy man. Nathan wants Chance to release Joe or else. Chance being an honest lawman refuses, and the conflict begins. Burdette hires more than a dozen gunmen to gain the release of his brother. Chance has to hold out for a week waiting for the U.S. Marshal to show up and take Joe away for trial.
Hawks does a great job with the material. The set looks completely authentic (which it actually was, as it was built as an authentic recreation of old Tucson for the movie Arizona in 1939), and the movie moves along at a great pace. The characters are given time to grow and develop, but there is also some action as well. The final showdown is one of the more explosive showdowns in the entire history of the Western genre.
The blu ray is as good as can be expected from a 1959 movie. The colors pop and the detail is excellent, but the film grain is the giveaway as to the age of the movie. The film grain isn't excessive, but it is slightly more prominent than on more recent films (which is a good sign that Warner Brothers didn't overdo the digital noise reduction). The movie actually has a very pleasing look overall and looks significantly better on blu ray than on its previous DVD releases.
There are some nice bonus features as well, making this a well rounded release, and one well worth a purchase.
Rio Bravo is a classic. There is no other way to put it. It is a film that actually becomes more enjoyable on repeated viewings, and that says a lot.
4.5/5