Post by Erik Rupp on Jun 17, 2010 0:05:57 GMT -5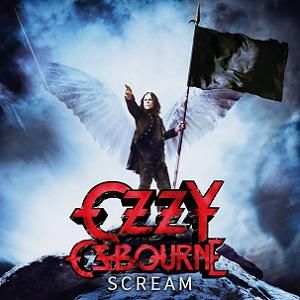 Well, there's a new Ozzy Osbourne album. Is is a return to form, or is it more of the same muddled valley that he fell into over a decade and a half ago?
Sadly, it's not the return to form that was hinted at on Down to Earth in 2001. Instead, it's more of a progression from his last disappointment, 2007's Black Rain. The link between the two? Producer Kevin Churko. Why Osbourne (and his evil wife/manager, Sharon) seems to be so enamored with Churko, I'll never understand. Churko's audio production is noisy and overcompressed. His songwriting contributions seemed to give the songs an almost generic sound in a 2007-2010 sense.
And the biggest problem on Scream is the songwriting (the production isn't very good, but the songwriting is a mess). The songs lack a natural flow - parts seem patched together with little rhyme or reason - and there isn't much there that stands out as anything all that special.
The lead single, "Scream," is a good song - up until the chorus, when it becomes a paint by numbers song that sounds like a 2010 band aping the late 80's commercial Metal style. Gus G's solo is pretty good, but that chorus just seems so damned generic - almost like Ozzy trying to write a Motley Crue song (circa Dr. Feelgood).
The album's opening cut, "Let it Die," is a good example of a Frankenstein Monster of a song. Parts here, parts there - parts is parts, just stitch 'em together and make it work! Some of the parts are good, some of the parts are just noisy, and that verse - what a stinker! Ugh! What is that? Ozzy Rap? He's just as bad at it as Paul Stanley is (circa, "Read My Body"). The chorus
is
good on this one (the opposite of, "Let Me Hear You Scream"), and there are some good musical bits here and there (there's a good, "Children of the Grave," rip-off bit during the solo), but most of these disparate parts just don't fit together cohesively. And this is the track they use to set the tone for the whole album? Really??
"Soul Sucker." Originally titled, "Soul Sucka." Yeah, that's right. Okey dokey, Ozzy. Is that really someone's idea of a riff (in the intro and the verse)? It's noisy, but would have worked as an intro, but using this rather unmusical thing as the central riff is something of a joke. A bad one. And this is a bad song (even a decent upbeat pre-solo section can't save it). At this point I'm a little depressed. Whatever you think of Ozzy (and Sharon) he's put out several great albums. It's clear by this point in the album that this isn't one of them.
The obligatory, "Ozzy Ballads," begin with, "Life Won't Wait," which is mediocre. The heavy part kind of sort of fits, and the mellow part is OK, but there's too much of the, "Been there, done that - only better," vibe that comes across in this one. (And the solo section is too heavy for the rest of the song - again it's a part that doesn't fit in with the rest all that well.)
Four songs in, and the parts that aren't bad are either generic or retreads. Considering the talent level of the players involved that's pretty sad. Gus G. from Firewind and Dream Evil is a great player and songwriter. Tommy Clufetos is a great drummer who's played with legends like Ted Nugent and Alice Cooper, and more modern talent like Rob Zombie. At least he comes across well here. Hell, he may come out of this thing looking (and sounding) the best out of all the people involved in this album.
"Diggin Me Down," is a good song, and it's something of a combination of No More Tears era Ozzy and Cross Purposes era Black Sabbath. It's not a
great
song, and the intro is way too long, but it is a very good song and the best track on the album thus far.
"Crucify," sounds a bit like Disturbed, and just sounds like Churko was trying to bring in a lot of modern elements to the Ozzy sound. This one, like it's predecessor, is a good song. In the context of Scream it's a highlight with some decent riffs and vocal melodies (and a heavy attitude).
Unfortunately, it's back to the generic for, "Fearless." Again we're treated to a noisy chorus that lacks the class and melodic sense of Osbourne's best solo work. The verse works fairly well, but isn't enough to sell the song on it's own, and that chorus ends up being a total deal breaker. Is this really the best they could have come up with? Gus G sounds good again, but that's nowhere near enough.
So isn't it, "Time," for a great song on the album? Yes it is, but this one isn't it. It's another generic Ozzy ballad. Nothing terribly bad, but it's nothing all that good, either. It's uninspired and uninspiring. Clufetos sounds pretty good on this one, though...
Wait, I hear something that sounds vaguely like a Gus G. style riff. It's, "I Want it More." It's really good! But, oh no! Another crappy generic, paint by the numbers part (this time the bridge) kills it. Call this one 2/3 inspried (really, really good), and 1/3 mediocre, generic stuff. (And is that generic mellow piano part in the middle of the solo really necessary?) The production does this one no favors, giving the song no room to breathe. It's just brickwalled and noisy. What a shame.
"Noisy Noise," is the next song. Oh, wait? It has a different title? Whatever. It's called, "Latimer's Mercy," and the production kills this one (although the verse is fairly poor on it's own anyway). Now I'm really depressed.
Ozzy closes the U.S. version of the album with, "I Love You All," yet another ballad. Well, sort of - it's only a minute long, and it's more of a message to his fans than anything else. Nice sentiment, but if he really wants to thank the fans and tell them how much he loves them then this is the wrong album to have released.
Sadly, this really is Ozzy Osbourne's worst solo album. Ever. He and his cohorts (whoever they may be next time around - if there is a next time) will have to work hard to come up with a more disappointing album than this one.
Scream isn't
horrible
. It's just uninspired, generic stuff that sees his hired hands working too hard to make Osbourne current and relevant rather than focusing on just writing
great songs
. In trying to be modern and relevant they
have
written a few bad songs, but there are some decent bits and pieces to be found on the album. Too bad they're thrown together with parts that don't always fit (or with parts that are downright poor) in a rather haphazard fashion.
Ozzy said he was going to retire back in 1992. Maybe he should have. None of his albums since then have matched the quality of his albums up to that point. A couple of them haven't even been close. Scream is the lowpoint of Osbourne's career to date. It didn't have to be this way.
2.25/5