Post by Erik Rupp on Jul 11, 2010 19:56:03 GMT -5
Well, there's one thing you can say for sure, Speed Racer - the movie - is colorful.
And, in truth, it's not half bad. It's a fairly entertaining two hours of cartoon silliness that is full of action and just a hint of suspense. But all of that comes in the framework of a movie that very closely resembles the 1960's cartoon series imported from Japan. This literally is kids' stuff.
What the Wachowski Brothers were going for, apparently, was a surreal world of the not too distant future where the laws of physics have been overcome to a certain degree by technology. Racetracks with loops and spirals and other crazy stuff that would spell death for every single driver in the real world is not the danger in Speed Racer. No, the danger comes in the form of the drivers who are supplied vehicular gadgets that would make James Bond proud, and they are supplied these gadgets by either underworld figures or their corporate sposors who have much to gain financially if someone on their racing team wins.
It's crazy, silly stuff - but within the confines of this movie it's still somehow halfway plausible. Halfway, anyway.
The movie centers on Speed Racer, the younger brother of champion race car driver, Rex Racer. Rex meets an untimely end (or so they're told - his remains could not be identified), but Speed carries on his legacy a decade later. Speed is given the chance to join the Royalton race team, but turns down the offer to remain part of his family run race team. The owner of Royalton Industries, Mr. Royalton himself, advises Speed that he has just made a huge mistake, and that his racing career will soon be over.
This we are given the set-up. The good guys and the bad guys. Only a Japanese driver and his sister are given any ambiguity as to their standing.
Into this mix comes Racer X, a mysterious figure who never gives out his real name, and is (almost) never seen without his mask. He works with Inspector Detector (I kid you not - that was the name straight out of the cartoon), who is the international law enforcement agent who investigates the multi billion dollar racing world. They plan to expose Royalton and others like him in order to end corporate and mafia control of the racing industry.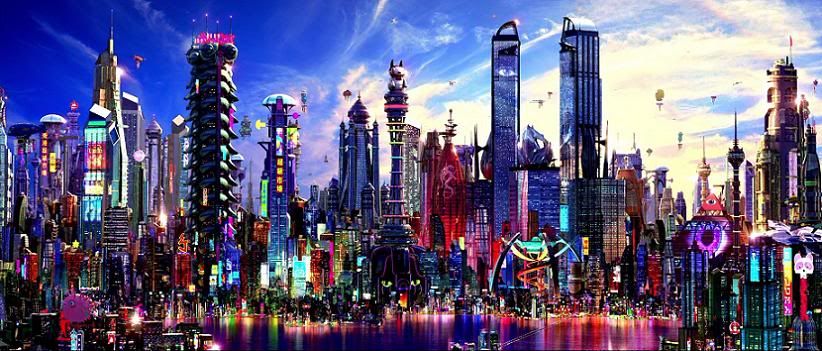 Much has been made of the movie's shortcomings. It is WAY out there, and the look is just so oversaturated - it almost looks like a Pixar movie! Hell, it may be more colorful than a pixar movie, this one just happens to have real people in it.
The movie's main faults like in the editing (flashbacks within flashbacks, flashbacks intersecting with real time, flashbacks where we aren't sure if they are flashbacks, possible future scenes that are told as the future - it's all fairly confusing at times). There is just too much going on at times, and it's hard to keep straight what really happened, and when it happened. And this is supposed to be a kid friendly movie. (Just wait for the questions like, "I don't understand. What's going on?")
The look of the movie is spectacular, though. The Wachowski's did an amazing job with the look of the movie. It's hard to tell what is real and what is CGI. The sets (the real ones) are just as colorful as the CG stuff, and that makes the look of the movie seamless.
And there is some genuine excitement and fun to be had in this story. The movie may be just over two hours long, but it doesn't feel like it.
Fans of the original cartoon series are much more likely to enjoy Speed Racer than those who are unfamiliar with it. This is a movie set in it's own world, a world that may seem more than a little ridiculous to those unfamiliar with the concept. Once you get past that (
if
you can get past that), then there is a fun, entertaining movie waiting for you.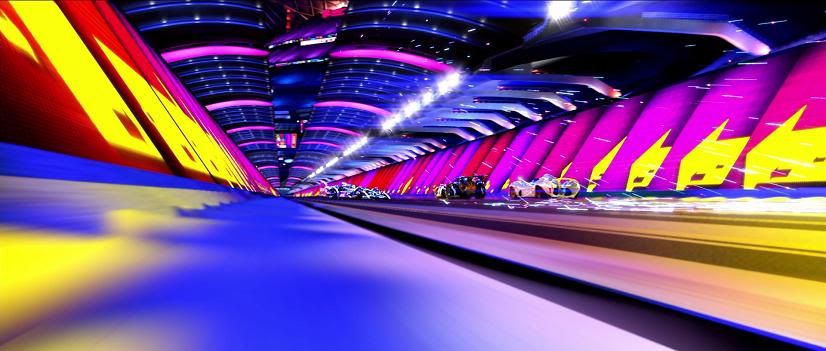 As for the Blu Ray - wow! Talk about POP! This movie absolutely pops on blu ray. The only thing lacking is some fine detail. There is some, but as the movie was so heavily processed some of that detail was lost (not a fault of the blu ray itself, but more of a fault of the production of the movie). Still, this blu ray is very impressive. It is very, very clean, very clear, and the colors are just amazing. For a movie with so much color saturation it is very impressive that there wasn't any color bleed like there very well could have been.
The sound of the movie is good, but the volume level is just a tad low. That's not a big problem as you can just turn it up, but it's a little surprising that it is as quiet as it is (relatively speaking).
All in all, a very nice package - a fun, groundbreaking movie visually, and a great blu ray transfer.
Movie -
3.25/5
Blu Ray -
4.5/5