Post by Erik Rupp on Aug 10, 2010 13:26:32 GMT -5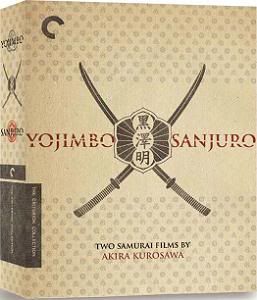 By the time they made Yojimbo, both Akira Kurosawa and Toshiro Mifune were legandary figures in Japanese cinema. Hell, they were fairly well known throughout the world by that point, so when Yojimbo was released in 1961 it made quite an impact.
It certainly made quite an impact on Sergio Leone, who used the story as the basis for his breakout film - A Fistful of Dollars.
While Akira Kurosawa is looked at by many people as something of an, "Artsy," director, the truth is he could also make films that were extremely entertaining by any standard. Yojimbo managed to combine Kurosawa's attention to detail and fantastic photographic style with pure escapist fun. It is both serious and funny. It's artistic, but not pretentious. When Mifune's character first strolls into town he sees a dog trotting down the street with a snack in it's mouth - a severed human hand! What makes the scene so perfect is the playful music written by composer Masaru Sato. In fact, the score for the entire movie manages to keep the darker, more serious parts from becoming overbearing, while playing up the lighter, more comic moments without having them seem farcical.
There is an extremely good balance between the drama and the comedy. The comedy is brought out in small doses, and at just the right times.
The story itself has been reworked a few times, but never as well as it was done here. Sanjuro (a made up name that Mifune's character gives himself) is a wandering ronin - a masterless (unemployed, basically) samurai who by chance comes across a small town that has two warring criminal bosses. They have laid waste to the town's economy with their conflict. Sanjuro decides to have some fun while putting an end to their petty war by pitting each boss against each other for his services. He gains the trust of each of them, and manipulates them in turn.
The footsoldiers for each of these bosses are largely wannabe samurai - not good enough to make it as a, "Real," samurai, but just barely good enough to be the footsoldiers for each small army of thugs. Sanjuro is the real deal, and he takes out three of the thugs in less than ten seconds. This move sets him up as the lone legitimate samurai in town, and put his services in great demand.
Along the way, Sanjuro creates havoc in the town - at least for the two warring factions. While it isn't all smooth sailing for Sanjuro, he is clearly not only the deadliest man in town, he's one of the smartest. It isn't until the brother of one of the bosses (played by Tatsuya Nakadai) comes back to town - with a pistol, no less - that there is someone there who can match him in wits.
Kurosawa's eye for detail gives the movie a completely authentic look, and his handling of the cast helps create that balance between drama and comedy. He intentionally kept most of the action scenes short to give them greater weight and impact.
Yojimbo was such a success that it prompted Toho studios to ask Kurosawa to immediately make a sequel, which he did (Sanjuro).
Yojimbo is the perfect Kurosawa movie for those who believe that Kurosawa is somehow too, "Artsy," for their tastes. It is the 1961 version of a summer, "Popcorn," movie. It's excapist fun. It's entertaining. But it still has some substance and artistic merit.
Criterion's 2007 DVD re-release was a great improvement over their previous release of the film. The earlier version was non-anamorphic and quite soft. The re-release is anamorphic, progressive, and very sharp. It also has much better contrast than the earlier edition.
In 2010 Criterion released the movie on Blu Ray, and it has never looked better. Even sharper than the DVD re-release, the Blu Ray looks fantastic. The black and white photography is just stunning. The details in the backgrounds become much clearer as the dept of field in focus is better than the DVD, and the details of the main characters and their immediate surroundings are also clearer than before. Yes, there is noticeable grain in the picture - this
is
film, after all - but the grain is pleasing and not overbearing unless you're watching the movie from only two or three feet away.
The sound quality, which was another improvement for the re-release, is even better on Blu Ray. It may not be 2010 era Dolby Digital Surround quality, but for a 1961 movie it is rich and clear.
The extras on both sets are very, very good. There are commentaries that are quite informative, and documentaries (the one from the Akira Kurosawa series, It is Wonderful to Create, is outstanding), as well as trailers for the movie.
The DVD re-release of Yojimbo is great. The Blu Ray edition is even better. And the movie? Fantastic. It's just a great, entertaining movie.
5/5