Post by Erik Rupp on Aug 12, 2010 22:12:41 GMT -5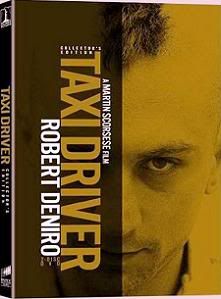 Taxi Driver was Martin Scorsese's second collaboration with Robert DeNiro (following Mean Streets three years earlier). Like Mean Streets it is a very good film - but is it a great one? Is it deserving of it's place on the AFI Top 100 Films list?
That would depend entirely upon the viewer.
For me, the answer is, "No, it doesn't deserve that much credit," but that's just me.
Saying that it is one of the top 100 American films would put it above dozens of great movies, and for some it belongs there. I can agree that Taxi Driver is a good movie - very good, even. But
great
? Not quite.
Taxi Driver is really a very simple movie. That shouldn't be very surprising as Scorsese is a big Akira Kurosawa fan, and Kurosawa's films were often very simple in their premises. It was the details of what happened that were more complex, and Kurosawa almost always had a way of making simple stories very interesting.
Like Kurosawa's movies, Taxi Driver has a simple premise: A Viet Nam vet has a hard time acclimating to civilian life. He has bouts of insomnia, and so he takes a job as a taxi driver so he can work nights. During his time in the city he spots a beautiful woman (played by Cybill Shepherd), and over the course of a couple of days works up the courage to ask her out. It's an oil and water combination - he has no real long term chance with her, but he's the last one to realize that.
Along the way he comes across the seedy underbelly of a large urban jungle. As a taxi driver he sees the worst in humanity, and already having some minor psychological issues this brings out the dark side in him. He develps something of an addiction to pornographic movies (which leads to a bit of a blowup with the Cybill Shepherd's character), and he has violent tendencies which comes to a head at the end of the film.
Ultimately, the movie could be described as one man's journey into insanity. OK, maybe insanity is a big strong of a term. How about, one man's slide into mental instability and lost touch with reality? That's where Travis Bickle (DeNiro) ends up.
Like Mean Streets, Taxi Driver is rough around the edges. It is a little more polished than Mean Streets, but nowhere near as slick as Goodfellas or Casino. This is Martin Scorsese as a work in progress. The cast is fantastic - DeNiro and Shepherd are just the tip of the iceberg - Albert Brooks, Peter Boyle, Harvey Keitel, Jodie Foster, and even Martin Scorsese himself all give excellent performances. Scorsese already shows a flair for handling actors, a flair that would continue to develop over the next couple of decades.
There is a raw honesty in Taxi Driver that may explain the high regard given to the film. It is a very good movie - a frank, no holds barred look at urban life in the mid 1970's. The script is well written, but occasionally loses focus. The strength of the script (one strength, anyway - there are several) is the handling of DeNiro's Travis Bickle character. His descent into near madness is handled very well. It is slow to develop, and once he loses his grip it's easy to follow his logic, even if you don't share it. That's no easy trick to pull off when writing a script, but Paul Schrader did it.
Bottom line? Taxi Driver is at the very least a very good movie, and one of the stronger movies of the 1970's. It is dirty, grimy, and sometimes unpleasant - but it is also occasionally warm and humorous (well, somewhat - maybe it's more witty than humorous). It's well worth watching.
As for the DVD releases, the 1999 Special Edition has a surprisingly strong picture. The color palette is very good and seems to be fairly accurate. The picture quality is fairly sharp and clear. The 2007 Collector's Edition is brighter and cleaner, sometimes showing sharper detail. It is, perhaps, a bit too bright. Taxi Driver isn't supposed to look pretty - it's the dirty underside of America, and the original DVD looked the part. Don't get me wrong, the 2007 version isn't slick looking like Casino, but for some it may be a little too bright given the subject matter.
3.9/5
(I'm breaking my usual .25 incremental ratings on this one because I really am torn between giving the movie a 3.75 and a 4 - and I'm leaning more towards a 4.)