Post by Erik Rupp on Aug 14, 2010 12:04:15 GMT -5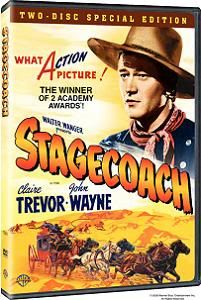 There are few Westerns as iconic as John Ford's Stagecoach.
It may seem somewhat dated and full of cliches
now
, but when it was first released it was fresh and new and set the standard by which all Westerns that followed were judged.
And the truth is even if it is dated and full of things that are now cliches it still holds up remarkably well. John Ford got so many things right with Stagecoach that all the copycats that followed cannot diminish the quality of this 1939 classic.
Stagecoach was a project that Ford had wanted to make for two years ever since reading the short story, "Stage to Lordsburg." He had a hard time selling any studio on the project, but he managed to convince independent producer Walter Wanger that the movie could be successful.
Stagecoach takes several different character types, puts them all in one small, confined place (the stagecoach), and takes the viewer on a journey with them. Along for that ride is a B-Movie actor who had previously worked for Ford as an extra in the 1920's. That B-Movie actor was John Wayne. This was his first A-Movie since 1930's The Big Trail, which was a big budget box office bust (and one of the major reasons why Westerns fell out of favor with the major studios for the rest of that decade). John Wayne had been relegated to B-Movies ever since. Ford felt that Wayne had learned enough about acting and had developed into a talent that was perfectly suited for the key role of the Ringo Kid in Stagecoach. Ford was absolutely right.
Of course, Ford made sure that Wayne came across well in how he was filmed. Stagecoach is almost as famous for it's introductory shot zooming in on John Wayne as Ringo as for anything else. The way Wayne twirled that rifle while cocking it (during the zoom) instantly told audiences that this was a major movie star in the making.
The rest of the cast isn't shabby, either. Claire Trevor was actually top billed (and the highest paid), and the cast also included John Carradine, Andy Devine, Thomas Mitchell, George Bancroft, and a young Tim Holt (more than a decade before The Treasure of the Sierra Madre), among others.
This disparate group of characters are headed for Lordsburg for different reasons. There's the drunk doctor and the, "Saloon Girl," (prostitute) being run out of town by the fine upstanding citizens. There's also the woman going to meet her cavalry officer husband and the bank owner taking his embezzled money to Lordsburg for laundering. Along for the ride is the self styled, "Southern Gentleman," and gambler looking to take care of that southern belle going to meet her husband. Also coming along is the town Marshall looking to capture the Ringo kid.
They have to overcome both Apaches and each other to make it to Lordsburg, but not all of them will survive the trip.
Ford made the most of Dudley Nichols screenplay, directing the movie with a fast pace, giving it the occasional chance to breathe before taking off again.
The photography in Stagecoach is simply breathtaking. Orson Welles reportedly watched it over and over again to get ideas prior to filming Citizen Kane. Ford's work on Stagecoach set the ball rolling for his career - his visual flair became his signature in years to come. The flair that had been seen in bits and pieces throughout his career prior to this movie finally coalesced in Stagecoach becoming the John Ford style.
There isn't a lot more that needs to be said about Stagecoach. There are great characters in the movie doing interesting things. There are some exciting moments and a lot of great scenery. It is a classic.
As for the various home video releases, Criterion's new Blu Ray release is by far the best. First, where all of the other versions either cropped off the very edges of the movie or squeezed it to fit on an old standard 1.33/1 format, this version shows it complete at 1.37/1. It's a very small difference, but the movie just looks better - it feels a little more open. Second, the film is sharper and has better contrast than on any other home video release. Yes, there is still print damage (scratches), but short of a multi-million dollar digital restoration this is the best that Stagecoch is likely to look. The old filmstock produced an amount of grain that Warner Brothers didn't feel comfortable with when they released their 2007 DVD Special Edition of the movie, but Criterion embraces the look of film on their Blu Ray. It is the film grain that carries the fine details which give the picture what sharpness it has. That's why the Warner Brothers 2007 release seemed a little soft (not quite out of focus, but just a tad soft). Their earlier DVD release of Stagecoach was actually better. The 2007 DVD looked squeezed (to fit the entire picture in the 1.33/1 format), and while the earlier DVD may also have been squeezed it just didn't look like it was squeezed quite as much. The earlier DVD also had a sharper image. It may have shown more print damage, but the picture was sharper.
The extras on both the 2007 Special Edition and the Criterion Blu Ray are extensive, and quite good. There is a lot to be enjoyed beyond the movie on both.
When it comes to Westerns, Stagecoach set the standard.
Movie -
4.5/5
Blu Ray -
5/5
(Great picture quality, great extras)
2007 DVD -
4/5
(Great extras, decent picture quality)
1997 DVD -
4/5
(Better DVD picture quality, production notes and trailers for seven movies as extras)