Post by Erik Rupp on Aug 22, 2010 14:15:46 GMT -5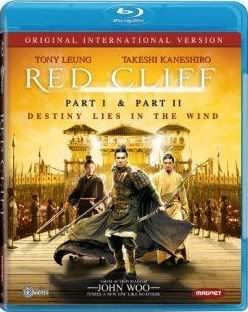 Hollywood used to make some great epic films. Costs to make those films became prohibitive over time, and until recent years the Hollywood filmmakers had been out of the epic film business. Thanks to CGI, however, epic films became more feasable from a budgetary point of view, and Hollywood got back in the game.
Along with Hollywood, foreign filmmakers got back in the game as well. One such filmmaker is John Woo.
Known for his Hong Kong action films and some fairly well received Hollywood movies, Woo has, on occasion, shown an ability to handle drama as well as he does action.
With Red Cliff Woo puts it all together. Red Cliff is an EPIC movie in every sense of the word. The story is big. The cast is big. The action is big. The drama is often big, but smaller and more thoughtful when needed. Red Cliff has it all.
And it's all done very, very well.
Red Cliff tells the tale of a rogue General in China's Han dynasty who through military might and force of will convinces the Emperor to appoint him as Prime Minister (as well as General) with the task of quelling a (non-existent) rebel uprising in the south. The Emperor was largely a political figurehead, as that General (warlord Cao Cao) had unified all the northern territories of the empire. The two warlords remaining in the south, Liu Bei and Sun Quan were his next targets in Cao Cao's effort to unify all of China under his rule.
Recognizing Cao Cao as a military despot, Liu Bei has his army fight a valiant, but futile, battle against Cao Cao's forces before being forced to retreat. Knowing that his forces cannot stand up to Cao Cao, Liu Bei has his top military advisor, Zhuge Liang, head to the southern region controlled by Sun Quan to forge an alliance. Sun Quan is seen as something of a weakling and a coward by Cao Cao and most in the north due to Sun Quan's failure to wage any wars (his father had been known as a strong military leader).
Thanks to the support of Sun Quan's top military leader, Zhou Yu, Zhuge Liang is able to convince the southern leader to stand up to the aggression of Cao Cao, and the alliance is successfully established.
The battle scenes in Red Cliff are nothing short of spectacular. John Woo does an amazing job of blending live action, with some very, very subtle instances of, "Wire-fu," and CGI to create some of the most visually impressive battle scenes ever filmed. Woo seamlessly blends the live action with the CGI, and on those rare occurrences where wires are used they are used only to keep stuntmen (or the actors) from getting hurt. It adds up to a very impressive movie from an action standpoint.
But Woo's ambitions were to make something far greater than just another big action movie. Woo wanted a complete picture, including well rounded characters who live and breathe and evolve. These characters behave like real people. Some are likeable, some are admirable, and some are not.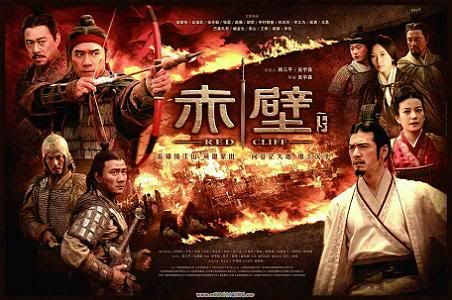 Cao Cao, while clearly a military despot, truly believes that what he is doing is for the greater good of China. His intent is to unify the Empire and stop all the petty sqabbling and warring between the warlords who control various regions of China. He, of course, is no better than they are, and may be worse than many as he is completely ruthless, but his belief is that he is doing the right thing - both for China and for himself. This makes the movie more interesting. He is clearly, "The bad guy," of the story, but like the best villains, he really thinks of himself as the, "Good guy," and is just doing what he believes he must do.
The performances in Red Cliff are generally of the highest caliber as well. Tony Leung gives a riveting performance as Viceroy Zhou Yu, and Takeshi Kaneshiro is quietly powerful as military advisor Zhuge Liang. The two of them have great chemistry, and the bond forged between their characters seems all the more real because of that.
There is no one aspect of the film that stands out above the rest, as each part of the movie - the script, acting, direction, and special effects are all extremely good. The film itself is elevated because of that. The whole really is greater than the sum of it's parts when it comes to Red Cliff. While each individual piece of the puzzle is very, very good, the movie itself is great because it has no weak spots. John Woo's efforts paid off big time with Red Cliff. Each part of Red Cliff (released here as the international version in two parts) is about 2 1/2 hours long. Even so, this nearly five-hour epic breezes by at a good clip and never seems to drag or feels too long. That may be the highest praise of all for the movie.
As for the Blu Ray, the picture is stunning. It is crisp, clean, and very sharp, but not overly so (the blu ray was
not
DNR'ed to death, thankfully). The colors are strong and lifelike, and the contrast is good while still giving strong detail in shadows and dark parts of the movie. The sound is very strong as well.
There are some very nice extras, including a thorough making-of documentary on the 2 disc set.
Bottom line? This movie really is EPIC. It's exciting, moving, and entertaining.
4.75/5