Post by Erik Rupp on Sept 9, 2010 23:26:56 GMT -5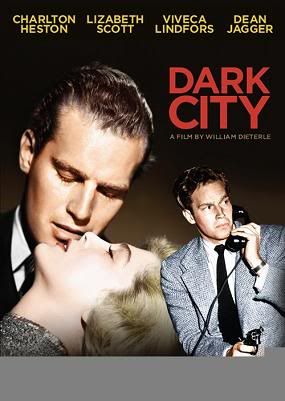 Dark City is a noteworthy movie for several reasons.
It was one of Charlton Heston's earliest roles - and his first leading role in Hollywood. It was the first time that future Dragnet stars Jack Webb and Henry (Harry) Morgan worked together. It also featured a top notch cast including Lizabeth Scott, Ed Begley (Sr), Dean Jagger, Viveca Lindfors, and Don DeFore.
And
it's just a good movie.
For years Paramount sat on this title, leaving it unreleased on DVD while many Film Noir fans scratched their heads, puzzled as to why a key Noir title like this one wasn't available on DVD. Independent film company and DVD distributor Olive Films recently put an end to the wait by licensing Dark City (along with 2 or 3 other classic titles) from Paramount.
About time.
Dark City opens with an illegal sports betting joint being raided by the police. Head man Dan Haley (Heston) is outside when the raid goes down, and thus avoids arrest. With his business temporarily shut down Haley soon finds a mark - a man from L.A. with a $5,000 cashiers check - who invites himself to join in with Haley and the former sports book employees. Haley warns him that it's a pretty tough crowd, but the man (Arthur Winant, played by Don DeFore) thinks he can handle it.
He's wrong.
After being set up the first night (the professionals throw the game and let Winant win most of the hands), Winant soon finds himself in over his head the second night. Pushed to the limit he continues to bet expecting to win sooner or later. He doesn't. He ends up (very) reluctantly signing over the check (money that belongs to the sports club to which he has a membership).
Distraught, he commits suicide by hanging in his hotel room - to be found by his brother. His overprotective older brother. His recently released from a Canadian mental hospital older brother.
When one of the men who cheated him ends up dead (presumably by hanging, but then clearly by strangulation from behind) the other gamblers in the group quickly put two and two together and realize that the older brother is out to do to them what his brother did to himself.
It's a fairly tense game of cat and mouse, only in this game the mice don't know what the cat looks like. That makes for a good premise - the guys know who's after them but they don't know how to identify him. Jack Webb's character goes from being cocky and confident to frazzled and nearly unhinged towards the end as the fear of a psychopathic big brother out for revenge gets to him. (He gives a fine performance - one of the better performances of his career.) The change in the characters as their flight (or fight to survive) continues is one of the strong points of the movie.
Dark City is a well written and well directed Noir. No, it's not one of the top tier Noirs, but it is above average and features some quite good performances. Heston is already in fine form as Charlton Heston with a cynical, world weary edge. His rocket to stardom really started here, and for good reason. He has a presence that only the biggest stars have. Casting Heston in the lead role gives the movie more gravitas than if the role had gone to most up and comers or to a top, "B-list," actor.
William Dieterle's direction is good, and he occasionally shows some of the visual flair that the best films noir have. Unfortunately, that flair is uneven and often gives way to standard issue direction and cinematography. Still, the movie was clearly directed by someone who knew what he was doing and looks plenty good overall.
Dark City is just a good Film Noir. Well worth the wait.
So how is the quality of Olive's DVD? Well, it has the Paramount logo on the cover as well as Olive's, so it's pretty clear that they got the original print from Paramount.
The picture quality starts out absolutely flawless. Sharp as a tack, and featuring perfect contrast/grayscale - the picture looks remarkable for the first few minutes. But as the film goes on the flaws creep in. Flickering and occasional scratches and dirt/dust on the print show up from time to time, marring what was otherwise a beautiful print. But the biggest flaw in the print lasts for an entire reel - a distortion in the image not unlike watching the movie through a pool of rippling water (rippling from top to bottom). This distortion lasts around 10-15 minutes, and while it isn't a deal breaker, it is distracting. Suddenly it becomes apparent why Paramount may have been reluctant to release Dark City on DVD previously themselves. This flaw in the print, relatively short though it is, leaves the picture quality of the movie far below their usual high standards. Was this the reason Paramount didn't release the movie themselves? It certainly seems possible. They released several Charlton Heston movies over the last decade, and it seems odd that this title wasn't among them.
The sound is a tad tinny and harsh. Just a tad (even for a movie from 1950). However, it isn't bad, it just lacks fullness and a good bottom end (for warmth).
Don't misunderstand, the quality of this DVD is more than acceptable overall, and considering how good the movie is (and how historically significant it is) it is definitely a highly recommended title for fans of classic movies and/or Film Noir.
Movie -
4/5
Picture Quality -
3/5
Sound Quality -
3/5