Post by Erik Rupp on Oct 3, 2010 13:57:02 GMT -5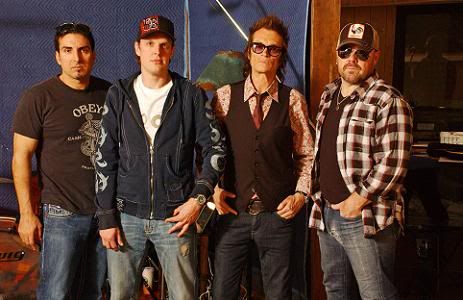 Producer Kevin Shirley has stated that Black Country Communion isn't a supergroup.
Black Country Communion guitar player Joe Bonamassa has called them a supergroup, "For lack of a better term."
Well, supergroup or not, Black Country Communion is a
super
group - a great bunch of musicians that have great chemistry. The band, for the record, includes Bonamassa (a well known and very well respected Blues/Rock guitar player), former Deep Purple and Trapeze bass player/vocalist Glenn Hughes, drum legend Jason Bonham, and Dream Theater keyboard player Derek Sherinian. That's an impressive line-up.
But impressive line-ups don't mean much if the songs aren't there. Are the songs on the debut Black Country Communion album worthy of the talent involved?
Yes.
While this isn't the greatest Rock album in history or anything like that, it is a welcomed return of a Classic Rock style that isn't heard much these days. Elements of Deep Purple and Trapeze both show up on the album (not to mention one of Trapeze's songs, no less), but so do elements of Cream, Jimi Hendrix, Black Sabbath, Robin Trower, and Stevie Ray Vaughan. This IS a Classic Rock sound, without a doubt.
Opening cut, "Black Country," is a fiery, riffy song that has a central riff that is straight out of an early Iron Maiden album. That's fairly unexpected. Of course, it's given the Glenn Hughes/Joe Bonamassa treatment, so it sounds right on this album. This song has a passion that is infectious, and good enough vocal melodies to elevate the song above the quality of the riffing itself. As a statement of intent, "Black Country," is the perfect way to start off the album.
The first song to be leaked on the internet from the album is arguably the best one. "One Last Soul," while maybe slightly over-repetetive, is simply brilliant. The music is smooth as silk for Hard Rock, and the vocal melodies are simply majestic. "One Last Soul," is right up with the very best songwriting that Glenn Hughes has ever done, and that says a lot. The band's performaces are so spot on without being sterile or stale that you'd think that they've been working together for at least ten years. These guys have amazing chemistry together, and nowhere on the album does it show better than on this song. This album would be worth buying for this song alone, but, WAIT! There's MORE!
"The Great Divide," starts off sounding like something Joe Satriani would have written in the last 15 years, then it becomes something different. Something undefinable, but eerily familiar. It's a song of good dynamics and great melodies, and continues the album on it's winning ways.
Things get really interesting with, "Down Again," a song with a riff straight out of the first two Black Sabbath albums via Judas Priest's Rocka Rolla album. The pre-chorus is pure Purple, while the chorus is a little less identifiable. The chorus melody itself is interesting and almost (almost) dischordant to the rest of the song. This is another really, really good track that just reeks of 1974 (in a very good way).
"Beggarman," starts off with Bonamassa playing some really good Blues Rock licks, before moving into a top notch Blues Rock riff and some classic Glenn Hughes soulful vocal melodies. This is another album highlight, one of the bluesiest on the album. This is more Rock than Blues, but it's got that Robin Trower kind of feel to the riff (his take on Hendrix). Bonamassa's lead playing on this one is fiesty and fiery, and just smokes. By this point in the album it's clear that Black Country Communion is very much for real.
There is a song on the album that is fairly epic in length, and that is, "Song of Yesterday." This song is very dynamic, and sounds like it could have come right out of 1976. Bonamassa takes the lead vocal on this one (with Hughes taking some of the lines like he did in Purple with Coverdale), and Bonamassa's vocals are good (not great, but soulful and honest). This is a song that you would expect from a supergroup. The only misstep here is the song's length - the exit goes on too long. A minute shorter and this would have been a perfect song. Still, it's a great track.
"No Time," is powerful. It ROCKS while still retaining that soul and that
slightly
bluesy feel that permeates the entire album. This is another great chorus, which follows a great verse and pre-chorus. Fans of Classic Rock can't ask for much more than this. (At least not fans of Deep Purple, Robin Trower, etc.)
The previously mentioned Trapeze song that was re-recorded for this album is the title track to their album, Medusa. It sounded good on that album, and it still sounds good here. Mellow-ish (in the verses), moody, and dynamic, this is a showcase for Hughes' vocals. One could question the need to re-record the song, but it does fit in well on the album.
"The Revolution in Me," is a solid, if unspectacular song. Bonamassa once again takes the lead vocal, as this slow-ish mid tempo track has a bit of the Coverdale/Hughes era Purple feel (combined with some of their recent work with Steve Morse).
Fans of Riff Rock will be happy with the next track, "Stand (At the Burning Tree)," as Bonamassa opens with an Iommian riff before leading into a grooving riff that's a little less recognizable in style. This is another solid, solid album cut that works very well in the context of the album as a whole.
Bonamassa and Hughes share the vocals on, "Sista Jane," and it works as well as the old Coverdale/Hughes days in Purple. The chorus is a tad out of place, as it shows some serious Grand Funk meets Humble Pie style. The song is moody and dynamic up to the chorus, which just flat out rocks. Perhaps the chorus would have worked better in a more straightforward setting (it is a great chorus). Still this is a good song nonetheless.
The longest song on the album was saved for last in the form of, "Too Late for the Sun," which is another fairly bluesy/funky song with a great sense of dynamics. It builds to a powerful chours then moves back to the mid tempo groove of the verse. It may be about 4 minutes too long in a 2010 sense, but if this were 1972 it would be just right as the band just
jams
. Each member is given a chance to shine, and they band plays like a Jazz group in that sense. Fans of early 70's Rock will likely enjoy this one a lot.
The audio production on the album is good, although the guitar could occasionally use a little more bite (more high mids and just a tad more distortion). The mix is pleasing, and the drums and bass sound good. Kevin Shirley did a good job here in that regard.
Hopefully this won't be the last Black Country Communion album as they sound like a legitimate band, and they have written and performed some very good to great songs here.
4.25/5