Post by Erik Rupp on Oct 10, 2010 13:01:37 GMT -5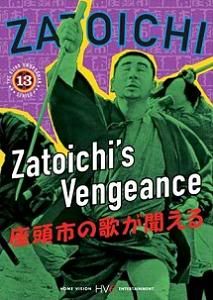 The Zatoichi film series was unlike any other. It took on a life of it's own, running for a total of 25 movies from 1962 to 1973. At that point the series moved to television, where 112 episodes were produced between 1974 and 1979. A final movie was produced in 1989, directed by long time Zatoichi star Shintaro Katsu (or Katsu Shintaro, if you want to be more accurate to the Japanese).
Zatoichi's Vengeance was the 13th in the long running movie series, and had a slightly darker tone than many of the other Zatoichi films.
Zatoichi is a blind masseur who is a gambler and former Yakuza (Japanese organized crime) member. He is also a deadly swordsman, despite his lack of sight. He uses his hearing to, "See," his opponents when drawn into a fight. He can hear their footsteps, breathing, and the sound of a sword moving through the air. This often takes his opponents by surprise, but even when it doesn't his skill with the blade is nearly unmatched in all of Japan.
Ichi is a pacifist at heart, but often finds himself drawn into conflicts. He never starts a fight, but he almost always finishes it when he finds himself in one.
In Zatoichi's Vengeance the movie is set up from the start. A man is surrounded by gangsters and left to a passerby to be killed. In this case the passerby is a wandering samurai who strikes the man with a single, fatal blow. Zatoichi finds the man lying on the ground and singlehandedly kills the group of low level Yakuza in a matter of seconds when they attack him. The dying man asks Ichi to give a bundle to his son, but Ichi has no idea how to find his son as all the man can say before he dies is his son's name.
Some time later Ichi stumbles across the man's young son and Ichi turns the bundle (which turned out to be a large sum of money) to the man's mother, who is caring for the young son.
During the story Ichi meets a blind priest who advises Ichi that by displaying his swordsmanship in front of the boy has corrupted him. Ichi spends the rest of the movie conflicted - he wants to help the innocent victims of the local Yakuza boss, but does not want to become a corrupting influence on the boy.
There are other elements to the story that make it a little more thoughtful than many of the other Zatoichi movies, and this one has that darker, almost melancholy tone that was noted previously.
The script is very well written, giving Katsu a chance to shine as an actor, as well as giving Zatoichi a legitimate moral conflict.
Along the way there is plenty of action and even some humor (all Zatoichi movies have a healthy dose of humor - without lapsing into comedy). The film is also very well directed by Tozuko Tanaka, with some occasionally stunning cinematography by Kasuo Miyagawa (who was the cinematographer for Akira Kurosawa's Yojimbo).
The film's score is also just a little darker than the scores for most Zatoichi movies, this time courtesy of legendary Godzilla composer Akira Ifukube. This also adds to the mood of the movie, which is pensive, and (again) somewhat melancholy.
The cast of the movie is one of the better overall casts in the entire Zatoichi series, and there are some fine performances to be found in the movie beyond Kastu's. While this isn't one of the 3 or 4 best Zatoichi movies, it should rank in the upper half of the series. As there isn't really a bad movie in the series that's saying quite a bit.
Samurai movies are a lot like American Westerns. Some Samurai movies have taken elements from Westerns (Kurosawa was a big fan of John Ford), and several Westerns have been remakes of legendary Samurai films (Seven Samuria was remade as The Magnificent Seven, and Yojimbo was remade as A Fistful of Dollars, for example). Both genres are greatly entertaining, and if you like Westerns you may want to check out some of the better Samurai films (some of which have been reviewed on this site).
Zatoichi's Vengeance is a very good movie, and is well worth watching - after you've already seen a couple of the other films in the series first (the first and third movies at the very least).
Home Vision Entertainment's DVD of Zatoichi's Vengeance is just as good as the movie itself. The anamorphic widescreen image looks more like something filmed in the 70's than from the 60's, and the sound is more than passable for a movie this age.
Good stuff.
4/5