Post by Erik Rupp on Oct 13, 2010 19:08:26 GMT -5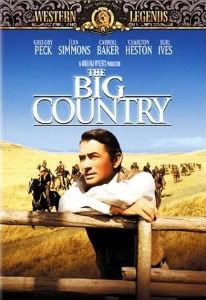 The Big Country certainly
is
big.
It's also really good.
Gregory Peck, Charlton Heston, Jean Simmons, and Charles Bickford head the cast, and they're all quite good, but so are a number of other people in the cast. Chuck (The Rifleman) Connors gives a top notch performance as a likeable unlikeable son of a ranch owner, Burl Ives is very good as that ranch owner, and Carroll Baker is also good as Peck's love interest (and son of a rival ranch owner). From top to bottom this is a first rate cast.
But there have been great casts before in mediocre (or worse) movies, so the key here is the combination of that cast with a good script and some outstanding direction (and cinematography). Director William Wyler produced the movie along with Gregory Peck himself, working from a script by James R. Webb, Sy Bartlett, and Robert Wilder. All the pieces of this puzzle came together just right and a standout Western was the result.
The movie is long. Over two hours and forty-five minutes long, but it never drags. There is a lot going on, and while the movie doesn't exactly fly by it never gets boring. Wyler and his editors did a great job of making sure that the movie struck a middle ground between a fast paced movie and a slow, plodding film. There is a balance in the pacing that works well for the story. If you've got the time, the movie isn't likely to bore you.
While the movie is long, and has a lot of details that are fleshed out well, the heart of the story is fairly simple - a Easterner (a wealthy son of a ship line owner) comes out West to marry a woman he had met while she was traveling back East. He is a fish out of water (almost literally - he is a former ship's captain), and is mocked by the local tough guys because of the way he dresses and because he doesn't seem willing to stand up for himself. They are, of course, wrong - he just has a different way of taking care of business than the locals are used to.
There is one plot twist that is fairly obvious, but other than that the movie doesn't telegraph how things will unfold in the end.
While it isn't often mentioned among great Westerns The Big Country really deserves recognition alongside it's better known brethren.
MGM's DVD, however, isn't as good as the movie. It's not bad, but it is terribly uneven. The opening credits are badly scratched up, and the movie goes from one crisp, clean, sharp scene to damaged frames in other scenes, or scenes that are fuzzy and/or have ever so slightly distorted picture quality. Fortunately, the picture quality is very good much more often than it is poor, so the DVD is more than serviceable.
For fans of Westerns this movie may come as a pleasant surprise.
Movie -
4.25/5
DVD -
3/5