Post by Erik Rupp on Oct 22, 2010 17:52:19 GMT -5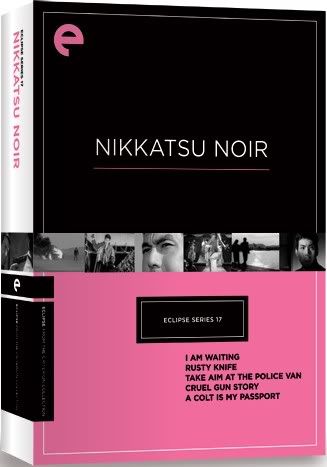 Sometimes a DVD set just sounds like it will be really good just from the discription. They don't always turn out as good as you hoped they would.
In this case, however, the set may be even better than it appears to be upon reading the description.
Japan's Nikkatsu studio was struggling a bit in the late 50's to compete with the other Japanese studios, so they looked to the U.S. to get some ideas. What they did was to adapt American Film Noir to Japan, and it was a decision that paid off big time for the studio.
Starting around 1957 they made hard boiled stories about crime and the underworld and the darker side of life. These were movies patterned after The Asphalt Jungle, The Killers, and The Killing. These stories worked extremely well within the Japanese setting, and the films were easily as good as the American films that they emulated.
This set, released by Criterion's Eclipse label, features five of Nikkatsu's better Noirs. There isn't a dud in the bunch. In fact, there isn't one in there that's any less than very good. Each film is quite entertaining, and all of them feature some excellent cinematography (some more than others).
The first film is
I Am Waiting
from 1957. It's a character driven noir about a former boxer who killed an opponent and quit boxing because of it. He opens a restaurant, but he and his brother have dreams of moving to Brazil and starting a farm. (Kind of an odd dream, but things weren't looking great in Japan in 1957, so...) His brother had left a year earlier to buy the land in Brazil and then send for the former boxer to join him, but hadn't been heard from since. Into this situation comes a beautiful woman who is trying to escape her gangster boyfriend. In the end both worlds turn out to be connected leading to a violent conclusion.
I Am Waiting is a gripping movie with some great characters and some twists and turns that work well for the story. It's a great way to start the set, and is an excellent example the direction that Nikkatsu was moving in as a studio.
much more to come...
(this review really will get finished soon...)