Post by Erik Rupp on Nov 6, 2010 13:23:08 GMT -5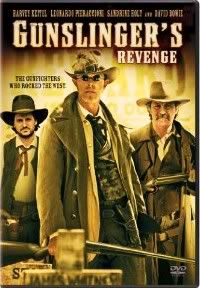 Gunslinger's Revenge is an Italian made Western featuring Harvey Keitel and David Bowie. Now, if that's not enough to make you go, "Hmmmmm...now
that
sounds interesting," it's quite possible that nothing will.
While the idea of Keitel and Bowie in a modern day Spaghetti Western sounds like a real hoot of a movie - lots of action and great dialogue - what the filmmakers delivered instead was a charming, touching movie. Sure, there are bits here and there that are inappropriate for kids under 14 or 15, but on the whole this really is a family movie at heart. And that's unusual for a Spaghetti Western. But, then again, Spaghetti Westerns pretty much died out over 30 years ago, so this is really a new generation's take on the Spaghetti Western. (Clearly, this isn't a Leone Spaghetti Western. It isn't a Corbucci Spaghetti Western in style either, for that matter.)
Keitel plays a well known gunfighter named Johnny Lowen, who has returned to the town he grew up in, and reunites with his son (whom he had abandoned 20 years earlier). His son is an avowed pacifict and the town doctor, which creates even more tension between them. To make matters infinitely worse, psychopathic gunslinger/killer Jack Sikora (Bowie) comes to town looking to put an end to the growing legend of Johnny Lowen and to build his own legend up in the process. This is where some of the more unpleasant and (mildly) graphic parts of the movie occur.
Sikora is almost amoral in his willingness to kill, but he has a mean streak to go along with his inability to feel right or wrong.
The conclusion seems to work for some, but not for others. Ultimately, it came across as an honest, somewhat realistic ending. All the loose ends are tied up, but not in a forced way.
Gunslinger's Revenge is not without flaws (some of the dialouge is poor - not a lot, but some - some of the events feel a bit rushed, and some of the plot is a bit predictable), but on the whole it is a solid modern take on the Western, and fits in with some of the more recent Westerns that have been released (it's not all that far removed from the tone of Open Range, but as a film it's not as good).
If your expectations are right (don't expect a great movie) then you'll likely find Gunslinger's Revenge to be an entertaining and even touching Western.
Sony's DVD introduced the movie to American audiences a full seven years after it's initial release in Europe. The picture and sound quality on the DVD is passable, but unremarkable.
Good (but nowhere near great) movie, decent DVD.
3.25/5