Post by Erik Rupp on Dec 10, 2010 0:07:58 GMT -5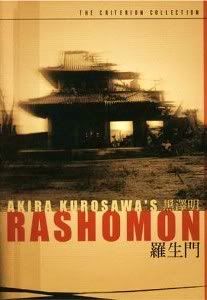 Rashomon was the first movie where Akira Kurosawa really found his filmmaking voice. Kurosawa had a couple movies that hinted at the elite nature of his talent in Drunken Angel and Stray Dog in 1948 and 1949, but it was Rashomon where the brilliance of Kurosawa finally shone through like a beacon.
Visually, Rashomon is stunning. The techniques used by Kurosawa were years ahead of their time. The outdoor filming, especially in the forest, gives the film an authenticity that you just can't get on a soundstage.
As far as the story goes, there is enough ambiguity to keep people discussing this movie for decades. Is it about lying? Distorted memories? People lying to themselves? Selfishness? Or is it about all of the above?
Kurosawa's story of a murder told from four different points of view that come across with distinctly different details is captivating. In the end we still aren't 100% sure exactly what happened, although we have a fairly good idea. Toshiro Mifune is, as he often is, over the top as the bandit. But considering that it
is
Toshiro Mifune over the top works extremely well. It comes across as genuine, and not just hammy acting. Mifune would take this performance and refine it further in Seven Samurai just four years later.
As for the Essential Art House DVD, it is the Criterion version without the extras. The picture quality is quite good, as the contrast is just about perfect, and the picture has a sharpness and clarity that is very pleasing. The sound doesn't fare quite so well, as there is a lot of hiss and crackling to be heard, but not so much as to be a deal breaker. The voices come through clearly, as does the rain and other forest sounds.
Why buy the Essential Arthouse version? Price. It is roughly half the cost of the fully loaded Criterion release, so that makes it a lot easier to make the purchase. Yes, the extras on the full Criterion version are quite good, but if you're on the fence about buying the movie the Essential Arthouse edition would be the one to get (especially if price is a major consideration).
On the other hand, this is one of those movies that deserves the fully loaded treatment, so the Criterion version would be the one most highly recommended.
Either way...
5/5