Post by Erik Rupp on Dec 27, 2010 23:34:51 GMT -5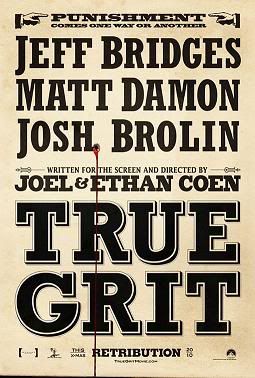 Upon reading that the Coen brothers were going to remake True Grit I had mixed feelings. First, my thought was, "Why?" The 1969 original was very well made and is an iconic movie. That would almost be like remaking Casablanca. Again, why? Why bother? Why mess with (near) perfection?
Then again, the Coens did a great job on a modern Western, more or less, with No Country for Old Men, and they have a solid track record of making good to great (if often very quirky) movies. The idea of the Coens remaking True Grit started sounding pretty darned interesting the more I thought about it. Then I read that Jeff Bridges would be playing the legendary U.S. Marshal Rooster Cogburn. That was another point in favor of remaking the movie.
So by the time the 2010 version of True Grit was ready to hit the big screens I was definitely enthusiastic about it.
Did the movie live up to expectations?
Yup. It sure did - and then some.
Now, with a cast as good as this one is (Bridges, Matt Damon, Josh Brolin, Barry Pepper) it's actually newcomer Hailee Steinfeld who steals the show. Don't get me wrong, Bridges, Damon, Brolin, and Pepper all give great performances in this movie, but what really elevates the 2010 version of True Grit is Steinfeld as young Mattie Ross. Kim Darby was good in that role in the original. Very good. But she was 4 or 5 years too old for the part. Steinfeld was actually a year younger than her character, and yet she played the part with the poise and confidence of a 40 year old. She WAS Mattie Ross.
This may have been one of the most inspired bits of casting this side of casting Robert Downey Jr. as Tony Stark in Iron Man. Steinfeld's performance is that good - and that
right
for the part. I haven't walked out of a theater thinking, "This actor DESERVES the Academy Award for that performance," with any more conviction than I did after watching True Grit.
As for Bridges in the iconic role of Rooster Cogburn first made famous by John Wayne, well, he doesn't do an imitation, he doesn't go for impersonation - he finds his own voice for the character. He isn't all that far removed from Wayne's take on the character, but the Bridges version is even rougher around the edges and maybe, just maybe, a little more authentic. Wayne was very, very good in the original, but so is Bridges here.
So we've got the acting side of things nailed here. Flawless, perfect casting across the board.
What about the script?
It's as good as the casting. Joel and Ethan Coen's script is moving, it's poignant, it's smart, and it's damned witty when it needs to be. The funny parts of the movie aren't slapstick funny, they're clever funny. And without being, "Quirky," as the Coens often are. It's just a great script adapting a classic novel.
So what about their direction?
It's almost as good as the casting and the script. Almost. Westerns lend themselves to some beautiful scenery, and the Coens definitely oblige there, but the original may actually look a little better in spots. Don't get me wrong - this movie is very, very well directed, but there were moments where it almost looked like standard issue Western direction. Almost. If I'm giving the casting (and performances) an A+ and the script an A+ then I'm giving the direction an A-. That ain't bad, folks. That's damned good.
So what about the whole, "Remaking an iconic movie," thing?
Forget it. This version of True Grit stands on it's own as a great movie. Yes, it IS made better by the existence of the original (there are plenty of tips of the hat to the original to be found in this one), but if the original never existed this would be considered one of the top 20 or 30 Westerns of all time.
Everything that the original did well, this one does well. And just about everything about the original that didn't quite stack up to the rest of the movie (Glen Campbell I'm looking at you) is done better in the new version. This new version of True Grit is arguably better than the original. That doesn't happen very often, but that's what we've got here - a remake that improves on the original without radically altering it.
True Grit is exciting, it's moving, it's funny - it's a great Western, and Joel and Ethan Coen (and their great cast) deserve credit for doing a remake the right way.
4.5/5