Post by Erik Rupp on Jan 9, 2011 14:01:52 GMT -5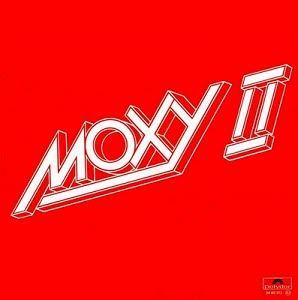 Success in the music business isn't just based on talent, or even good albums. More often than not it's about luck - being in the right place at the right time.
Moxy certainly came out at the right time. Unfortunately, they weren't necessarily at the right place, and their management may not have been all that great, either.
Which leaves us 35 years later looking back at a career that saw a certain level of success (they were big in their native Canada, and they did have some markets in the U.S. where they did quite well - particularly Texas and the midwest), but one that, overall, failed to reach the heights that some of their contemporaries reached.
After album number one (the self-titled, Moxy) gained them a foothold in the North American market they were poised to break it wide open. To make sure that they had the greatest chances of success their managment and record company enlisted Aerosmith producer Jack Douglas to help the band deliver a hit album. As Jack was often busy he couldn't commit 100% to the project, and Eddie Leonetti was enlisted as co-producer. Now, exactly how Leonetti got so many production jobs is unknown given the fact that none of the albums he produced ever became legitimate hits (he produced albums for Angel, Legs Diamond, and Rex, among others). Leonetti's production style was very, "Safe." The songs were in a similar vein, and the mixes for all of this albums were fairly radio friendly - not too loud or guitar heavy for conservative radio programmers of the day, and when the guitars were up front they were often not
overly
distorted.
So the production team was in place. Douglas' presence would push Leonetti to play it just a little less safe, making this one of the best albums to ever have his name listed as producer.
The band, now with 2nd guitarist Buddy Caine (augmenting Earl Johnson) firmly in place (following their tour supporting the first Moxy album), would bring several solid songs to the table. The rest of the band (which featured vocalist Buzz Shearman, bass player Terry Juric, and drummer Bill Wade) all got involved in the songwriting - providing a great amount of material to draw from.
Moxy II would end up being the next logical step from the first album. A little cleaner, a little slicker, a little more polished - but not too much. It still followed the same basic template, but was just a tad more mainstream.
Opening with, "Cause There's Another," the album got off to a good start. Combining straightforward Hard Rock with that near Peter Frampton melodic sound (complete with acoustic and undistorted electric guitars for the verses) this is a very, very good song and a great way to open the album. While the song
is
clearly from 1976 it holds up extremely well over 30 years later.
The next song is more dated, but may actually be an even better written track. "Take It or Leave It," is a great Funk/Rock song with a bit of a Disco beat in the verses. This one is atypical of the band's style, and was obviously an attempt to gain a hit single. The straightforward Hard Rock chorus (melodic and infectious as it is) may have undermined that attempt, or it may just have been a case of too many similar songs in 1976 and this one didn't stand out to radio programmers at the time. Hindsight being what it is it's clear that this song
should
have been a hit as it was vastly superior to most of the Funk/Rock singles released at the time.
From there the band goes back to familiar territory with, "Through the Storm," a slow(ish) Heavy Rock song in the Montrose, "Rock Candy," mold (much like two or three of the songs on the previous album). This one, like those, finds the band in their comfort zone, cranking out a heavy song with a slow midtempo groove. Buzz Shearman screams out the chorus vocals with passion and gusto, and the band plays the music with equal passion. This is a great song that, again, holds up very well despite the fact that it is obviously from the mid 70's.
More dated is the upbeat and Roots Rock influenced, "One More Heartbreak," which is a short burst of energy. The music was similar to what several bands were doing at the time - updating the 50's and 60's Rock and Roll styles while remaining true to them. It's a good song, and isn't all that far removed from the more energetic tracks from The Eagles (just a tad heavier).
Their Hendrix and Robin Trower influences (sounding more Trower than Hendrix) show up agin on the instrumentsl, "Slippin' Out," which features a slow beat and an almost spacey sound (and an Aerosmith/Frampton mouth/voice box). It's not anything groundbreaking or terribly exciting, but it is pretty darned good and features some good, tasteful lead guitar work from Caine and Johnson. It works extremely well as a change of pace track and gives the tracklisting an even better sense of pacing breaking things up a bit.
As if on cue they ratchet up the tempo and instensity with, "Midnight Flight," another great straightforward hard edged Rock and Roll track not far removed from Montrose's first album. True to Leonetti's modus operandi the guitars are only slightly distorted to maximize radio appeal. The guitars could have used just a little more bite (just turn that distortion pedal up to 4 from 3 and you would have had the perfect guitar tone for the song), but the song still sounds damned good anyway. This is another album highlight, and holds up well with anything that they ever recorded. There are also hints here of the kind of riffs and vocal melodies that Riot would become known for on their Narita and Fire Down Under albums just a couple years later. Perhaps Mark Reale, Rick Ventura, and Guy Speranza were fans of Moxy. Given the similarities in the two bands that is a good possibility.
The album
nearly
comes to a screeching halt, however, with the ballad, "Change in my Life." It's not a bad song, it's just so ordinary - especially for those moody Rock based ballads from the mid 70's - that it seems just a little too premeditated in their attempt to gain a hit single. The song is just good enough to get by, but it is the weakest track on the album in more ways than one.
Fortunately, they come roaring back with another Montrose style rocker in, "Tryin' Just for You." The intro is melodic, but energetic, and then the verses just flat out
Rock
. The song is loaded with some strong riffs and excellent vocal melodies, making for another of the album's highlights. Buzz Shearman again gives a great performance, fluctuating from the powerfully melodic to the nearly screeching. His vocals are spot-on for what the song needs.
They closed the album with a slower, pulsating Blues/Rock song (with a near Southern Rock feel) in, "Wet Suit." This one isn't as good as it's predecessor, but it is good and features some good bass work from Terry Juric and drummer Bill Wade (who gave some excellent performances over their first three albums). It's not the best way to end the album, but it's far from the worst way they could have ended it and it works fairly well in putting the exclamation point on the album.
Moxy's sound can be heard in a few bands that came out after them, and their songs were occasionally a few years ahead of their time. All of this makes for an album that sounds like it belongs in it's era, but also one that sounds fairly fresh and exciting over three decades later.
Good stuff for sure.
4.25/5