Post by Erik Rupp on Jan 29, 2011 16:42:09 GMT -5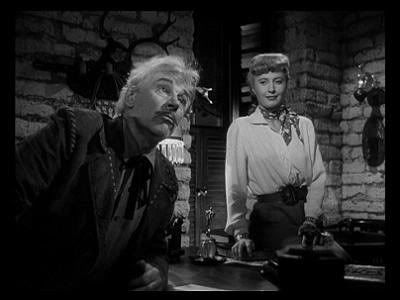 When it comes to directors identified with the Western genre few rank higher than the legendary Anthony Mann.
While Mann got his start with low budget Films Noir, he soon graduated to the Western - a genre in which he would spend most of his time during the 1950's. Mann's Westerns are legendary - Winchester '73, Bend of the River, The Far Country, The Naked Spur, The Man From Laramie (all with Jimmy Stewart), The Tin Star, and Man of the West among them. Mann's second Western, however, may be one of the most
underrated
movies of his career.
The Furies
is an extremely well written, acted, and directed Western. It holds up as a solid drama, regardless of genre.
In The Furies a large part of the New Mexico territory is run by the Jeffords family, with their huge ranch having been built up by patriarch T.C. Jeffords (played with gusto by Walter Huston, in his final role). Jeffords' power in the region is so strong that he prints his own money (a form of I.O.U.'s called T.C.'s). The Jeffords ranch - The Furies - is a huge, sprawling area that goes as far as the eye can see. Also in the Jeffords family are his son, Clay (not his father's favorite child - despite Clay's constant attempts to please T.C.), and his daughter, Vance (who is his favorite child, and is clearly the love of T.C.'s life after the death of his wife years earlier). The relationship between T.C. and Vance is the core of the story.
For much of the story the bond between father and daughter is incredibly strong. The love between them is as strong as non-romantic love could possibly be, and they are hopelessly devoted to each other. Vance pushes T.C.'s buttons, but he forgives her as he recognizes that she is often right.
She pushes T.C. so far that she attempts to romance the son of a man that T.C. once killed in a property dispute. The hatred between the two men is nearly as strong as the love between T.C. and his daughter. When the relationship between Vance and Rip Darrow (the man in question) goes bad, she focuses on running the ranch - a new duty that her father gives to her.
Despite the conflict over that relationship all is well between father and daughter - until T.C. comes home from a trip with a new woman in his life. Socialite widow Flo Burnett is a smart, conniving woman who manages to slowly squeeze Vance out of the picture. When she convinces T.C. to hire a new manager for the ranch that is the final straw, and Vance fights back violently.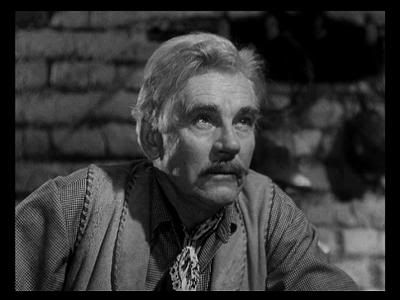 Love turns to hate and conflict in this psychological Western, and the movie takes an interesting turn. There is no clear cut, "Villain," in the movie. Certainly Flo is out for herself, but she obviously does have some feelings for T.C., so despite her selfish motives she isn't truly, "Villainous." T.C., despite his attempt to crush his daughter over her violent attack on Flo, isn't a clear villain, either. And Vance, despite her vicious attack on Flo isn't a villain. What the viewer is left with are several characters who are all flawed, but who all have good character points as well.
And those flawed characters play into the strength of Anthony Mann, who rarely had clear cut good guys and bad guys in his films. He preferred more complex characters who had legitimate motives (regardless of what they did), and in The Furies he certainly made sure that would be found in the script. Mann's direction is occasionally pedestrian, but he always handles the characters/actors
extremely
well. And just when you think that Mann is content to film a solid, but visually unspectacular movie he throws in shots that are very well thought out and creatively filmed. The Furies is a movie clearly filmed by a very talented (and smart) director.
When it comes to the actors, the cast is first rate. Walter Huston gives a performance that rivals his work in Treasure of the Sierra Madre. He gives a larger than life performance that still has it's roots in reality. His T.C. Jeffords is a huge personality (and quite a, "Character"), but he comes down to earth often enough to make the performance ring true. Barbara Stanwyck gives another of her fine performances as Vance, and the chemistry between her and Huston is incredible. There isn't a moment in the movie that the viewer doesn't feel the bond between those characters - it all seems absolutely real.
Judith Anderson gives a requisitely slimy performance as Flo, but she also has moments that show a vulnerability in the character that motivates her. Perhaps the only actor in the movie that gives a weak performance is John Bromfield as T.C.'s son, Clay. He's not bad, really, but he is so mediocre that surrounded by Stanwyck and Huston he comes off looking like an actor, not a real character.
This isn't a shoot-em-up Western. This is a, "Psychological Western," with some serious dramatic tension. Despite it's lack of action (until the final third of the movie) The Furies never drags, and is always interesting and entertaining. This is a Western for adults (and mature teenagers/young adults). There is a lot to like about Anthony Mann's
The Furies
.
The DVD was released by Criterion, arguably the best collector's DVD company in the world. The movie looks great (despite the windowboxing), and the extras are fascinating and add a lot of insight to Anthony Mann as a director, and to The Furies as a movie. Criterion did their usual fantastic job here.
If you like Westerns, and enjoy good drama, then consider
The Furies
to be highly recommended.
Movie -
4.25/5
DVD -
4.5/5