Post by Erik Rupp on Mar 16, 2011 12:53:15 GMT -5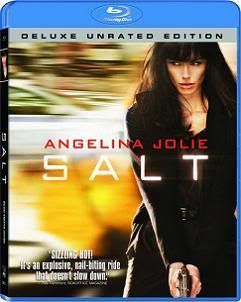 Angelina Jolie's, "Street cred," as an action movie star has been solidified by Salt, a spy movie with enough twists and turns for an amped up pretzel. She had already appeared in a handful of action movies previously, including the two Lara Croft: Tomb Raider movies and Mr. and Mrs. Smith.
This time, though, the action is cranked up even further, and Jolie carries off her part well (her stunt double doing the rest of the work). Jolie has shown over the years that she can be a serious dramatic actress, but she carries herself convincingly in the action roles as well.
In Salt Jolie plays Evelyn Salt, a CIA agent recently released from captivity by the North Koreans (as part of a prisoner exchange). Her husband, a German arachnologist caused enough trouble that the CIA broke their own rules to spring her (normally they won't acknowledge that an undercover agent works for them, as noted by fellow agent Ted Winter when she is released).
Things get interesting when a former KGB agent, Orlov, comes to the CIA to, "Defect." Of course, he is not really there to defect, and he implicates Salt as a KGB plant and part of a larger conspiracy to destroy the United States. Slowly, in pieces, the truth about Evelyn Salt is revealed. All is not as it seems, and some actions that she takes leave her true motives in doubt.
Salt is a cleverly written, very well directed spy/action movie with some nice surprises. Of course, like many Hollywood movies some of these previously mentioned twists do stretch credibility to the breaking point. Right up
to
the breaking point, but never quite crossing. The movie never stretches credibility so far that the viewer cannot buy into the story just enough for it to be entertaining. Yes, some of the plot developments are over the top and outrageous, but in the context of
this
story they work. Barely, but they work.
The action scenes are extremely well executed, as the stunt doubles match up flawlessly with the actors in the movie, and the direction and editing make the transitions between actors and stunt doubles absolutely seamless. Salt is an exciting movie to watch.
Would the movie have been a little better had it not pushed the envelope so far plot-wise? Yes, but it is still entertaining. With a little more character development, less of the outrageous plot developments, and just few more minutes of quiet/dramatic time to breathe the movie could have been one of the best in the spy genre. As it is the movie is still very good.
As a summer popcorn movie Salt is a rousing success. But the disappointment is that it
could
have been even more.
The Unrated Director's cut is 4 or 5 minutes longer than the theatrical version, and the additional/extended scenes do help, but the movie still doesn't quite land on the top of the spy/action list.
As far as the picture and sound quality go this blu ray is fantastic. It is well worth a purchase as it looks and sounds great.
While it could have been better, Salt is a very good, very entertaining movie that moves at a brisk pace and is never the least bit boring.
4/5