Post by Erik Rupp on Apr 30, 2011 18:21:52 GMT -5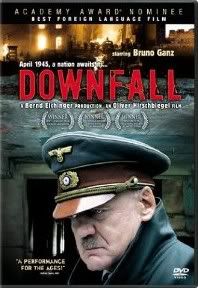 If you want something done right, you've got to do it yourself.
OK, maybe that old saying doesn't
truly
apply here, but it wouldn't be all that far off, either.
There have been several movies made about Adolf Hitler and the Nazi party over the years. Certainly a great number of them are quite good. One of the very best, though, came out in 2005. It was made in Germany - by German filmmakers and actors. Well, then again, the main actor - the one playing Hitler himself, is actually Swiss. But leave it to the Germans to make a great film about Hitler and the Nazis. And a fair and accurate film at that.
In fact, some criticism was leveled at the movie when it came out for being too kind to Hitler - for humanizing him too much. The fact is that Hitler was a human being. A terribly flawed and evil human being, but one who had a complex personality. He could show kindness on occasion. He wasn't ranting and raving and ordering executions 24/7.
And in Downfall we see that. We see a broken, defeated man played to perfection by Bruno Ganz. Broken, defeated, and either delusional or a man just not willing to give up. Hitler barks out orders and boast of crushing the Russian invaders when he should know that there is no way the remnants of his army can do any crushing of any foreign army. Either he is delusional, or he simply refuses to give up until all hope is lost - and hopes to lead by example thinking that maybe he can inspire others to overachieve and do the near impossible. Chances are he truly is delusional, but the movie never jumps to a conclusion.
Ganz handles the part amazingly well. His rants capture the images most people have seen of Hitler from real life World War II era footage. Conversely, he also shows the more human side of Hitler. He is a contemplative man at times, and shows genuine caring for a few select people. Historically, it is hard to separate the monster from the man, but director Oliver Hirschbeigel and screenwriter Bern Eichinger do a good job of showing as many sides of his personality as are reasonably possible given the setting of this story.
And this story is that of the final days of the Third Reich. The Russians are moving in from the East, and the Allies are pounding Germany from the West. Berlin is being bombarded and it is clear to most that it is only a matter of time until Germany is forced to surrender. Hitler, his staff, and top German officers are holed up in a bunker, hoping against hope that they can direct their troops well enough to hold off the invading Russian army. Day by day - hour by hour, really - it becomes clearer. There is no real hope.
Downfall is a fascinating and even entertaining movie (to a point) for the first hour and forty-five minutes or so. But somewhere around that mark (give or take ten minutes) it becomes even darker. It becomes disturbing, and somewhat hard to watch. The events in this movie really happened, and that is part of what makes it so hard to watch - and yet so important that it must be watched.
Ironically, the movie seemed to be losing steam about forty minutes in. It seemed like the movie had covered the story by that point, and there couldn't possibly be much more to tell. Appearances can be deceiving. The movie continues to be compelling and gripping throughout. There are more details, important details, that are shown in the movie than many people are aware of. Add Downfall to the list of movies, such as Schindler's List and Saving Private Ryan, that should be required viewing for high school seniors. It covers important historic ground, and it does so in a very, very compelling way.
While Downfall isn't the easiest movie to watch (there are points at which you may find yourself truly growing angry at some of what happens on screen), it is a worthwhile experience and shouldn't be missed. It is an exceptionally well made film. The script is brilliantly written, the actors give fantastic performances from top to bottom, and the direction and cinematography is excellent.
Forget the fact that it is a subtitled movie in German. It's still a top moviewatching experience. No, don't forget the fact that it's in German with subtitles. The people shown in the movie WERE German, and that's the language that they spoke. Downfall is all the more historically accurate for that fact.
If you have any interest in history, World War II in particular, or if you have any interest in learning something new about the war, Downfall is a must see film.
As for Sony's DVD of Downfall it is above average. Some of the shots look incredibly clean and clear, while others (particularly those in the bunker) look a little grainy. At no point, though, does the grain look overbearing. It looks appropriate given the setting. The extras on the DVD are fairly decent (a, "Making of," faturette and cast & crew interview along with a director's commentary), making this a great disc to purchase.
4.75/5