Post by Erik Rupp on Jul 10, 2011 18:59:07 GMT -5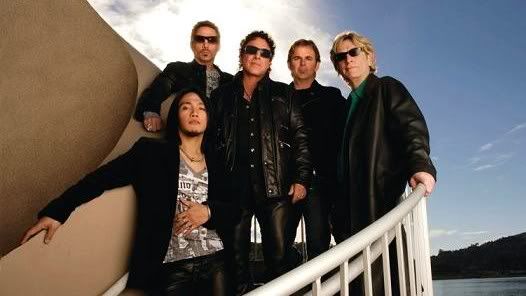 Journey got quite a bit of attention when they hired an unknown Philippino vocalist largely off the strength of a YouTube video showing him singing one of their classic songs. It turned out to be a bit of inspired hiring as Arnel Pineda turned out to be not only a great singer but one hell of a frontman to boot!
Their first album with Pineda, Revelation, was a minor hit, and their best seller since their reunion with former vocalist Steve Perry over a decade earlier. After that success the band felt confident enough to record an album with greater depth than they had shown in years. Decades, really.
Leading the way with his push for this musical direction was guitar player Neal Schon. He did have to sell keyboard player Jonathan Cain on the musical direction, but once that was done the band worked as a unit to create their most ambitious album since the late 70's.
Once again Journey brought Kevin Shirley in to produce the new album, Eclipse, and he brought with him the sensibilities he brought to Iron Maiden's A Matter of Life and Death album. No, Eclipse isn't a Heavy Metal album, but there are some similarities between the two albums in their approach to songwriting.
On Eclipse there is a sense of dynamics and an almost epic sweep to many of the songs. It is a theatrical sounding album, and the heavier parts hit harder than some might expect. At the same time there are some gentle, mellow moments with some beautiful melodies. The other element - the new element - to the songwriting is the Progressive Rock flair that the band shows. No, this isn't a Prog album, but it does have bits and pieces that recall the band's beginning as a middle ground between Prog Rock and melodic Hard Rock.
Songs like, "City of Hope," and, "Edge of the Moment," are immediate and infectious. They also rock fairly hard while showing some nice musical changes. Heck, "Edge of the Moment," actually does sound a bit like recent Iron Maiden (just given the Journey treatment). This is a great 1-2 punch to start things off on the right foot.
"Anything is Possible," sounds more than a little like Steve Perry era Journey, while, "Chain of Love," is more like a modern take on their 70's sound, and, "Resonate," is a great, catchy groove rocker with a strong chorus hook. "She's a Mystery," really captures that acoustic guitar/hammond organ thing done so well by several bands in the 70's before cranking up for the last minute or so. It's a good track that shows the band more interested in substance than style.
Not to leave out the fans of their Frontiers album they thrown in, "Ritual," which would have been a highlight of that album as a very strong rock track with some good melodies and a great chorus hook.
They close out the album with a variety of styles, ranging from the mellow, melodic, "To Whom it May Concern," to the return to the Frontiers/Escape style with, "Someone," and then closing out with the prog tinges instrumental, "Venus."
The album never really cranks it up with the energy and power of a, "Separate Ways (Worlds Apart)," but Eclipse is the hardest rocking album they've done overall since Escape back in 1981. Schon and Cain make sure to include strong melodies on all the tracks, especially the harder edged ones, which should please long time Journey fans. The one thing the album is lacking in, though, is some really catchy songs. Songs with hooks so powerful that they never let go. Previous Journey albums had that kind of hooky material to spare, but this time they seem more concerned with substance and pushing the boundaries than writing a new stadium ready song.
The audio production on the album is excellent (and it should be noted that the album was not mixed by Kevin Shirley, even though he's been known for his engineering & mixing work). The album has some nice warm, earthy tones while still remaining crisp and clear.
So the final verdict for Eclipse would be, "Good, ambitious album, but not a great one." It's close. Very close, and very much worth buying if you like Journey.
3.75/5