Post by Erik Rupp on Jul 31, 2011 20:26:40 GMT -5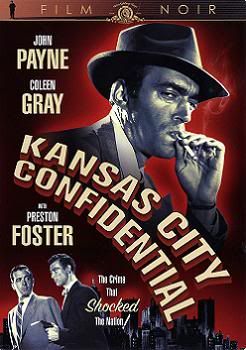 John Payne. Preston Foster. Neville Brand. Coleen Gray.
All fairly well known names in the early 1950's. But today those names are overshadowed in the cast list of Kansas City Confidential by a couple supporting actors who would be much better remembered decades later. Specifically, those actors were Jack Elam (who became well known for his eye that drifted outward and a rather...
unique
look), and Lee Van Cleef, who became something of a minor star in the 1960's and 70's.
Kansas City Confidential typically gets lumped in the Film Noir category, and it probably does belong there along with several other crime movies. It does just fit in the Noir mold (barely), but for several stretches of the film it is more of a crime movie than a legit Noir.
John Payne stars as Joe Rolfe, a delivery truck driver who is framed for a robbery. After a beating by overzealous police detectives who try to get him to confess he is released - but still under suspicion. Rolfe knows that the only way to clear his name is to find out who actually carried out the robbery, so he acts as a detective to find the men responsible.
The trail he follows leads to Mexico, where he catches up to the men in question, and takes on the identity of one of them (the men involved in the robbery don't know each other, and cannot recognize each other due to the fact that they all wore masks to hide their identities so none of them could rat the others out).
The movie is very well made. The script is smart (often clever), and the direction by the great crime director Phil Karlson is extremely good. There was a lot of talent behind the camera, and it shows. But there was also (as noted previously) a lot of talent in front of the camera, too.
John Payne was a very, very good actor with a lot of range. He could be a romantic leading man in a light musical comedy, or he could be a tough guy in a gritty crime movie. Here he plays an ex-con trying to clear his name with complete authenticity. He plays Rolfe with just the right amount of style, personality, and toughness. The desperation of Rolfe comes across very clearly.
But beyond Payne there is Preston Foster, a decent actor (hardly great, but competent) who gives one of his better performances in this movie. Coleen Gray, who was in such movies as Red River and The Killing (Stanley Kubrick's second feature film), does a nice job as the daughter of the plan's mastermind. Neville Brand is as tough as they come, and always intimidating. A lot of people forget that in real life he was a war hero because in the movies he was extremely good at being bad.
And then there are Van Cleef and Elam, who both give excellent performances as members of the robbery gang. Elam is quirky (and for people who are used to what he looked like in the 70's and 80's VERY thin), but good. Van Cleef is legitimately tough as a hood, and utterly believable. It's clear that Hollywood missed out on this guy as it took Sergio Leone bringing him to Europe to make Van Cleef a star almost fifteen years later.
Overall, Kansas City Confidential remains a classic of the crime/revenge/Noir genres. It's not flawless, but it is darned close. It is one of the very best of that era, and holds up extremely well today. In fact, Quentin Tarantino used the premise of this movie as inspiration for his first movie, Reservoir Dogs.
For years Kansas City Confidential has languished in the Public Domain Hell. Released in a woefully substandard version from Alpha (watch the video wiggle at the bottom of the screen every 10 seconds), and a much better, but still flawed version from Image (the picure is just a bit too dark and has some minor print damage), along with several "dollar" DVD versions that were even more flawed than the Alpha and Image releases, Kansas City Confidential was a movie that most Film Noir fans thought would never see an "official" DVD release by MGM (owner of the master print, and - presumably - the negatives).
But MGM did eventually release the "official" DVD for this fantastic Film Noir despite the market being flooded by cheap versions. The MGM DVD was, as expected, a HUGE improvement over the Image release, which istself is much better than the Alpha version. MGM/Fox have done a very nice job on the quality of this release - the print used is excellent. Even if you already have a previous version of Kansas City Confidential you still may want to get this one for the
much
improved picture and sound.
This is a great movie, and a great DVD.
4.5/5