Post by Erik Rupp on Aug 14, 2011 18:31:04 GMT -5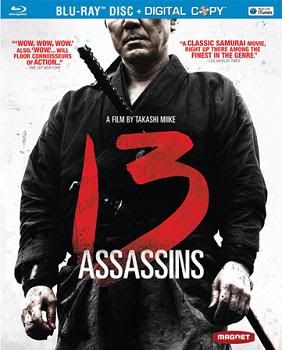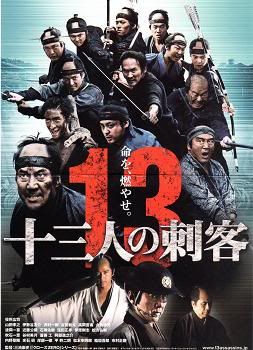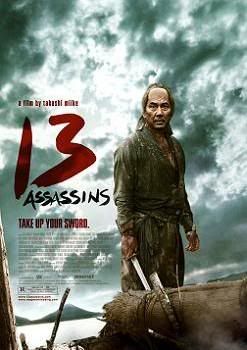 Takashi Miike has become a rather large figure in Japanese cinema. Specifically, he has become well known for well made movies that feature a lot of graphic violence.
So the expectations coming in to 13 Assassins, a period piece Samurai movie (and a remake of a relatively obscure 1963 samurai movie at that), were that it would be pretty bloody. And it is... to a point. It's violent, and it is bloody, but not excessively so, and not beyond the point that it had to be in order to properly tell this particular story.
What Takashi Miike has done was to take the modern Samurai movies (Twilight Samurai, When the Last Sword Is Drawn, etc), and up the ante in terms of violence. The Samurai movies from the last 15 years or so have been extremely good dramatically, but they have not focused as much on the violence and battle scenes as Samurai movies from previous decades had. Miike keeps the drama and adds a new level of realism to the violence.
And there is plenty of violence in 13 Assassins, just not right away.
Initially, 13 Assassins is a very dramatic movie about the half brother of the Shogun. This half brother is a sadistic, amoral monster, and he is to be elevated in the heirarchy of the Shogunate. He is also to be named as the heir to the throne, more or less. This is something that Sir Doi, one of the Shogun's key advisors cannot allow. He knows that Japan will fall back into an era of war and cruelty if Lord Naritsugu becomes a key advisor to his half brother, and especially after he assumes the role of Shogun upon his half brother's death.
So Doi discreetly hires Shinzaemon, a late middle aged Samurai of great fighting skill, and greater leadership ability, to kill Lord Naritsugu. Shinzaemon puts together a group of twelve samurai (of various ages and backgrounds) that he can trust to carry out his plan to attack and kill Lord Naritsugu. Along the way he accepts a non-samurai into the group after he has proven himself worthy as a scout.
If this sounds vaguely familiar, it isn't all that far removed from Akira Kurosawa's epic
Seven Samurai
. The big difference being that instead of planning an attack against bandits (rogue samurai known as ronin), the good samurai is planning an attack on a government official and the prospective heir to the Shogun.
The movie is expertly scripted. It is made very clear that Naritsugu is a monster who rapes, tortures, and slaughters for fun. He is a twisted man who does not see anything wrong in what he does. Clearly, he must be stopped.
Shinzaemon, conversely, is a very good man. He is a widower who faithfully carries out his duties daily. But he is also well trained, educated, and skilled - something largely unnecessary in the relatively peaceful era in which he lives.
The characters are well fleshed out, and the dramatic elements of the story are extremely well played. Even the samurai protecting Lord Naritsugu explains his motivation to serve such a horrible man. The dramatic foundation being laid is a solid one.
Which is why the film's concluding battle - over forty minutes long - works so well. There is a reason why these thirteen men are willing to die. There is a reason why they will not give up. And there is a reason why the audience gets sucked in. The viewer has good reason to care about these thirteen men, and even better reason to want them to succeed.
Being a Japanese movie there is no guarantee that the good guys will win. There are many examples in Japanese cinema of the good guy ending up dead, having failed in his mission - but having shown great character in dying for his cause.
As for the concluding battle, it is, indeed, epic. Miike set this thing up with plenty of twists and turns in the plot, and the payoff really pays off. It is one of the best staged samurai battle scenes ever filmed.
The best way to put it is this, 13 Samurai belongs in the upper echelon of samurai films. It is among the best ever made, and is a great example of how good the genre can be.
The blu ray for 13 assassins is excellent. The picture and sound quality are both above average for a blu ray, and there are a few good extras on here as well (theatrical trailer, interview with director Takashi Miike, deleted scenes).
4.5/5