Post by Erik Rupp on Oct 3, 2011 17:09:29 GMT -5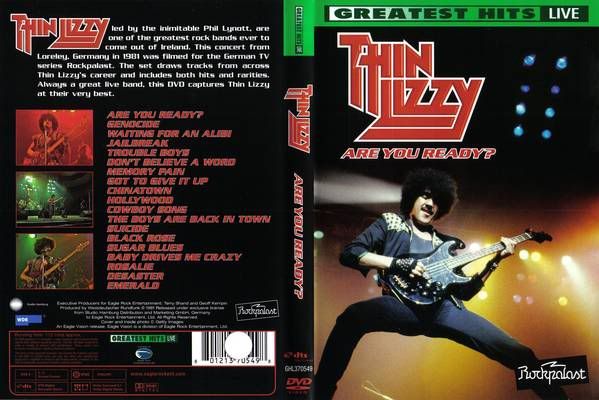 It's actually really surprising that it took so long for this concert video to come to DVD.
Thin Lizzy recorded this concert in Germany back in 1981. It was when they started promition for their new Renegade album. Snowy White was the second guitar player (on his second and final album with the band). He replaced Gary Moore, who replaced Lizzy legend Brian Robertson. White was a good guitar player, and was halfway charismatic live, but he was no Robertson, and he was nowhere near the class of John Sykes, who would replace him a year later.
Still, this is a very good concert, and the DVD isn't bad.
The video quality is hit and miss - within the same songs. Some camera shots are pristine and look amazingly crisp and clear. Other camera shots have the classic red (or occasionally green) scrolling horizontal bars in the picture that come from audio interference with the video signal. Overall, the picture quality is good, but it is all over the place.
The audio quality is the same as the video quality - all over the place. In some spots it sounds great, with each instrument mixed where it needed to be, but in other spots it gets just a little muddy where the guitars are concerned. Either of the guitars may suddenly drop down to half it's proper volume level. A couple guitar solos are hard to hear because of this. There is also some noticeable level compression going on (from the original recordings, from the sound of it). When you can hear the compression slowly start (taking about half a second rather than a tenth to fully kick in) and then stop it's not good compression. Still, this is very listenable, and it's far better than bootleg quality.
And the band's performance? This is much more consistent. Consistently good. Sure, there are a handful of rough moments - but this is an untouched live performance, so that is to be expected. Overall the band is tight and very powerful (and fairly dynamic, too).
Then there's the song selection. They've got all the required songs - "The Boys Are Back In Town," "Jailbreak," "Cowboy Song," "Rosalie," "Emerald," etc, but there are also some lesser known songs on there like, "Genocide," and, "Hollywood," as well, so this is a great DVD for the serious fans and collectors.
(Although the quality control department at Eagle Vision was a little lacking. "Angel of Death," is not only mistitled, it's misspelled as, "D
e
saster." Ugh.)
Ultimately, Are You Ready is a very welcomed addition to the Thin Lizzy DVD catalog. It may have been late in coming, but now that it's here it's nice to see.
4/5