Post by Erik Rupp on Nov 9, 2011 23:51:23 GMT -5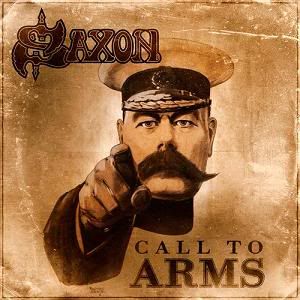 Like clockwork we get a new Saxon album every two years or so. That, in and of itself, isn't all that remarkable (even considering the average age of the band members).
What is remarkable is the consistently high quality of each of these albums since 1990. No, no new musical ground is being broken by this legend of the New Wave of British Heavy Metal, but they have been able to find their musical sweet spot and pretty much stick to it with great effectiveness.
Their last album, Into The Labyrinth, was another solid slab of old school Metal. It may not have been earth shattering, but it was darned good, as were all of it's predecessors going back to Solid Ball of Rock in 1990. Some of the albums during that time were outstanding examples of traditional Heavy Metal at it's finest.
So how good is Call To Arms? It's probably middling among that group - which for a lot of other bands would make for a career highlight. Singer Biff Byford leads his veteran crew (which includes fellow original Saxon member Paul Quinn on guitar, along with on again, off again drummer Nigel Glockler, and the, "New," guys, Nibbs Carter on bass (in the band for over two decades now), and Doug Scarratt on guitar (and he's been in the band since 1997's fantastic Unleash The Beast album). Byford's voice remains as strong as it's ever been, which at his age (60 as of the release of this album) is pretty impressive. Like Ozzy Osbourne, Byford's vocals are unique and, for some, an acquired taste. Byford has a slightly nasal tone to his vocals, but he also has a fair amount of power and richness. He has an amazing sense of melody that never gets old.
So, Call To Arms, again - how good is it? It's good. Very good.
Well, it starts off with one of Saxon's best songs in, "Hammer of the Gods," a fairly uptempo number that has a slightly different sound than much of Saxon's catalog in that a majority of the riff work is done fairly high on the fretboard, giving the song a different - but very cool - tone. This is just a fantasticly well written and well performed song.
After that they give the album a fairly wide NWOBHM spectrum from the slow-ish (almost plodding, but still fairly good), "Back In '79," to the moodier (and slightly mystic sounding), "Mists of Avalon," (another great melodic song that still manages to be reasonably heavy), to the almost King's X-ish title track.
There are also plenty of uptempo, high energy Saxon tracks to be found here as well in the form of, "Suriving Against the Odds," (another great one), and, "Afterburner," (which wouldn't be a bad fit on Judas Priest's Painkiller album - as an album highlight, no less). Then there are the upper mid tempo stompers like, "Ballad of the Working Man," (which has hints of classic Thin Lizzy in there) and, "Chasing the Bullet," to keep the tempos fully varied.
What continues to amaze when it comes to Saxon is that there isn't a bad track on the album. The weakest tracks on Call To Arms ("When Doomsday Comes," and, "No Rest for the Wicked") are still good, if a bit too standard issue.
Then there's the audio production. Crisp, razor sharp, full, powerful, punchy - everything that makes Saxon work. It's much the same as every Saxon album from Unleash The Beast up to now. They are clearly a bunch of professionals who could probably self-produce, but are smart enough not to.
If you like old school Heavy Metal (classic Priest, Maiden, Armored Saint, etc) then Call To Arms should be a part of your CD collection. As should Unleash The Beast, Forever Free, Metalhead, and Killing Ground - if not every Saxon album from 1990 to the present.
4.25/5