Post by Erik Rupp on Nov 29, 2011 20:11:21 GMT -5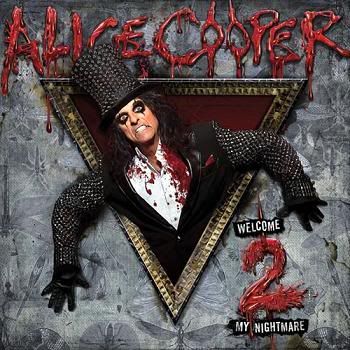 Alice sure took his time doing the follow up to his most famous solo album. It's only been 36 years...
It's always a tricky thing to do a sequel to an album that in many ways defines your career. Welcome To My Nightmare defined Alice Cooper as a solo artist. It was more polished and less hard rocking than the Alice Cooper Band albums that came before it. It was also more wider ranging in musical styles. And it was a very, very good album.
While Alice's solo albums have been all over the Rock map, they have only occasionally lived up to the promise of Nightmare 1. Many of Alice's recent albums have been very good, and they've actually been closer to the original Alice Cooper band than Alice Cooper the solo artist. But after a break of 30 years Alice finally decided to work with Bob Ezrin again. And on Welcome 2 My Nightmare it shows.
The album is all over the place. There's a lot less Rock and a lot of other stuff on the album.
From the mellow-ish, "I Am Made Of You," complete with the electronicly altered, auto-tuned vocals, to the Dixieland inspired, "Last Man On Earth," to the electronic Disco/Pop of, "Disco Bloodbath Boogie Fever," Nightmare 2 has no focus. The styles almost mesh, but not completely. The album has Ezrin's stamp all over it.
Now, that's not to say that those songs aren't good, because most of them are well written and impeccably performed and recorded, but they don't all fit together as cohesively as they should on an album like this.
There are some very good highlights to be found on the album, though. "Caffeine," is a very strong, uptempo Hard Rock track. "A Runaway Train," is another strong song, and this one is closer to the old Alice Cooper band in style. Funny thing, it features the original Alice Cooper band, and was co-written by Dennis Dunaway from that group. In fact, the old Alice Cooper group gets back together for three songs, this one, "I'll Bite Your Face Off," and, "When Hell Comes Home." The first two are top notch, while the last is just OK. It is nice to see and hear the group together again.
Which kind of brings up a point. A full album with the original Alice Cooper group could have been even better. They obviously still have the same chemistry, and could have delivered not just a good album, but a great one. Time's running out on that as a possibility.
But for what it is Welcome 2 My Nightmare is good, even if it doesn't quite live up to the original. It just should have (and could have) been better than it turned out.
3.5/5