Post by Erik Rupp on Dec 24, 2011 15:46:28 GMT -5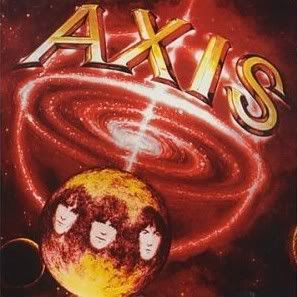 A lot of bands put out really good albums that go nowhere commercially. Success is less a measure of talent than it is hard work and timing (with a lot of luck involved, too).
For example, there's Axis. This band out of the late 70's had a great style and top notch musicianship. Their album was produced by Andy Johns, who had worked with Led Zeppelin, Humble Pie, and the Rolling Stones. The songs were all solid, and some were very good - even pushing greatness.
And yet their album died a swift death and the band could never get a follow up recorded.
But a funny thing happened during the internet era. People who did have the album posted songs on YouTube and word started getting around that this was a band that really had some good stuff to offer. Now, It's A Circus World will never get a Gold album certification, let alone Platinum, but the band is gaining a little attention nearly 35 years after the release of their only album.
Part of that attention comes from the fact that two of the band's members went on to bigger things in the years that followed. Drummer Vinny Appice went on to Black Sabbath and DIO (the band). Guitarist/Vocalist Danny Johnson went on to work with Rod Stewart, Alcatrazz, and a later version of Steppenwolf.
So this was a band with some serious talent (which also included bass player/vocalist Jay Davis), and they had some seriously good songs.
The opening cut, "Brown Eyes," takes the guitar driven style of Judas Priest (late 70's Priest), and combines it with a more etherial Led Zeppelin feel and a slightly more aggressive version of the kind of vocals you'd hear from Pink Floyd. It is a great song, and the perfect way to open the album.
The songs that follow are nearly as good. "Busted Love," is a really good Rock and Roll stomper with a great chorus, and, "Juggler," has a slow-ish groove with some great staccato riffing (and more good vocal melodies). Both are very much products of the 70's, but could have been reworked to fit in perfectly in the mid 80's.
The 70's really show up on the next song, "Soldier Of Love," a first rate heavy Funk Rock song (heavier on the Rock than the Funk, but both elements are clearly present). Appice really gets to show off on this one (his quick stick work, which he became famous for, is on display here). This is one of those songs that pushes greatness - and one that grows on the listener with each successive playing.
Things slow down to a near crawl with, "Train," one of those somewhat blues based songs with such a slow groove that it almost works against the song. Almost. There is a certain Robin Trower element to this one, and it has a good sense of dynamics that works well. The chorus riff is excellent and the vocal hook isn't bad at all. This may be one of the weaker songs on the album, but that speaks volumes as to how good the album is.
And the next track is pure 70's magic. "Armageddon," starts out with Vinnie bashing on his snare drum like on, "One Night In The City," with DIO, but then he starts grooving in a purely 70's way. The song has a real mid 70's Led Zeppelin feel (think Presence), but with a slightly heavier and more aggressive attack. This is a brilliant song musically, and a good one vocally. It's songs like, "Brown Eyes," and this one that make this album's flopitude more puzzling.
Who promoted this album (or, more accurately, didn't promote it)? It's hard to imagine that this album couldn't have found an audience with better, more creative promotion.
"Ray's Electric Farm," has a quirky title, and another strong 70's sense of groove, but also has some 80's style melodies (showing how ahead of the curve these guys were).
The next one, "Stormy Weather," has a bit of that quirky, proto-New Wave feel (and melodies) to it, but it's still a solid Rock track that holds up fairly well decades later. It's not a classic, but it is solid. "Cats In The Alley," however, could have been a classic had the album hit. As it is this is a great track with some cool Rocks era Aerosmith riffing that would have fit in well in the early 80's. This is a monster track that is well worth rediscovering well over three decades later.
The Robin Trower-isms return on the cheesily titled, "Bandits Of Rock." Yeah, all these years later that title does seem a lot cheesier than it must have at the time, but you know what? The song is really pretty darned good. Especially if you like Trower's harder edged songs.
The album closes on a moodier, more dynamic note in the form of the title track. Interestingly enough, in an era where eight to ten songs was the norm, it is the eleventh track that is possibly the weakest on the album. It
is
the most dynamic, and most layered (acoustic guitars, strings), and it probably has the most depth, but it is also has what is arguably the weakest chorus melody. Don't misunderstand, this isn't a bad track at all. It's actually fairly good, but it just isn't as good as most of the rest of the album.
The production by Andy Johns is very similar to what he did with Led Zeppelin. Warm, very midrangey in a non-harsh way, the album is well recorded and mixed, but could have used a little more bite on the guitars and a little more high midrange for clarity. (Not a lot on either count, but just a little bit.) Still, the album does sound good overall and the songs are all well thought out and developed.
It's A Circus World was released by UniDisc just a few years ago, and is well worth buying if you're a fan of Heavy Rock from the 70's.
4/5