Post by Erik Rupp on Jan 7, 2012 13:10:22 GMT -5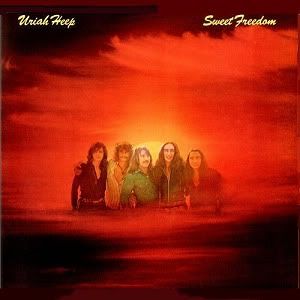 By 1973 Uriah Heep had been on quite a run.
From their proto-Heavy Metal debut album (...Very 'Eavy ...Very 'Umble) to the almost Prog Rock follow up Salisbury, then the early Metal crunch of Look At Yourself, followed by the all around diverse classic Demons and Wizards, to the almost psychedelic The Magician's Birthday, Uriah Heep had been going from strength to strength, picking more fans along the way.
Their peak era culminated with the release of Sweet Freedom in 1973.
Sweet Freedom saw yet another subtle shift in the Heep's sound. This time it was towards a more mainstream style. The album was both harder rocking than it's predecessor (The Magician's Birthday), and more accessible.
Lead single, "Stealin," was bound to be a FM radio staple - except for that pesky, "Done the rancher's daughter," line in the lyrics which kept the song off the radio in more conservative markets. It was still successful - and with good reason (it's a great song), but it could have (and probably should have) been a much bigger hit. The pulsing, almost bouncy bass line that propels the song was very Grand Funk-esque (kind of like their take on "The Loco-Motion"), while the vocal melodies are simply fantastic. Not too many songs have verses that could qualify as hooks, but this one does. When Mick Box kicks the guitar in the song practically explodes thanks to the dynamic shift. And the backing vocals are spot on perfect for the song as well. "Stealin," IS a classic. An all time great.
Thank you and good night!
But wait! There's more!!
Yep, just like that ad on TV promising the bonus can opener with purchase of the Ginsu knives, there was a lot more to Sweet Freedom than just it's lead single and most famous track.
For example, there's the Hard Rock crunch and energy of, "Dreamer," the album's opening cut. While the production is a little harsh (it could use some warmer low mids) the song itself is a top notch ass kicking rocker. It's the kind of song that sends a message, in this case the message, "This album isn't The Magician's Birthday Part II." Good riffing and solid vocal melodies propel this song to the upper echelon of songs on Sweet Freedom.
Another highlight is the combination of almost majestic early 70's Pop melodies and Hard Rock crunch in, "One Day." At under three minutes this song definitely doesn't overstay it's welcome. Lead singer David Byron definitely gets to shine on this one as it is a very vocal oriented song (as opposed to riff oriented). Good stuff, to be sure.
A stylistic holdover from the previous album would be the title track itself. It is a melodic, dynamic song that typifies the unique nature of some of Uriah Heep's songs from that era. It's not really mellow, but it doesn't really flat out rock, either. It's a song with mellow-ish vocals, crunchy guitars, and a slower tempo. It's also got some quiet moments that build into almost orchestral crescendos. It is ambitious and smarter than much of what was going on at the time (and there was a lot of intelligent music being put out in the early to mid 70's).
"Seven Stars," is also one of the highlights on the album - and one of the highlights of Uriah Heep's entire career. The song could easily fit on Queen II. Then again, Queen II came along several months later, so that says something right there. This is an upper mid tempo song with a fairly simple guitar part played on both electric and acoustic guitars (to great effect). This is one of Ken Hensley's greatest triumphs as a songwriter. The vocal melodies are truly majestic and sweeping. Classic Rock really doesn't get any better than this.
Then there's the acoustic guitar laced ballad, "Circus," a very nice track written by bass player Gary Thain, drummer Lee Kerslake, and guitarist Mick Box. Very much a product of it's era this is the kind of song you'd expect to hear on FM radio if you could find a DeLorean with a flux capacitor to take a trip back to 1973 or 1974. This is a Folk-Rock song in the finest early to mid 70's tradition. Great stuff.
The album closed out with another noteworth track in, "Pilgrim," another song with a ton of dynamics and tempo changes. It starts out as a fairly pompous track, but then there are so many changes that it becomes clear that it all fits together in a very 70's way. This is a seven plus minute long song and could qualify as something of a minor epic. Written by Hensley and Byron this is the perfect way to close out the album. Along with a couple other tracks on Sweet Freedom, this works well to keep the fans of The Magician's Birthday happy, while still being just accessible enough to the newer fans brought on board by, "Stealin."
The original eight tracks on the album are more than enough reason to buy the album if you're a Classic Rock fan, but the CD reissue released by Sanctuary in the U.K. has even more reasons to buy the album. There are six bonus tracks included on the reissue, and while none of them are monumental enough individually to warrant re-purchasing the album if you already had the earlier CD, the combination of all six when added to the original album make this a, "Must have," release for sure.
You get the unreleased, "Sunshine," another moody and melodic mid tempo guitar driven song, along with extended versions of, "Seven Stars," and, "Pilgrim." Also included is the demo for, "If I Had The Time," and live versions of, "Sweet Freedom," and, "Stealin."
Largely relegated to the, "Obscure," bin of Classic Rock history, Uriah Heep was actually a fairly major force to be reckoned with in the early and mid 70's that released several top notch albums. While they would make occasional comebacks later in their career (and would release several good to great albums - and are still going strong with great releases like Into The Wild), they would never again achieve the acclaim or recognition that they found in this era.
If you don't have this album, get it.
4.25/5