Post by Erik Rupp on Jan 22, 2012 14:16:22 GMT -5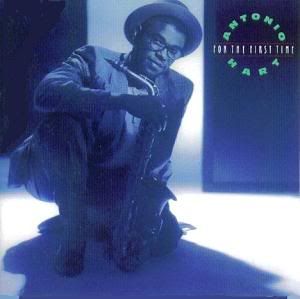 Sometimes good albums just fall in your lap.
That's the case with Antonio Hart's For The First Time, a great Jazz album that holds up the best traditions of the genre with style and flair.
This was a CD that my dad loaned to me years ago, and I just found it under some other CD's in my den (along with several others to pull music from for an internet radio show that he was doing at the time called Spotlight On Jazz - I had done one guest edition of the show, and was going to do another but never got around to it).
So I put the thing on for the first time, and was immediately blown away by the sheer professionalism and quality of the music. Hart is a saxophone player, alto sax, to be specific, and he had made a name for himself by playing in Roy Hargrove's band. This was Hart's first album under his own name, and it is a fine debut, indeed.
Opening with one of Hart's own compositions, "Majority," the album is off and running at a pretty fast pace. The song features a guest sax player in Billy Pierce, who trades brief solo sections with Hart, before Hart goes off into his own solo and just tears it up. Hart's solo is both flashy and well grounded with classic style. This is a great song, no question about it, and piano player Mulgrew Miller also gets his chance to shine here. The album couldn't start off any better than this.
So to follow up that bit of Jazz electricity Hart brings the tempo down a bit, and gets a little funkier and bouncier with a bit of a shuffle on the next track, "Big HM," which features guest trumpet player Roy Hargrove. This is another fantastic track that features some nice, melodic playing from bass player Christian McBride. Hargrove and Hart both play extremely well on this track, and it is another of the album's many highlights.
The album slows quite a bit, and the volume level drops for a nice, jazzy take on the George Gershwin track, "Embraceable You." This is a good arrangement, as it doesn't get overly sappy. It's just a very good mood piece, showing the ability of all involved to make some good, mellow Jazz.
And after that we are immediately told that the next track will be an uptempo piece as drummer Lewis Nash leads the way into, "Del Sasser." This is a good track, but it's a bit middling as the tempo is upbeat, but the performances are somewhat laid back. Hart's soloing is very good, as is the soloing of trumpet player Thomas Williams, but the rest of the song (the main repeated melodies) is just fair. Still, since the solo section covers more than half the song this one is still an enjoyable track.
When it's time for a, "Self Evaluation," Hart brings trumpet player Williams into the mix again. This is another winner. The track has more flash and firepower to match the tempo (which is fairly quick). The solos are exceptional, as is the playing all around by everyone involved. This is another high caliber Jazz track that holds up well against any song from any Jazz legend. Great stuff, no question about it.
From there Hart gets a bit Reggae with, "KYH," a song that seamlessly blends Jazz with Reggae both in beat and musical stylings. Is it a great track? No. This one isn't as good as some of the other songs on the album, even with the return appearance of Bill Pierce on tenor sax, but it is darned interesting. The Jazz/Reggae combination isn't something often attempted, but it works fairly well here even if the results aren't up to the standards of most of the album. This isn't a bad track by any stretch of the imagination, but it isn't quite as special as the best songs on the album.
Another ballad comes up in the form of, "Bewitched." This is another good, mellow piece that helps give the album a strong sense of dynamics. The deft touch with which the musicians perform is excellent.
"Where or When," is a laid back track, but it's not a ballad. It swings, and has a great sense of feel and groove, again propelled by bass player Christian McBride. This song features some very melodic soloing from Hart as he keeps his foot off the gas. Among the higher firepower songs on the album this would sound fairly mellow, but following the truly mellow, "Bewitched," this comes across as a nice swining song with the band in a great groove. Another winner.
The swing continues with the title track, a piece that again features the trumpet playing of Thomas Williams. Williams is a darned good player who has a sense of style - he has taste. He knows when to go for it, and when to hold back just a bit. Here he holds back just enough to come up with a classy solo with just the right amount of style and flair. "For The First Time," is another of the album's many highlights, and Hart's soloing reflects that. The band is tight throughout the album - as if they had been playing together for a few years rather than for the first time as they really were.
"I've Never Been In Love Before," is another ballad. This one does have some swing to it, enough to make it a solid Jazz piece. It is really laid back and fairly mellow, but, again, Hart finds a way to do this kind of thing without getting too sappy. Bass player McBride gets a solo here, and he makes the most of it. Like many of the solos on the mellower songs on the album he shows a sense of style, but holds back enough to make the solo fit the mood of the song. Fans of mellower Jazz will find a lot to like about this track.
"Straight Ahead," starts out like the opening for KISS' 1977 song, "Love Gun." No, really - it does. OK, that kind of thing isn't unique to KISS (nothing is), but what we have here is a
very
rhythmic single note riff to open the song. From there the song practically explodes into a high tempo, high energy song that almost careens out of control. Almost. It remains under just enough control to show some melody and style. About two-thirds of the way in drummer Lewis Nash gets a solo section of his own, leading back into that rhythmic one-note riff again (which is why I brought up the KISS thing - they do the same thing on their song). Maybe I shouldn't bring up KISS in a Jazz review (as some Jazz fans may just laugh at the notion), but since this site extensively covers Rock I thought it would be a good frame of reference for many people. And the comparison is valid.
"Straight Ahead," is a great way to end the album. Many artists like to end Jazz albums on a quiet note. Others like to go out with a bang. BANG! "Straight Ahead!"
Antonio Hart is a top notch Jazz talent not only as a player, but as a composer - five of the albums eleven tracks were written by Hart, and four of those five songs are excellent (the other being interesting and inventive). He also put together a solid collection of talent around him to make a very, very good Jazz album.
4.25/5