Post by Erik Rupp on Aug 29, 2009 2:37:12 GMT -5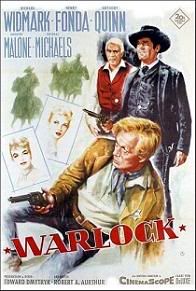 Warlock is one of those movies that got lost in the shuffle in the years following its release. Subsequent classics like The Man Who Shot Liberty Valance, The Magnificent Seven, The Man With No Name trilogy, The Wild Bunch, etc, all diverted attention away from this 1959 Western masterpiece. Expertly directed by Edward Dmytryk and starring Richard Widmark, Henry Fonda (in one of his best Western roles), Anthony Quinn (in arguably
his
best Western role), DeForest Kelley, and Dorothy Malone, this is a movie that - upon further review - truly does hold up very well against even the best Westerns of all time.
Fonda plays a Marshall for hire named Clay Blaisedell (a gun for hire would be just as accurate), who is brought in to "clean up" the town of Warlock. Warlock is a town that has been overrun by a rancher named McQuown and his men. They have run roughshod over the town for years, having run off or killed the last few men to hold the office of Sheriff. Blaisedell takes the job with the proviso that he can do it his way, with no interference from the town council. They agree, but he warns the town council up front that while at first they will love him and what he does (because he gets results and cleans up the town), later on they will come to distrust him and despise his methods. His prediction comes true, but the way the story plays out belies the usual Western cliches. The script is expertly written with characters that ring true in a rather sophisticated storyline (including a rather ambiguous relationship between Blaisedell and his right hand man, Tom Morgan, brilliantly played by Anthony Quinn).
Fonda's performance of Blaisedell is one of his career highlights, but as this movie flew under the radar for over a quarter century most people didn't even know about it. And mention should be made of Richard Widmark's character, the rather conflicted Johnny Gannon - one of McQuown's men in the beginning of the film. He is another well written, and well rounded character - and Widmark's performance is excellent as well.
Warlock, in a way, combines the classic Western styles of the 40's & 50's with what would later be seen in the 60's, and even foreshadows some elements that would be seen later still in modern (1980's to present) Westerns. It is a great character study, and has (rightly) been called the quintessential "Psychological Western." While Warlock isn't a, "Shoot 'em up," Western, the action sequences are very good and the movie is riveting throughout.
The DVD transfer almost lives up to the high standards of the movie itself. The picture is sharp (although occasionally just a tad soft, but not often, and not enough to be all that noticeable), the print is clean (for a movie of this age), and the colors are vibrant. It doesn't quite hold up as well on an HDTV as it does on an older standard def CRT, but it still is more than watchable on a high-def monitor.
Warlock is a movie that truly belongs in the collection of every Western fan.
5/5