Post by John Sunday on Jan 26, 2012 22:39:09 GMT -5
Well, I decided that I couldn't fairly review Van Halen's first Sammy Hagar album without discussing, concurrently, the highly competitive DLR solo release of the same year, Eat Em & Smile. Roth left Van Halen on really bad terms…and the feud between he and Edward continues to this day, despite the impending reunion. So back in late 1985, early 1986, there were no words minced between the divided camps.
I mention Dave's album here for a couple reasons. For one, he took nearly all of Van Halen's crew with him…not to mention Van Halen's only producer to that point, Ted Templeman. Beyond that, the VH brothers were already varying their sound, having added more and more keyboards to their songs…a point not lost on Roth, who always fought that notion. Adding Sammy changed the vocals, the lyrical approach, and ultimately the overall feel of the songs. Generally gone now were the little dialogues in the songs, though that did pop up a couple times on 5150 and in its stead was a smoother voiced, higher ranged Hagar…depending more on vocal prowess than charisma and vocal atmosphere.
Dave took the opposite approach and went at his album in old VH fashion…with Diamond Dave's soulfulness, humor, and propensity to tackle the oddest cover tunes with flair. Not to mention Roth recruited hot guitar virtuoso Steve Vai, who, while not Edward, wasn't shabby either. While their styles weren't exactly the same, by any stretch, they were cut from the same experimental and exciting cloth. Add to that Eddie's bass playing equivalent in the lightning-fingered Billy Sheehan, and there is no doubt that DLR had assembled a very serious solo act.
So how do they compare?
Dave put out a great album, no doubt. Yankee Rose would've made an incredible Van Halen tune to follow up the 10 million selling (yikes!!) 1984. To the novice ear, one might even think that it was a new Van Halen tune it's that close (and that good). Dave simply changed players and still pulled out songs with the same color and flavor. The rest of the album never quite gets back up to the quality level of this smashing opening number, but the record is filled with great moments, including the soulful Ladies' Nite In Buffalo and the also very VH-esque, Goin' Crazy…which sounds like it could've snuggled up next to Hot For Teacher on 1984. Goin' Crazy was a fun little rocker that just oozed humor and catchiness. Throughout this record, like many VH releases, DLR reminds you of why he's the biggest goof in the rock business and wins you over because most of his songs are so damn catchy and infused with good times you feel guilty for both taping your foot and thinking, "Why do I like this?"
Not unlike the much-criticized Diver Down LP, Eat Em And Smile is full of cover tunes and like all things Dave, he finds his niche and makes them all work. Shyboy comes from Sheehan's former band and fits nicely with the sound, featuring some blistering work on bass and guitar. It's probably the musical moment on the album. Other covers like the Sinatra classic, That's Life and the wonderfully charming I'm Easy just reek with Roth's style and propensity to tackle his influences, no matter how much contrast he manages to muster. Tobacco Road is another fine little tune, as is the quasi-rap (!!) laden Big Trouble, which I admit is a personal guilty pleasure of mine.
The only place where this album lets down are on slightly disappointing Elephant Gun and the ridiculously unoriginal and trite Bump And Grind, which even Dave's charm can't elevate out of mediocrity.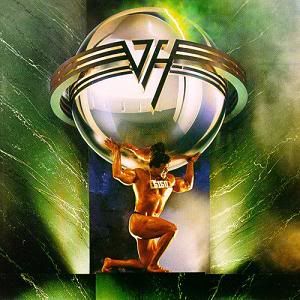 Van Halen's first epic with Sammy Hagar is equally successful at bringing the fun to the party. (And you have to ask yourself in hindsight, were there two more enjoyable records in 1986 than 5150 and Eat Em & Smile, with perhaps the notable exception of Bon Jovi's Slippery When Wet?). In fact, I think 5150 is a hair more so. Van Halen, while it had the band name and Eddie's guitar legacy going for it, faced a larger challenge. Roth was such a dynamic and unforgettable influence (even if you hated him) that replacing him with ANYONE was a daunting task. It was sure to change the dynamic of the band and sure enough, Hagar did. That being said, the atmosphere was not diminished even where it was modified.
I mean, let's be honest, Van Halen was "changing" whether Dave was leaving or not. Most of the songs for 5150 had already been (musically) penned and while the lyrics and vocal melodies surely would've been markedly different than they turned out to be, the keyboard-laden Why Can't This Be Love would've still been Why Can't This Be Love. I think that fans sometimes overlook this and lay too much blame at the feet of Hagar for the "differences" that came between the 1984 and 5150 releases. Hagar was blamed for a natural musical evolution that was already taking place.
All that being said, 5150, which I've listened to twice in the past 24 hours, is a great album. I'll start with the negative and say that the only filler piece, and it is just that, is the album closer Inside. Even still, it's a fun song…albeit pointless and most critically, overlong. But the rest of the CD is just filled with awesome tunes.
Amongst my favorites is Summer Nights, which is probably my all-time favorite Sammy tune (ok, top 3-5 anyhow) and would contend with many great Roth tunes in my mind. The riff (a paired picking of a series of notes on a headless Steinberger guitar) defines capturing a mood with a riff, which, when coupled with Hagar's lyrics, evoke an inescapable and palpable vibe of summertime. (See Feels So Good and Take Me Back for other occasions of lyrics and riff matching up perfectly in the Hagar era). The chorus is infectious.
Another is Dreams, which may be Sammy's pinnacle in the band, a soaring number, both musically and vocally. Van Halen fans had never heard a song like this with the band's name on it because Roth never could've churned out such power and melody. That's not a knock on DLR, but Hagar is indisputably the better singer, even if he's a step down in the charisma department.
A few of the more rousing numbers include the album opener, Good Enough…(well hellllloooo Sammy), the groove of Best Of Both Worlds (perhaps the best song on the album), and the downright irrefutable Get Up, which is a ball of energy from the start, an On Fire for the Sammy generation of VH fans, if you will. The dueling dynamic between Hagar and background vocalist Anthony is in Technicolor display in this rockin' little number.
5150 has its softer moments, like the previously mentioned Dreams…to which you can add to that arguably the best power ballad Van Halen has ever penned in Love Walks In (in my top 5 VH choruses of all time and a great ending solo) and the first Hagar single, Why Can't This Be Love…which is good but the weakest of the three in my opinion, but still quite good.
The album's unsung hero and forgotten gem is the title track 5150. If you've let this one slide from memory, please revisit it soon. It is perhaps the finest example of Edward on this record as well as most effective song structuring.
5150 marked a major change for the band and one I don't think they quite lived up to at the same level again. But to ignore the spirit, vibe and musical abilities on display here simply because you like Roth better is a pretty dismissive and just plain ignorant. I give 5150
4.5 stars of 5 (A -)
and consider it a contender with the best of any VH albums.
Dave, on the other hand, excelled at what he did best…just being Dave. This was his post 1984 pinnacle as well, with each subsequent release losing a little bit more each go 'round. But for a moment in 1986, DLR proved he could leave Van Halen and still not only put out a great record, but build a band that for a year or two, was able to stand in the center of the rock ring and trade blows with the mightly Van Halen. I give Eat Em and Smile a very strong
4-stars of 5 (B +)
.
In many ways, it was a win-win for fans of VH and DLR alike. At least it was for this particular fan.